"I am very competitive," Bernard Arnault has said. "I always want to win." And so in April, he bought 1 Main Street in East Hampton from Elie Tahari and his son Jeremey, for $22 million.
Was that a lot? People brought out their calculators and divided the price by the store's 5,000 square feet (they needed a calculator for this?) and decided that Arnault had paid $4,400 a square foot.
Well, here's another thing, and no one needs a calculator for it.
Bernard Arnault is the world's richest man, worth, it was recently announced, $191 billion. He's richer than Elon Musk, who wasted $12 billion shooting an exploding rocket ship into the air. And we're not even talking about Twitter.
His company, LVMH, had a spectacular year last year, with a 25 percent growth in two areas, fashion and leather goods. The company also sells wine and spirits, watches, fragrance and jewelry, reaching into all of the luxury markets. And of course it was LVMH that bought 1 Main Street, not Bernard Arnault personally.
The shop opening there is a flagship for Louis Vuitton, whose womenswear designer, Nicholas Ghesquière, pushes boundaries with some high-end designs that might better suit robots and club kids. Louis Vuitton has hired Pharrell Williams to invigorate its menswear line, after the death of Virgil Abloh from cancer at age 41 in 2021. Williams will no doubt continue the evolution of streetwear into leisurewear and formalwear.
No. 1 Main Street, therefore, will be the jazzy launching pad. There may not be many pairs of fine women's slacks with those kneecap slits. But sunglasses, handbags and shorts will sell.
Ghesquière's delicious cruise 2024 looks, revealed at the show on Isla Bella in Italy, included filmy gowns in pastel hues inspired by "under the sea" iconography. If high-spending shoppers in East Hampton can pull strings, they might be able to demand one of them in time for events this summer. The boutique in East Hampton offers a summery setting rather than the black-on-black look so prominent on the Paris Louis Vuitton runway.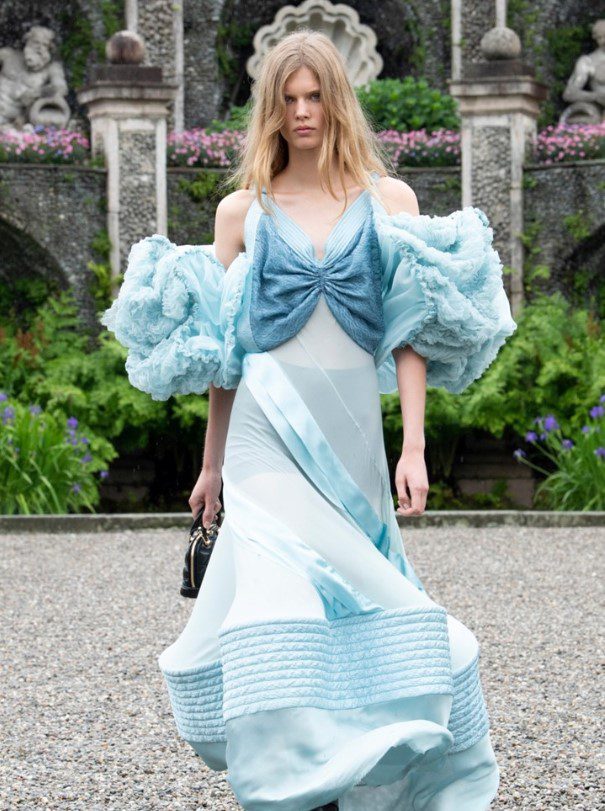 One thing that might be popular in the Hamptons is this trunk from 2019, designed to transport eight hightops and more low-top sneakers, It is certainly a statement LV trunk. Perhaps it will never leave a mansion bedroom, but what a piece of furniture.
What we will see walking around East Hampton are those cute black shorts with the off-center big button. And LV makes impeccable one-piece Jacquard bathing suits, one utterly simple one in white. Another one-piece has intricate pleats across the front. Yes they are $600, but you could pay that for three tiny pieces of cloth called a bikini, with none of the workmanship.
People will mob the LV store. They will come out with something, even if its just the small key pouch in brown with the LV monogram ($325). They will have had the experience, and the shopping bags. The store will probably close in September, when the Wall Street guys and gals go back to the city.
— Linda Lee
Linda Lee is a former writer and editor at The New York Times.