Mother's Day
LUXURY GIFT GUIDE
HANACURE ALL-IN-ONE FACIAL: K-BEAUTY AT HOME
Award-winning multi-action treatment contains a variety of calming botanicals that remove impurities and reinvigorate the skin. Complexions look firmer, smoother, and more evenly toned. No parabens, sulfates, phthalates, alcohol, oils, or fragrance. A-list endorsements of the vegan and gluten-free mask include January Jones, Gabrielle Union, and Chrissy Teigen. This K-Beauty at-home spa treatment tightens and brightens skin, while diminishing the appearance of wrinkles, pores, and hyperpigmentation. One set, $110.
https://www.hanacure.com/products
BROWS: ARE FACE JEWELRY
 Julie Tussey aka the "Eyebrow Whisperer" shapes your brows and retrains them.  She tints, reshapes and microblades to fill in what is missing to create a BIG BEAUTIFUL BROW.  Clients who seek out her expertise include: Katie Lee, Ivanka Trump, James Taylor, Dannijo – Danielle + Jodi Synder, Katlean de Monchy & Gretta Monahan.  Almost everyone she meets needs to grow in their brows because they have been over tweezed.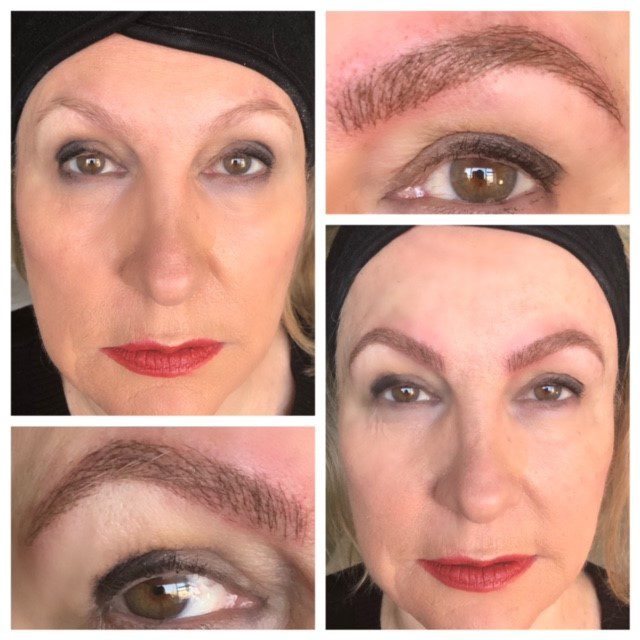 Before and Directly After Microblading – Help to make the face look like you're smiling even when you're not.
Brows are like plants because when you start paying attention to them they will grow. She tints the eyebrows first, reshapes them and then microblades what is missing to create BIG BEAUTIFUL BROWS. Booking Now for June Appointments. House calls to the Hamptons $1,500 julie@jtnyc.com
LILY-LARK PARASOLS: BEAUTIFUL SHADE
Lily-Lark lets you protect yourself from the sun and look stylish at the same time with handmade parasols. Constructed with gorgeous bamboo frames and fabric which is UPF 50+ ,so users are protected from 98% of the sun's harmful UV rays.  The unique canopies are printed with exclusive contemporary fine art from artists spanning the globe, and every parasol comes with a matching carrying case.  Comes in two sizes 31" canopy or 37" canopy.  Coral roses is a bouquet that will never wilt.  $166, $190.
www.lily-lark.com
ATACAMA EAU DE PARFUM: A SENSUAL AWAKENING
Precious, rare, a sensual awakening… Atacama Eau de Parfum…It's often said that true love waits…And indeed, this romantic notion inspires the luxurious new scent, Atacama, which takes Italian Fragrance House ALTAIA back to South America. There, beyond the Northwest Argentine border, lies Atacama, the highest desert on earth, a majestic extension of salt and sands. Rain is scarce yet the slightest amount awakens the seeds which patiently await underground, turning the arid landscape pink with flowers. The fragrance is a woodsy floral with oceanic nuances. $210.
www.beautyhabit.com
SLEEPHONES: HELPING MOM UNWIND
SleepPhones® Effortless™ are Bluetooth® enabled headphones inside of a soft headband, complete with induction charging technology for a completely wireless experience. These extremely comfortable headphones are ideal for use in bed, for traveling, relaxing, listening to audio books, and much more!  This simplifies your daily and nightly routines so having comfortable music for sleep becomes truly effortless! $149.95
https://www.sleepphones.com
TOUCHPOINTS
MOMS do so much that their lives tend to be stressful.  But it doesn't have to be!  TouchPoints' proprietary neuroscience BLAST technology uses gentle, alternating micro-vibrations to calm you in seconds. Place your TouchPoints on wrists, in pockets, socks, or tank top straps when you feel anxious or overwhelmed and move your brain back into a state of calm at the push of a button. The perfect life hack for busy people on the go!  $189
https://thetouchpointsolution.com/pages/media-center

SO CLEAN AIR PURIFIER: SLEEK AND PORTABLE
Cold weather means windows stay shut, which means airborne enemies of the skin multiply, setting the stage for future pigment spots, wrinkles and more serious skin conditions, such as eczema and psoriasis. The air inside the average home can be five times more polluted than the outside air.
 One air purifier that is as attractive as it is effective is the SoClean Air Purifier – 3,000 times more effective than HEPA standards and captures 99.99999% of airborne viruses and bacteria. The sleek and portable air purifier can move from room to room and can even be placed in the backseat of the car to freshen the air.  This gift is also a practical one for mothers with pets and seasonal allergies. It retails for $498. Here is the link
AURORA ATHLETICA: SILVER INFUSED SWEAT TOWEL
For the mom who works out a towel that will never smell bad.
The Silver technology used on the towels is called "Biostatic Stay Fresh technology" which is made by Polygiene. They use recycled silver (from discarded photography equipment) to form a silver salt solution that is applied to the towels at the finishing stages of production. The treatment never washes out, so it lasts the lifetime of the towel. The effect of the silver solution is that it prevents the growth and spread of bacteria, mould and fungi which can be picked up on sweat towels from fitness studio equipment and when the user wipes away their own sweat (sweat itself does not contain bacteria however once it exits the pores and comes in contact with skin it picks up bacteria).  $12.90 
www.auroraathletica.com
GREAT PEFORMANCES: TREAT MOM TO LUNCH
If treating Mom to homebound festivities is on the docket, Great Performances, New York City's award-winning caterer brings the celebration to her with restaurant-quality culinary experience. Great Performances' heat-and-eat  Mother's  Day Fixed Priced Lunch and /or it's a la carte selections can be delivered to your door by the company's specialty food purveyor partner, Baldor Food…. wherever that door may be throughout The Hamptons – and beyond. The four-course lunch brims with tempting seasonal ingredients and serves four.  $200.
www.greatperformances.com