WOOF, WOOF MEOW!
Gucci Just Launched The Chicest Pet Gear Ever
By Lori Zelenko
Now your dog or cat can strut their stuff in style, Gucci has just introduced a truly uber-chic collection of luxe accessories for Fido and Fifi.  We'll be seeing them walk down Main Street in East Hampton with tails in the air and four paws to the ground, they'll be barking (and meowing) out loud that their very own Gucci glam has arrived.
A most fashionable extension of the house's Gucci lifestyle line so gorgeously captured in a woofworthy campaign by Max Sidentopf will inspire you to spoil your adored pup or kitty with beautifully made in Italy harnesses and collars complete with double-G hardware in plain leather, as well Web stripe, Herbarium, all-over GG print and more. Leashes are offered in a variety of lengths 'cause not everybody has a pocket-sized pooch.  Of course, practicality is also present here with poop bag holders and AirTag cases that can be mixed and matched for a customized look.
Pet-sized furniture, you can also use these mini-sofas as home decor, are available on a made-to-order basis. Confer with Fido and Fifi before you select from styles including couches, feeding bowls, hard-side cases, feeding mats and more. Naturally, you wouldn't think of leaving your fur kid at home, so Gucci has designed GG-branded carriers for travel preferably private as these are just a tad too posh for the Jitney.
Continuing its sustainability efforts, Gucci has crafted its pet collection in recycled polyester, recycled cotton or Demetra, which is the house's innovative fabric made from animal-free raw materials from renewable and bio-based sources.
The Gucci Pet collection is now available online and in stores including the Newtown Lane Gucci boutique.  Prices range from $180 USD for an AirTag case to $7,500 USD for a pet bed.  Your dog or cat will love you all the more for indulging them with such posh new accessories.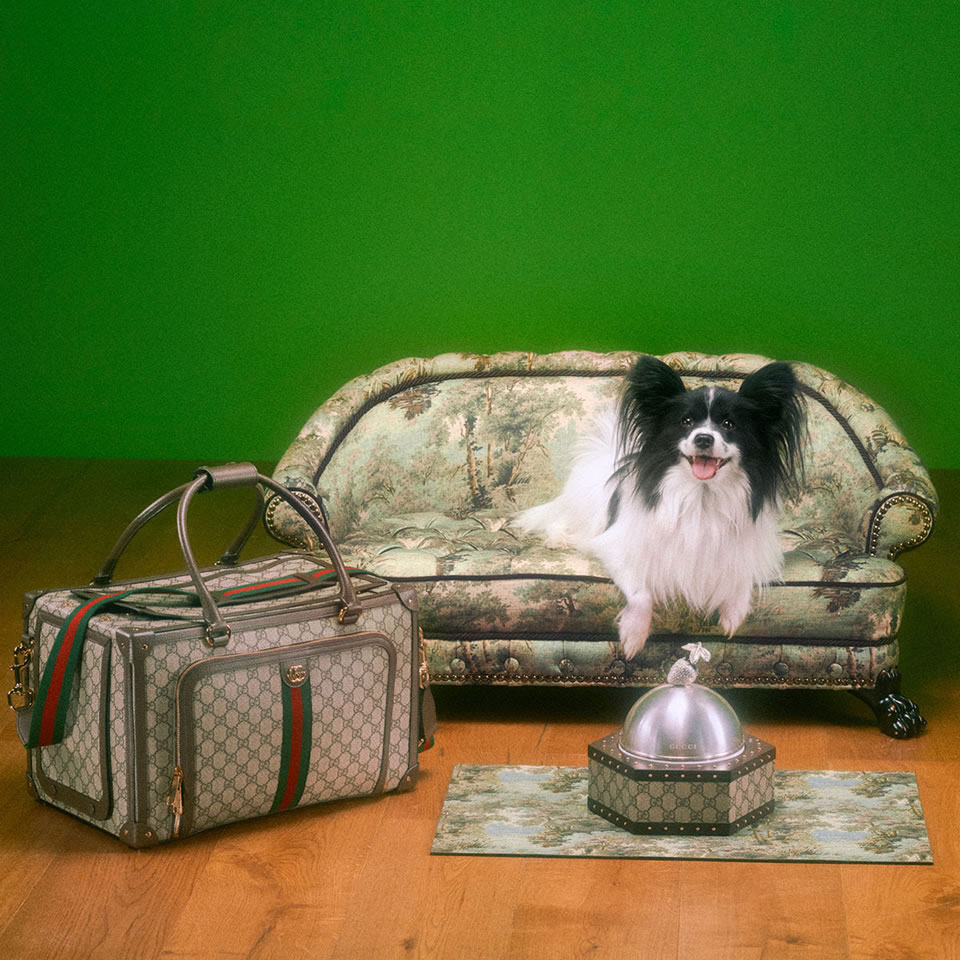 Pampered pooches rule in Gucci's new pet collection.
Cultivated kitties travel in true Italian style thanks to Gucci.
Fido never had it so good, nothing like lounging on a mini-sofa custom made in Italy by Gucci.