A MUST-SEE EXHIBIT IN THE SPRINGS
Creative Exchanges:
Pollock-Krasner House and Study Center
Admissions Are Limited, by Reservation Only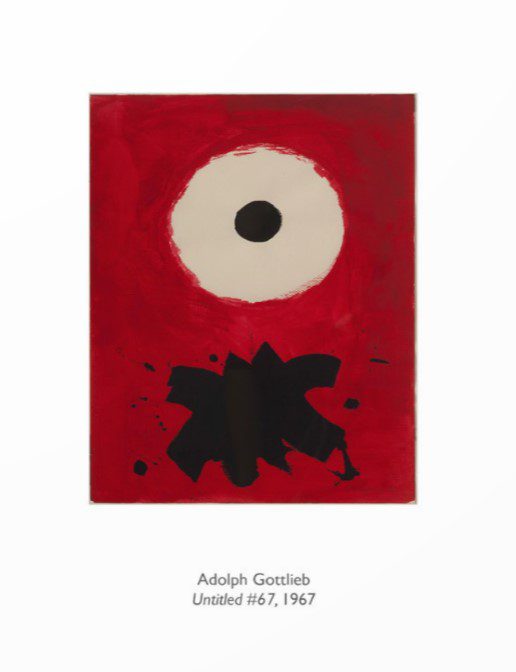 "Creative Exchanges: Artists in Jackson Pollock and Lee Krasner's Address Books" sounds like a boring look at old phone books. Beware of first impressions. The catalog tells a different story. Here are photos and bios of the artists and their friends, the writers, critics, dissidents, Europeans who escaped the Nazis, Indian classical dancers, a founder of the Paris Review, translators. They were the bohemians and intellectuals of the 1950s, gathered in the Springs, living in rented shacks and cottages and farmhouses.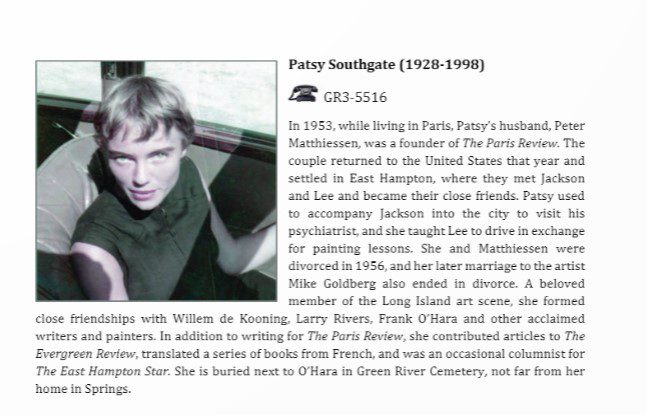 The photos show beautiful women – that seemed to be one ticket for acceptance – who were also brilliant and talented. Couples became fast friends, in East Hampton and in New York City. They shared art teachers and psychiatrists, exchanged apartments and houses. They fixed each other's cars, and homes. They painted together, divorced, remarried.
The address books tell part of the story. The catalog tells the rest. This is not a museum presentation. Art is stuck on the walls, the way Lee Krasner and Jackson Pollock might have put it there after a friend gave it to them. The exhibit includes lesser artwork by such famous artists as Thomas Hart Benton, Helen Frankenthaler, Adolph Gottlieb, Mark Rothko, Barnett Newman, Hans Namuth, Betty Parsons (yes, the famed gallerist was also a painter); surprising works by Pollocks' brothers, and beautiful pictures by less well known artists like Francile Downes.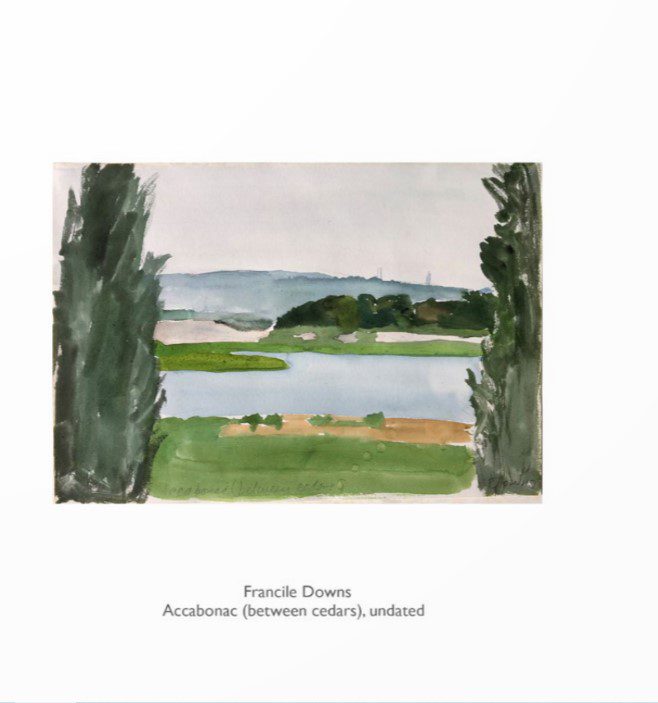 The exhibit, lovingly put on by the Stony Brook University College of Arts and Sciences, features a catalog that can seen at the Creative Exchanges website.
Now comes the tough part. The exhibit, which is at the Pollock-Krasner house at 830 Springs/Fireplace Road, can be visited on a guided tour by appointment only. There are no walk-in admissions. No, not you Beyonce. Or you, Jamie Dimon. Nuh uh. (Well, check with Stony Brook.)
The Pollock-Krasner House and Study Center is closed on Mondays. On Tuesdays and Wednesdays, it is open only for schools, camps and coach tours. Thursday-Saturday there are one-hour tours at 12pm, 2pm and 4pm. Sundays there are one-hour tours at 1pm and 3pm.
Admission, $15 adults, $10 children under 12. Infants free. Go here to reserve tickets.
In those days phones had dials and numbers had prefixes, TR (Trafalgar, for the Upper West Side), PA (Pennsylvania, as in PENNSYLVANIA 6-5000, the number for the Pennsylvania Hotel), PL for Plaza, and so on. East Hampton's exchange was EA. — Linda Lee
Linda Lee is a former reporter and editor at The New York Times.