By Sea
Ferry Services to East Hampton
Looking to arrive out East via ferry?  Here are our recommendations on the best services between East Hampton and Connecticut via Montauk and Sag Harbor.
Ferrying between East Hampton and Connecticut: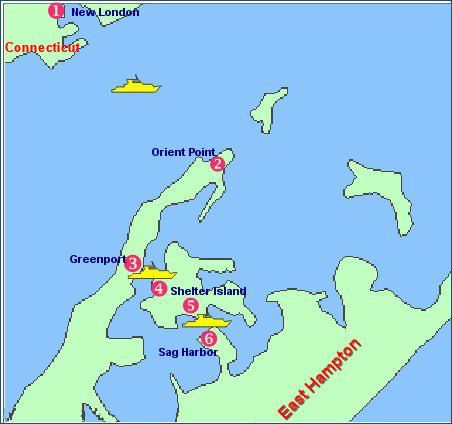 | # | Destination | Method | Time / Distance |
| --- | --- | --- | --- |
| 1 -> 2 | New London <=> Orient Point | Cross Ferry | about 1hr 45min |
| 2 -> 3 | Orient Point <=> Greenport | By land | about 6 miles |
| 3 -> 4 | Greenport <=> Shelter Island | North Ferry | about 15 minutes |
| 4 -> 5 | Shelter Island (North) <=> Shelter Island (South) | By land | about 5 miles |
| 5 -> 6 | Shelter Island <=> Sag Harbor | South Ferry | about 5 minutes |
Needless to say, it's a beautiful ride – whether on the ferry or driving to the various ferry ports by car. A car is a typically a necessity to get on the ferry. While crossing, you can of course get out of the car and enjoy the view from the deck. Bring your pets along on the ride but be sure you keep them in the car – a lost pet is not a good way to start a vacation.
From New London, CT to Sag Harbor
Cross Sound Ferry
http://www.longislandferry.com
info@longislandferry.com
631-323-2525
2 Ferry Street
P.O. Box 33
New London, CT, 06320
North Ferry Company
http://www.northferry.com
631-749-0139
Shelter Island Heights, Route 114
Shelter Island Heights, NY 11965-0589
South Ferry Inc.
http://www.southferry.com
631-749-1200
P.O. Box 2024
Shelter Island
11964
From Bridgeport, CT to Port Jefferson
http://www.bpjferry.com
631 – 473-0286 or 203-335-2040
Port Jefferson Terminal is located at Port Jefferson Harbor at North end of Route 112. Bridgeport Terminal is located on Water Street Dock one Block from the Municipal Bus Terminal.
From Port Jefferson, you will have to drive to the Hamptons by taking Rout 112 to the Long Island Expressway (495 East) to Montauk.
Other Ferry Services
Montauk to Block Island
http://www.blockislandferry.com
info@blockislandferry.com
(631) 668-5700
(631) 668-5700
Viking Ferry Lines
http://www.vikingfleet.com/
vikingfleet@gmail.com
Viking Ferry Lines provides seasonal passenger service from and to Montauk to Block Island between May and October as well as to other locations such as Point Judith, Providence, Newport, New London and Martha's Vineyard. These are passenger services, no cars.
After you landed…
There are several options for getting from any of the airports to East Hampton or any of the other villages or hamlets in the Hamptons.
See options for local transportation in East Hampton
Follow us on social media
Share This Story, Choose Your Platform!