Pet Friendly Hotels and B&B
290 Old Montauk Highway
Montauk, NY 11954
Phone: 631-668-2345
Gurney's Montauk Resort & Seawater Spa
https://www.gurneysresorts.com/montauk/
Hamptons icon Gurney's is located on Montauk's most pristine stretch of oceanfront real estate.  Montauk's only year-round resort, it provides guests with direct access to a 2,000-foot private sand beach.  146 rooms, suites, and beachfront cottages, all deliver dramatic ocean views.   Five unique dining and drinking venues offer everything from elegant seasonal cuisine to casual fare to craft cocktails. 25,000 square feet of meeting and banquet space works well for business or social events.  Gurney's famed spa is renowned for its healing treatments and ocean-fed seawater pool, the only pool of its kind in North America. The Beach Club, offering spectacular views of the Atlantic, provides the only beachfront food and beverage service experience in the Hamptons.Size
273 Main Street
Amagansett, New York 11930
Phone: 631-267-3133
Gansett Green Manor
Pet friendly accommodations with private entrances, unique decor, and fully provisioned kitchens featuring WiFi, flat screen TVs, L'Occitane bath products and daily housekeeping service.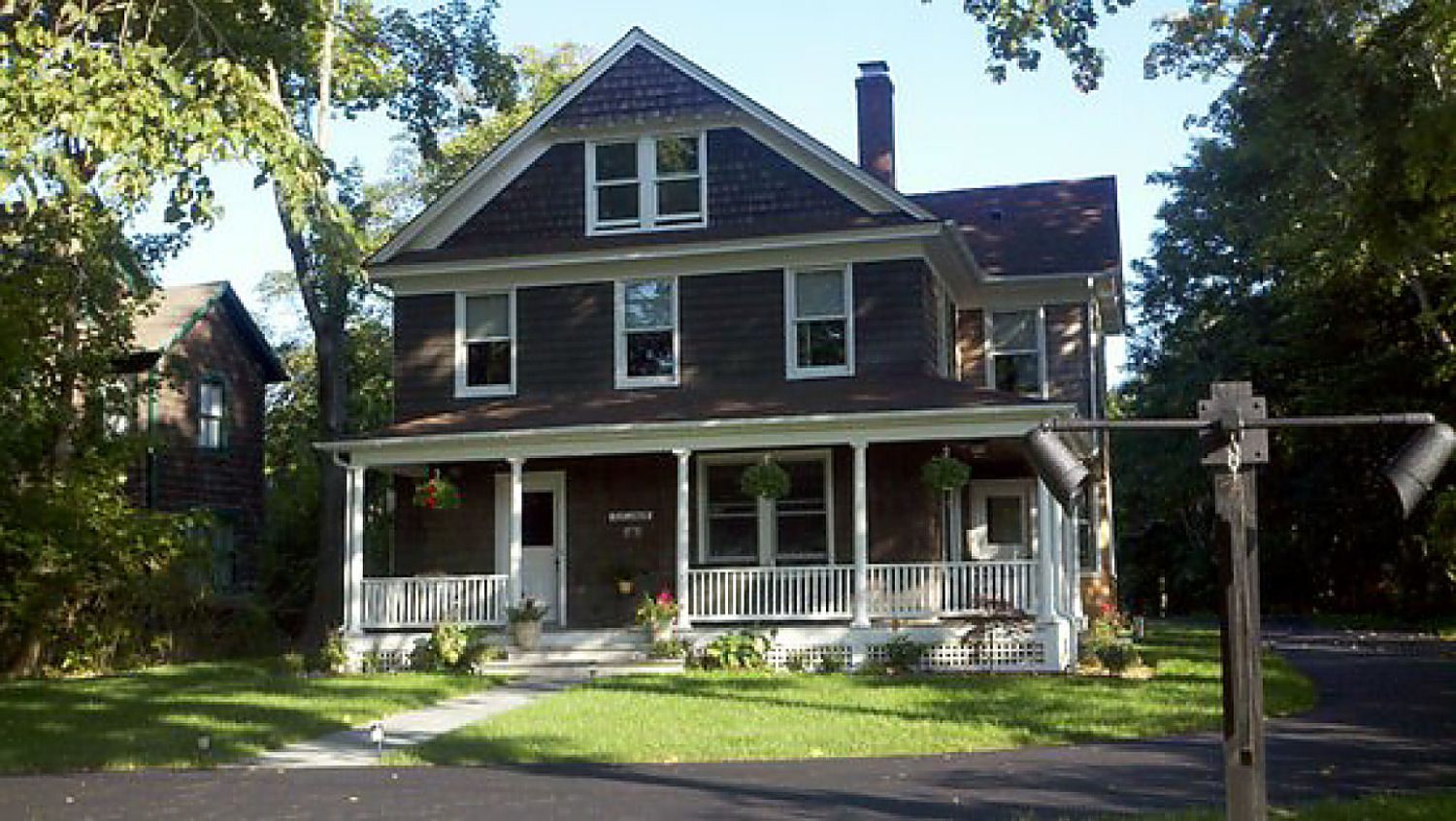 434 Main Street
Amagansett, NY 11930
Phone: 631-604-5765
434 on Main (B&B)
434 on Main is renowned for its dog friendly lodging as well as its five-star amenities.  This updated historic 1905 home is located a short walk from the LIRR, Hampton Jitney and Amagansett village.  Atlantic Beach, the shops at Amagansett Square and the Farmer's Market are within walking distance.  One of the Hampton's most popular venues for live music, Stephen Talkhouse, is moments away.
Email: host@434onmain.com
295 Three Mile Harbor Hog Creek Rd,
East Hampton, NY 11937
Phone: 631.324.9191
East Hampton Point Resort
http://www.easthamptonpoint.com
This pet-friendly full-service waterfront resort offers guests unparalleled hospitality, elegant accommodations, exceptional seasonal dining and a stunning setting.
Email: hotelmanager@easthamptonpoint.com
295 Three Mile Harbor Hog Creek Rd,
East Hampton, NY 11937
Phone: 631.324.9191
The Maidstone Hotel
16 rooms and three cottages are each dedicated and inspired by a Scandinavian luminary. Choose by design or personality. Photo art is a big part of the Hotel's culture.  The Maidstone offers amenities ranging from free vintage bikes to beach parking permits.  Kids and dogs welcome.
Email: frontdesk@themaidstone.com
31 North Main Street,
East Hampton, NY 11937
Phone: 631-324-9766
The Mill House Inn
Located in the heart of the historic village of East Hampton NY, the Mill House Inn is considered a "hospitality hybrid." Ten unique rooms and suites offer the privacy and comfort of a luxury boutique hotel, while still delivering the intimacy, comfort, and local flavor of the world's best small inns.
Their staff is on hand to arrange customized excursions from picnics on a favorite secluded beach to creating a map of local bike trails and back roads or securing a coveted reservation at an overbooked restaurant.
Email: innkeeper@millhouseinn.com
128 Montauk Highway
East Hampton, NY 11937
Phone: 631-324-6127
The Basset House (B&B)
http://www.bassetthouseinn.com
Built in 1830 with several additions up to 1926 and eligible to be listed in The National Directory of Historic Places, the public and guest rooms each blend comfortable furniture of varied vintages in an informal setting. The parlor, living room and dining room all flow from one to the other without jarring transition making Basset House ideal for small groups or business meetings as well as suitable for vacationing guests.
The 12 rooms are bright and airy. Eight rooms have private baths, two with fireplaces; the spacious master bedroom has a six-foot whirlpool spa. The Inn's central location provides easy access to the village, beaches, country walk and, restaurants.  Just about anything in the form of recreation including yard sales and antiquing is walking distance. It's not just a Summer resort: Spring, Fall, and Winter offer their own special feeling and warmth. Try an off-season weekend. It's open year round.
Email: info@bassetthouseinn.com
765 Rt. 114
Sag Harbor, NY
Phone: 631.591.0512
Forever Bungalows
Sag Harbor's only boutique eco-friendly hotel. Forever Bungalows is a simple environment that encourages a true escape. The hotel rooms have a quiet boutique feel, while detached 'bungalows' offer a more casual country vibe.
E-mail: info@foreverbungalows.com
31 West Water Street
Sag Harbor, NY 11963
Phone: 844 227 6672
Barons Cove
Baron's Cover features sixty-seven charming village and harbor facing rooms and suites with plush bedding.  Dog-friendly for guests who travel with their pets. Amenities include the harborside heated saltwater pool, tennis court, fitness studio, spa services and complimentary beach service with transportation. The onsite concierge can help you take full advantage of the hotel and all there is to do in the Sag Harbor area.
35 Shore Road
Shelter Island Heights NY 11965
Phone: 631 749 2001
Sunset Beach
A seaside hideaway overlooking Shelter Island Sound created by famed hotelier Andre Balazs with only twenty guest rooms.  Each room comes with its own private sundeck with water views, seating and living area, vanity area with adjoining shower or bathtubs, Kiehls bath products, spacious closets, stocked mini-bar, refrigerator, iPod-ready sound systems, TV with DVD, 400 thread count linens, twice daily housekeeping service and room service from the beachside restaurant. Guests enjoy complementary Wi-Fi, beach chairs with towels, bicycles, paddleboards, petanque and priority restaurant reservations.  All guest rooms have king sized beds or two double beds, overlook the sunset and range from 410 to 430 square feet.  But the draw here is the sunsets, simply extraordinary.
Email: info@sunsetbeachli.com
11 Stearns Point Road
Shelter Island Heights, NY 11965
Phone: 631.749.1633
Shelter Island House
https://www.shelterislandhouse.com
Drawing inspiration from its original roots in the 1800s, Shelter Island House has been reinvented with luxurious modern beach flair although the architecture maintains its historic details. The intimate hotel boasts graciously sized rooms with spa bathrooms decorated with local art. Guests enjoy complementary amenities, including Wi-Fi, Pool and Bicycles. An on-premise restaurant and bar are also available.
Relax on the deck with morning coffee or an evening cocktail, grab a snack from the pool bar for a day at the beach or borrow bikes for Island exploring. Wrap the day with a dip in the pool, a game of petanque and dinner alfresco.
Email: info@shelterislandhouse.com
1 Bridgehampton-Sag Harbor Turnpike
Bridgehampton, NY 11932
Phone: (631) 537-0870
Topping Rose House
http://www.toppingrosehouse.com
Owners Bill Campbell and Simon Critchell transformed Topping Rose House into a year-round modern luxury refuge in the heart of The Hamptons.   Approximately 100 miles from New York City, Topping Rose House is The Hamptons' first full-service luxury hotel. Topping Rose features 22 elegantly appointed guestrooms, studios, and cottages as well as spa services, fitness center, heated outdoor pool, distinct private event spaces, house vehicles from Lexus, and a complimentary shuttle to beaches and local attractions in Bridgehampton.
The 75-seat farm-to-table restaurant is truly, features produce grown on the property's one-acre Topping Rose Farm and honors the best ingredients from local farmers and fishermen.
Email: reservations@toppingrosehouse.com
1655 County Road 39
Southampton NY 11968
Phone: 631-283-6100
The Atlantic
http://www.atlantichotelsouthampton.com
The Atlantic Hotel is a modern, spacious resort located in Southampton, New York. With 4 ½ acres of land to explore, the Atlantic features amenities including a heated pool, a beach volleyball court, and two full-sized tennis courts..
Email: reservations@atlantichotelsouthampton.com
161 Hills Station Road
Southampton, NY 11968
Phone: 631-287-1089
The Bentley
http://www.bentleysouthampton.com
Guests needing additional space will appreciate the 750 square foot suites at The Bentley. These 39 rooms offer separate living rooms with a kitchenette, sleeper sofa, two televisions, and private patios. These layouts are perfect for groups of friends or families who want to spread out and make themselves at home. The Bentley's spacious accommodations are also ideal for guests looking to pay an extended visit to the Hamptons. The Bentley features an expansive pool, sun deck, and a tennis court.
Additionally, hotel guests have access to an on-site concierge keyed-in to the best that the Hamptons has to offer from beach access parking, hard to get reservations for the hottest restaurants and nightclubs, and other unique requests.
The Bentley is located approximately three miles from the beach. A limited number of complimentary beach parking permits for ten local beaches are available to borrow at the front desk.
Email: info@bentleysouthampton.com
91 Hill St,
Southampton, NY 11968
Phone: 631-283-6500
Southampton Inn
https://www.southamptoninn.com
Located in the heart of historic Southampton Village surrounded by several acres of manicured lawns and gardens, the Southampton Inn is a welcome respite from bustling city life. Combining casual Hamptons style with European comfort, the Southampton Inn has been a local landmark for three generations.  90 charming guest rooms provide luxuries such as Tempur-Pedic mattresses, mini refrigerators, and complimentary Wi-Fi.  Plan intimate or grand events with the help of the knowledgeable and creative event planners, relax with a book or a Nook® in the library with classical music and a roaring fireplace.  Enjoy the outdoor heated pool, all-weather tennis court, lawn games and bicycles.  Restaurants, celebrated boutiques, unique galleries, and cultural opportunities are within walking distances.  Wine tastings, garden tours, food events, and recreational pursuits are part of the experience. World famous Cooper's Beach is 1 mile away.
Follow us on social media
Share This Story, Choose Your Platform!