This is not your ordinary garden tour. First, a little advice. Go for the $500 ticket.
Here's why. At the end of the day there is an invitation to a dazzling evening. It is not your usual cocktail party. It is a cocktail prolongé, a phrase the hostess, Cornelia Heins, provided. Available only for those who are in the upper ticket brackets, $500 and $1,000.
Let's start in the morning, because Garden as Art involves a day of programming by Guild Hall, the arts institution in East Hampton. First a presentation of "Great Gardens of the World" at 10 am at the East Hampton Library by Vincent Simeone from Planting Fields Arboretum. He has taken groups on garden tours all over the world, and he will take ticket holders on that same tour. Sitting in the library, of course.
Four Gardens
The self-guided tour begins at noon. Here is a chance to walk around the properties without escort, taking your time to look at individual plantings or to admire the way the landscape at Linden Hill was organized around ancient trees and the remnants of a dune. That white staircase set into the green hillside is a reminder: wear comfortable and sturdy shoes.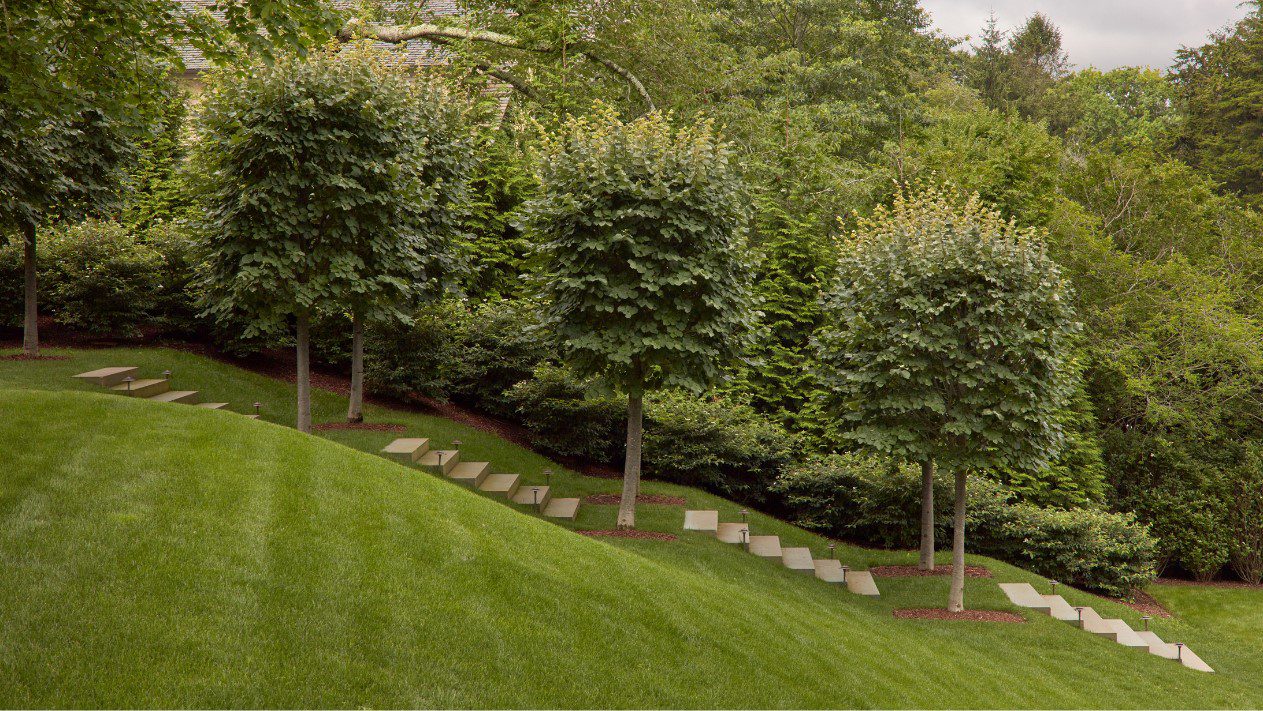 And don't be surprised if you bump into the executive director of Guild Hall, Andrea Grover, in the gardens. She says she has not seen any of them. "I'm going to try to go to all of them," she says. "I'm going to be a patron that day."
Although she has been at Guild Hall for six years, this is only the second time Grover has presided over a garden tour and closing cocktail party. In 2021, she remembers, it was oyster shucking at the ocean-front gardens of Kathy Rayner's home.
These are not Aunt Liddy's flower beds, a few day lilies here, some hens and chicks there. The director of events, Kendra Korczak, asked three noted landscape architects to choose the destinations. They were Edmund Hollander (two gardens), Harmonia (one garden) and Frederico Azevedo of Unlimited Earth Care in Bridgehampton for the fourth garden.
"They are not all flowery gardens," Korczak says. "When you have a completely green garden that's nice too.  Some on are on the water. Some are smaller, some are larger. Newer homes, older homes. There's a little bit for everyone."
You have the freedom to walk around homes (but not through them) without the judgmental eye of a real estate broker during an open house. (You know, a look at your shoes, or handbag, and he or she knows you can't afford the $49 million mansion.) Some destinations are on the ocean, and at exclusive addresses – look there's Grey Gardens!
Four hours gives you enough time to study individual plants – those white flowers at Gardens on West End Road are a perennial hibiscus called Blue River, which can be grown in zones 5 to 9. It's a native plant (also called swamp rose mallow) that attracts bees and butterflies.
The schedule gives you time as well to understand how the landscape architects have used everything at their disposal to direct the eyes and feet toward the most appealing points. See how four trees and a string of lights can create a bower?
The Cocktail Prolongé
Time out after the gardens to take off those shoes and  relax. Then onward to the 7:30 cocktails, where you will again see Andrea Grover at the home of Cornelia and Ralph Heins. Their home, of course, has a gorgeous garden. Cornelia Heins was born in Germany and was familiar with the idea of cocktail prolongé. "It was a term better known in Europe," Grover says. "It was entirely her concept. More than just a short evening."
Cornelia Heins is a noted journalist and the author of seven books written in German, one of which is about the fall of the Berlin Wall. In case anyone wants to start a conversation.
At 9, there will be a performance by The Beatbox House, artists in residence this summer.
After that, more cocktails and many more hors d'oeuvres. Then perhaps dancing, on into the night.
Isn't that day worth $500?
— Linda Lee
Linda Lee is a former editor and reporter at The New York Times