By Katlean deMonchy–
Jamaican-American artist-photographer Renee Cox opened her solo show, "A Proof of Being," organized by Monique Long, at the newly renovated Guild Hall in East Hampton on July 2. The show, on view through September 4, presents a selection of her best-known and most celebrated photographs produced since 1992.  I interviewed Cox at Guild Hall on her work, which has provoked discussions about culture, activism, gender, and African studies.
What does it mean to be the first artist whose work was selected for the renovated space.
Cox: The initial thought was I was going to curate a show of Black artists, bring a little bit of color up into the hood here, so to speak. And then it became, Do you want to do a stand-alone show, and I was like, "I can't argue with that, right?"
Tell me how your work has evolved.
Cox: You can get locked into just doing that one thing. And I didn't want to let that happen. I started out like the image would be "Yo Mama," which is the seven-foot photograph of me holding my son at 18 months. That image was in Marcia Tucker's "Badgirl" show at the New Museum in like '93. I could have just stayed there and shot myself nude every two years and called it a day. You know, like being female, having children, they basically want to write you off and say you're not serious. I was like, no, you're not going to do that to me. I've never considered my children any kind of obstacle. In fact, I've utilized them in the work right?
But that's not the artist I am.
I realized I had to go get credentials. I went to SVA [The School of Visual Arts in New York City] and I did the Whitney Independent Study Program and have been going from there.
You seem to attract controversy with some of your work. What about showing nudity in something like "David," and symbols of Black manhood.
Cox:
No, no, no, no, no real controversy. So you've got a beautiful Black penis in there and that didn't cause anything. I consider it to be pretty classical. It is. And it's done well. It has its roots in the original work of portraiture. and whatnot.
Now my work is changing, and I've become interested in fractals and sacred geometry.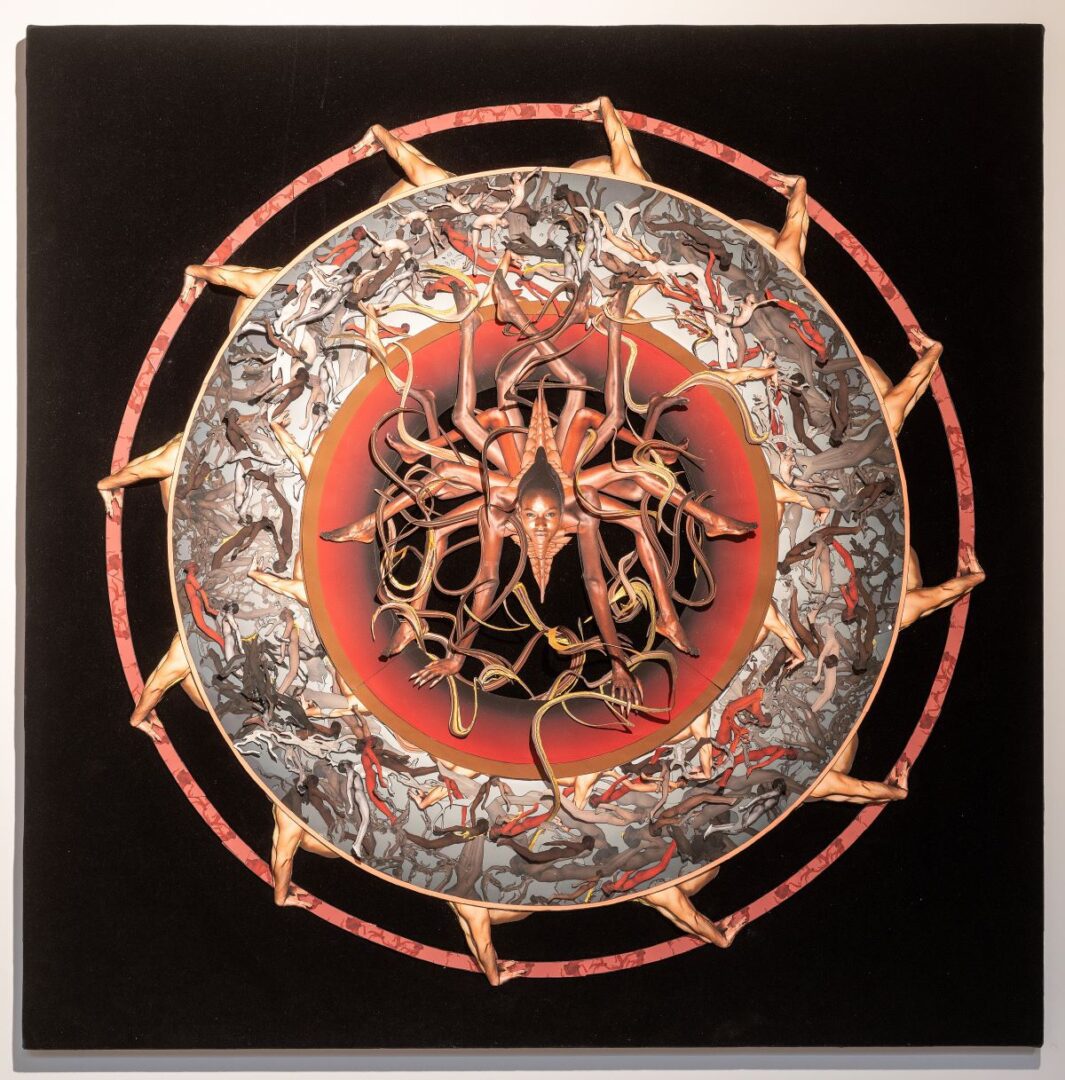 We've talked a bit about your philosophy. I always say, when you get tired of suffering, you will understand the message.
Cox: Change it with another thought or a positive thought. You just let it go.
So are you represented by a gallery?
Cox: I am represented by me. I was with Robert Miller for seven years, which is a really big, blue-chip gallery. But they don't exist anymore. So now, why am I giving 50 percent to somebody? Why pay a person to hang it up on a wall?
What about ageism. Does that affect you?
Cox: Fortunately, I've got Virgo rising, so I'm 10 years younger than I really am.
Since you are in so many of your own works, do you work out, to remain fit?
Cox: I think it pushes me to maintain. But the thing is, I was in fashion, right? And I love expensive clothes. I love a sample sale. So you can't be a size 16 to go to a sample sale, can you?
They both laugh.