By Katlean de Monchy —
LongHouse Reserve and its director Carrie Rebora Barratt hosted a riveting  Midsummer Benefit on the institution's Great Lawn in East Hampton on July 22. The suggested dress was dreamy summer colors, which guests interpreted in creative ways. One guest told me he was a dreamy fairy.
Candace Bushnell was looking fierce and very much on trend in a pink dress by Nicole Miller. It had that Barbie vibe. Goes to show that it's great to show some leg and look fabulous.
Fernando Rivera and Michael Jones in jackets by Etro were getting compliments galore. Jones's Navajo-inspired jacket is from the 2023 Etro collection and a great conversation starter. Rivera is the controller of Etro.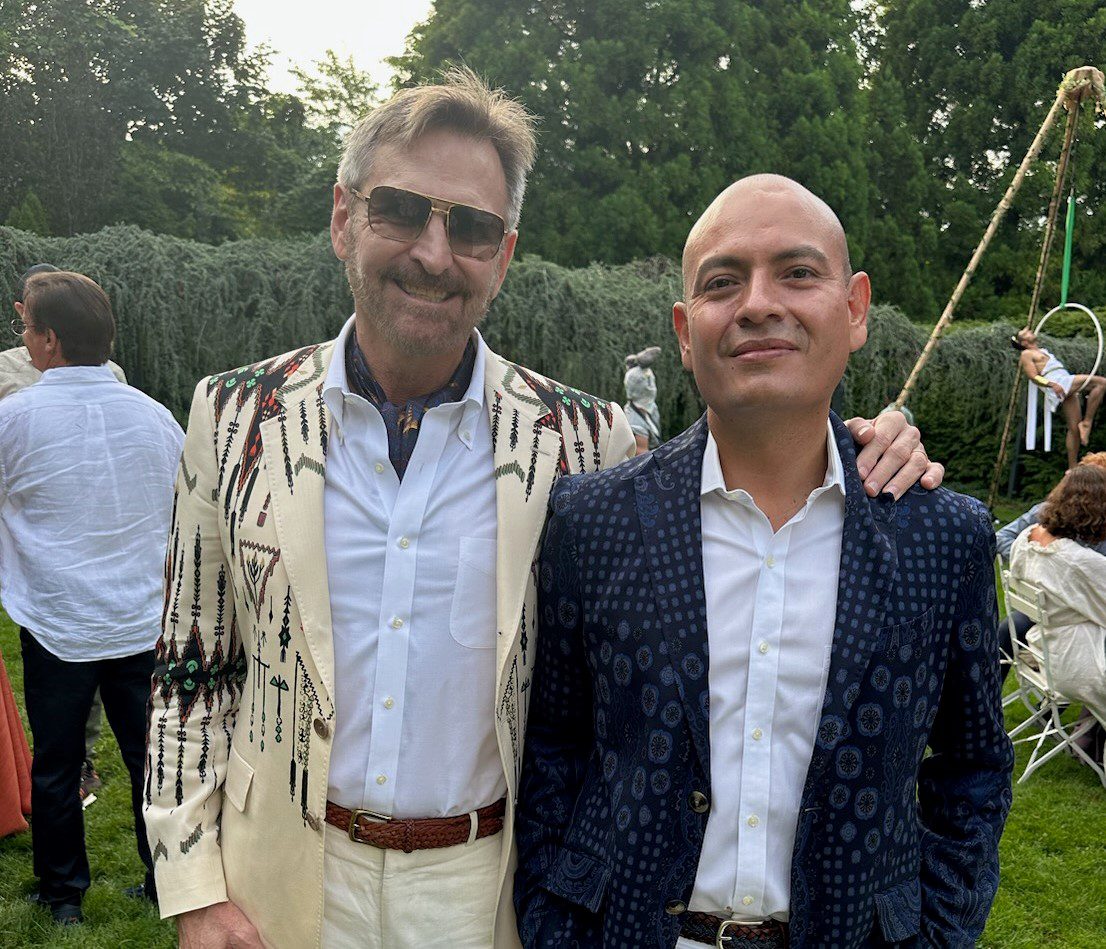 Michael Jones, left, in Etro, and Fernando RiveraThe Longhouse Reserve promised "an evening full of wonder," based on Shakespeare's "Midsummer Night's Dream." Guests entered through the sand dunes, and entertainment included pop-ups by Hamptons Fly, stilt walkers, musicians, dancers. There was a horse and rider, a merman in the pool, trapeze aerialists and acrobats performing across the gardens and throughout the evening.
Gala chairs Dianne Benson, Cindy Sherman, and Robert Wilson, art chairs Pamela Willoughby and George Negroponte, with the Longhouse Board of Trustees, and board president Nina Gillman, welcomed friends and supporters. The night honored the joyful creativity of artist Mary Heilmann (introduced by Almond Zigmund) and the literary genius of A. M. Homes (introduced by Laurie Anderson).
Guests wandered the 16-acre grounds and discovered extraordinary outdoor art at every turn. There were new works by Maren Hassinger, Wyatt Kahn, Fitzhugh Karol, and Oscar Molina, loans from Daniel Arsham and Ai Weiwei, as well as permanent works by Buckminster Fuller, Sol LeWitt, Yoko Ono and more.
CThe choreographer Bill T. Jones, Dianne Benson, the gallerist Jack Hanley and Cindy Sherman (Photograph Patrick McMullan/Getty)It was one of the most visually vibrant events I have ever attended.
Among the many artists who attended the gala were Cindy Sherman, Renee Cox, Mary Heilmann, Robert Longo, Alice Aycock, Randy Polumbo, Wyatt Kahn, Almond Zigmund. Gallerists like Michael Steinberg and art collectors like Lisa Perry were thick on the ground as well. And other artistic types, like musicians, the choreographer Bill T. Jones and the actress and producer Stella Schnabel.
Longhouse Reserve is home to a serious art contingent. When these folks talk about books, they mean literature, not account books.
Somehow, Longhouse Reserve managed to seat 356 people for the dinner in gigantic tents on their grounds. It was a fabulous affair that raised $650,000.
Meanwhile, bidding on the 32 lots of art, photography and furniture closed on Monday. All proceeds from those sales will go to support programs at Longhouse, which include school visits, twilight tours, forest bathing, Tai Chi, artist talks, workshops, and Sound and Silence Meditation.
An example of the kind of programs Longhouse Reserve provides: next Sunday, July 30, the celebrated New York artist Michelle Oka Doner will appear with the architect, author and publisher Alastair Gordon. She will read from her new children's book, "A Seed Takes Root: A True Story." Alastair Gordon will show a short film on Oka Doner's work.
Tickets are $20 – $30. The event takes place at 3 pm. The book will be published in September.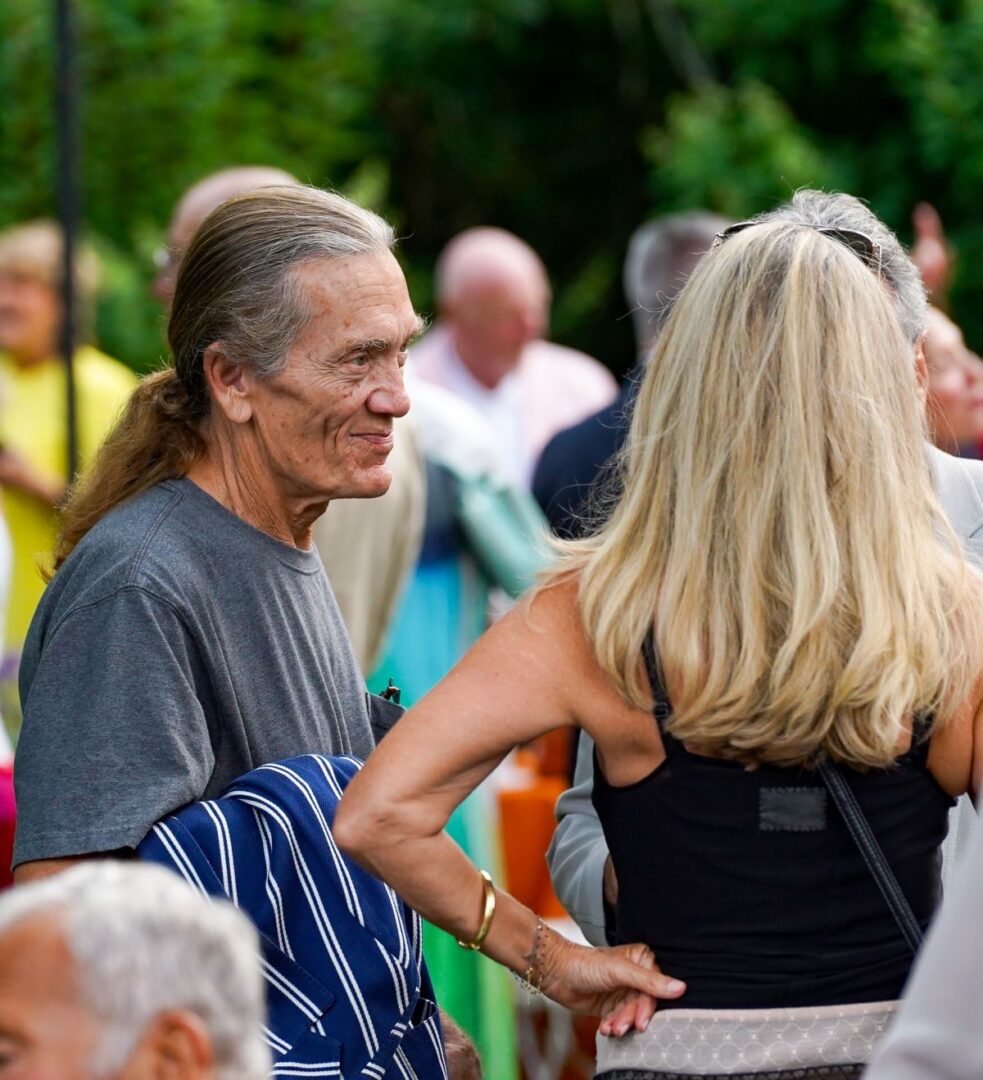 C.E. Smith, one-time band leader for Saturday Night Live. (Patrick McMullan/Getty)