MIAMI HOT SPOT EL TURCO COMES TO
EAST HAMPTON
Authentic Turkish Food Flavored With Turkish Hospitality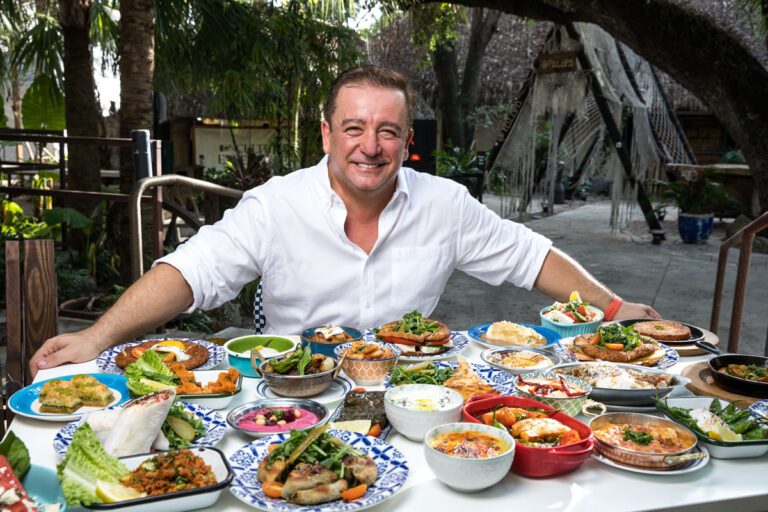 El Turco East Hampton is the result of a casual meeting between one of El Turco's  Miami's founders and Frank Cilione.
By Lori Zelenko
East Hampton is in for a unique culinary experience with the arrival of acclaimed Turkish restaurant El Turco. The authentic Turkish food,  healthy and delicious, as diverse as the cultural heritage of the country itself, will surely intrigue adventurous diners out East this summer. The embrace of Turkish hospitality brings something special to this joyful spot.
El Turco East Hampton is the result of a casual meeting between one of El Turco's  Miami's founders and Frank Cilione, the longtime operator of the dual restaurant and nightlife venue on Three Mile Harbor Road in East Hampton. Soon thereafter, Mr. Cilione  brought the original founders of El Turco Miami Nurdan Gur Yuzbasioglu, Gokhan Yuzbasioglu along with developer and visionary Cagri Kanver on board. Together they realized a collective vision for El Turco East Hampton.
With a prime location – 44 Three Mile Harbor Road – East Hampton's El Turco is open for the July 4th holiday weekend. The official opening, however, is Friday, July 8th. What will be remarkable about feasting at El Turco is the chef's tasting experience, a culinary journey through the rich flavors and compelling cultural heritage of Turkish food yet though the origins of this flavorful cuisine may be traditional the bold tastes and modern presentation are exciting and contemporary.
Selecting the finest local seasonal ingredients from pasture-raised beef to farm to table fruits and vegetables, each dish on the menu is based on classic Turkish recipes, deftly seasoned, and reimagined by the culinary team lead by Mr. Yuzbasioglu and Executive Chef Guney. What makes the experience of dining at El Turco particularly exciting is that the cuisine expresses the flavors of each region of Turkey  – Aegean and Anatolian as well as Mediterranean and the South-Eastern region – all will be represented on the menu.
Indulge yourself in an assortment of gorgeous mezes like Roasted Beet Hummus, Kopoglu, Red Lentil Balls and Armenian style Pilaki. Dig into Turkish classics such as Ali Nazik Kebab – a smoked pureed eggplant topped with cubes of sauteed lamb, or for fans of fresh fish, a traditional Mediterranean style grilled Sea Bass. Among other appealing dishes sure to become "must haves," look forward to fresh summer salads and tantalizing small plates such as Manti – small beef dumplings topped with garlic yogurt, sumac, and dry mint.
Each one of El Turco's exceptional dishes is presented with  outstanding wine pairings and cocktails. Divine though the food may be  the warmth of Turkish hospitality and the highly professional staff will make for an experience you'll want to enjoy over and over again.
But the fun doesn't stop with the food at El Turco, there will be an eclectic range of live entertainment plus a curated selection of music will be featured as background for a transporting dining experience. Whether you are already a devoted patron of El Turco Miami or you're out East for the summer, you're sure to find a freshly flavored Turkish dish to call your own.
Dinner service will take place every Tuesday through Saturday during July and August beginning at 6:00 pm. with the early evening seating featuring more family-oriented meals. As the night progresses guests can expect a vibrant dining atmosphere that's wonderfully energizing.
Traditional Turkish style brunch will be offered on Sundays from 10:00 a.m. to 4:00 p.m. There will be giant towers of seafood to devour alongside traditional Turkish dishes. Considered one of the healthiest in the world, the meal is as rich in nutrients as it is in intriguing flavor. Typically,  breakfast Turkish-style includes greens as well as fresh tomatoes, cucumber, and peppers along with feta cheese, eggs, olives, honey, and a creamy dish called Kaymak. Just as the French have pastries, the Turkish answer to such accompaniments is fresh baked traditional breads and Borekas (small savory pies).
El Turco's Miami location earned an excellent Michelin rating after only fifteen months in business, so naturally expectations are very high for El Turco East Hampton.

Reservations for El Turco available on www.resy.com and www.opentable.com
For more information, please visit www.elturcoturkishfood.com
TEL: (631) 502-9597
LOCATION:
44 Three Mile Harbor Road, East Hampton, NY 11937
HOURS:
Tuesday to Saturday: 6:00 p.m. to 1:00 a.m. for dinner service
Sunday: 10:00 a.m. to 4:00 p.m. for brunch service
Monday: Closed