Mommy's Heart Dinner in Water Mill a Success
Cuba Gooding Jr. came to the party, and so did Assembly Member Rebecca Seawright and former Congresswoman Carolyn Maloney. They are supporters of Julianne Michelle's foundation, Mommy's Heart.
The cocktail party and dinner in Water Mill on July 29 was the Hamptons launch of the foundation. Their mission is to provide no cost legal and mental health services to survivors of abuse (domestic violence survivors) who escaped violence in the home but are now facing retaliatory lawfare by their abusers in court.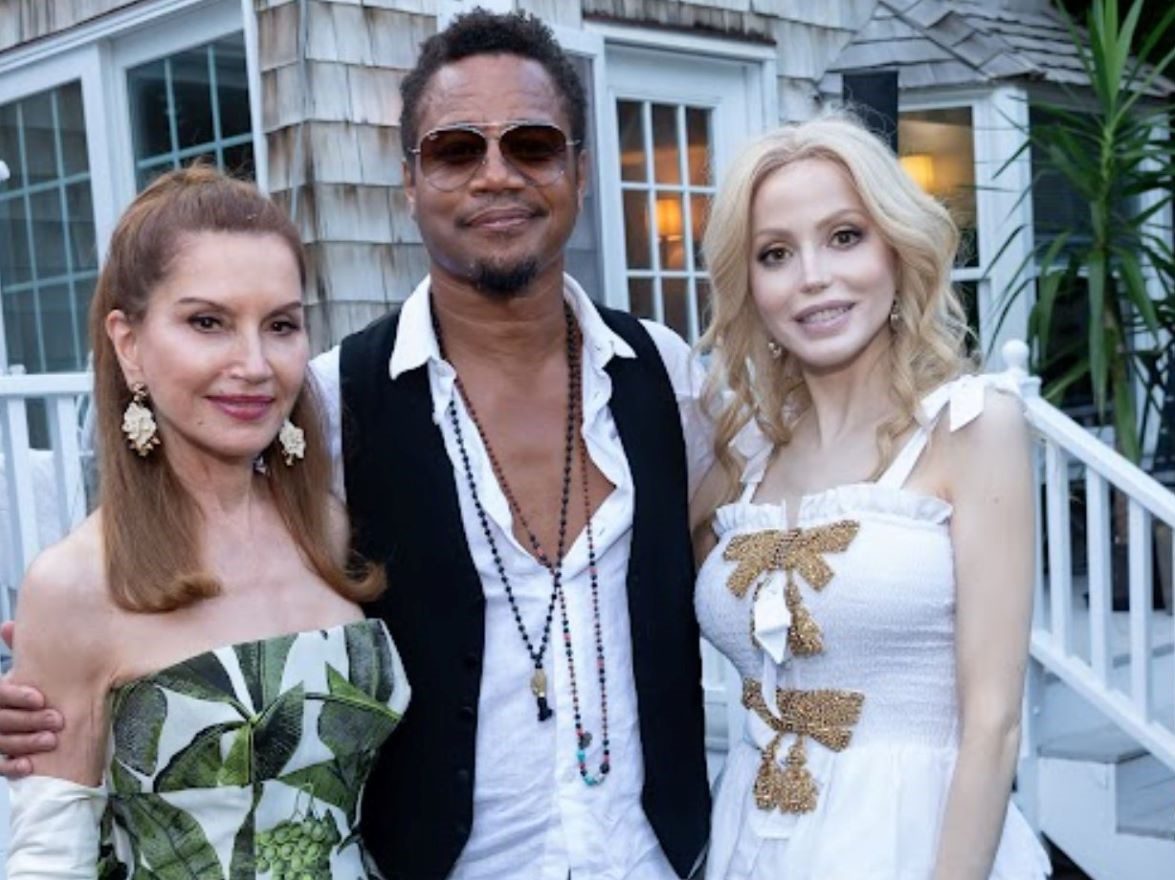 The cocktail party took place in a lovely yard of  Leslie Barratt's home. Cuba Gooding Jr. has been on the board of Mommy's Heart from the beginning. Other supporters from the Hamptons were more recent recruits. It was an enthusiastic turnout.
Julianne Michelle's parents arrived to show their support. Her mother, Joycelyn Engle Di Palma, has a long history in the entertainment business as a writer and producer. Her father, Count Joseph Di Palma, is a former attorney. Other attendees included Myles von Trapp Derbyshire, Jean Shafiroff, Tabber Benedict, Noelle Dunphy, Yasmeen Gumbs, Heather Savoie, Patricia Shiah, Ronnie Golden Eagle, Katlean de Monchy, Rita Cosby, Joy Pak, Aisha Christian, Kavit Channe, Nafisah Carter, and Ana Maria Osorio.
During cocktails, music was provided by the singer Lauren Frazza with Jon Weber on keyboard. Rita Cosby, who is an Emmy-winning TV host and author, was the emcee for the evening. The comedian Dan Nainan served as auctioneer. Among the auction items was a painting by Byron Keith Byrd.
The dining room was decorated with a nautical paintings by Rinaldo Skalamera.
The guests were a mixture of Mommy's Heart board members, Hamptons humanitarians like Jean Shafiroff, New York figures like Yasmine Gumbs-Breakenridge, a corporate attorney, born on the island of St. Thomas, who went on to win title of Mrs. New York in 2021, glamorous figures from the entertainment world,  like Nafish Carter, a celebrity hair stylist, and committed activists in protecting women's rights Some of the guests fit several categories.
It made for lively conversations about the dinner table. And all of them were interested in Julianne Michelle's other career — acting. Her  next movie may be "Intent Unknown," with Eric Roberts. But then she is also working on three other movies. Busy, busy.
During cocktails, several guests made speeches about the serious work that Mommy's Heart was founded to do. The parents and children are facing their abusers in court, who weaponize the legal system against them.
The charges, which can be made based on hearsay, and can include emotional abuse and neglect, have sometimes kept a parent alienated from his or her children for months. It is often the parent with the most financial resources, and most aggressive lawyer, who can wield such a weapon.
The court system, fearful of any claim of child abuse, and left with shortages of personnel for home visits and anyone qualified to take testimony, may let the situation fester for years. That leaves the affected parent without redress or any clue about what is happening to their case.
Mommy's Heart hopes to change that with new legislation. A Mommy's Heart bill will be introduced in the New York legislature when it is back in session in January. Former Congresswoman Carolyn Maloney along with Assembly Member Rebecca
Seawright, who serves the Upper East Side of Manhattan, announced their support of the bill. It would address transparency and accountability in the family court system.
The Mommy's Heart Foundation is working to provide free counseling and legal services to those caught in the snare of the court system.