Alec Baldwin just can't quit the Hamptons. People seem filled with schadenfreude over Baldwin's inability to sell his house at 335 Town Lane in Amagansett. Why is that? It is a prime Hamptons property, listed last September for $29 million, but ha ha ha, Baldwin couldn't sell at that price.
The earliest part of the house was completed between 1697 and 1702, even earlier than the house he bought in Vermont. What does it mean to try to sell a historic house in the current Hamptons market?
Baldwin is an intellectual, you know, someone who reads books, and he seems to cling to his ancestral roots. His family line, despite his portrayal as a hot-tempered Irish lout, goes back to the Mayflower, not that some of those signers of the Mayflower Compact were not louts in and of themselves.
It's just that the paps love to rile him up.
Meanwhile this house has all that old molding, and amazing detail, although some of it seems embalmed in glossy polyurethane.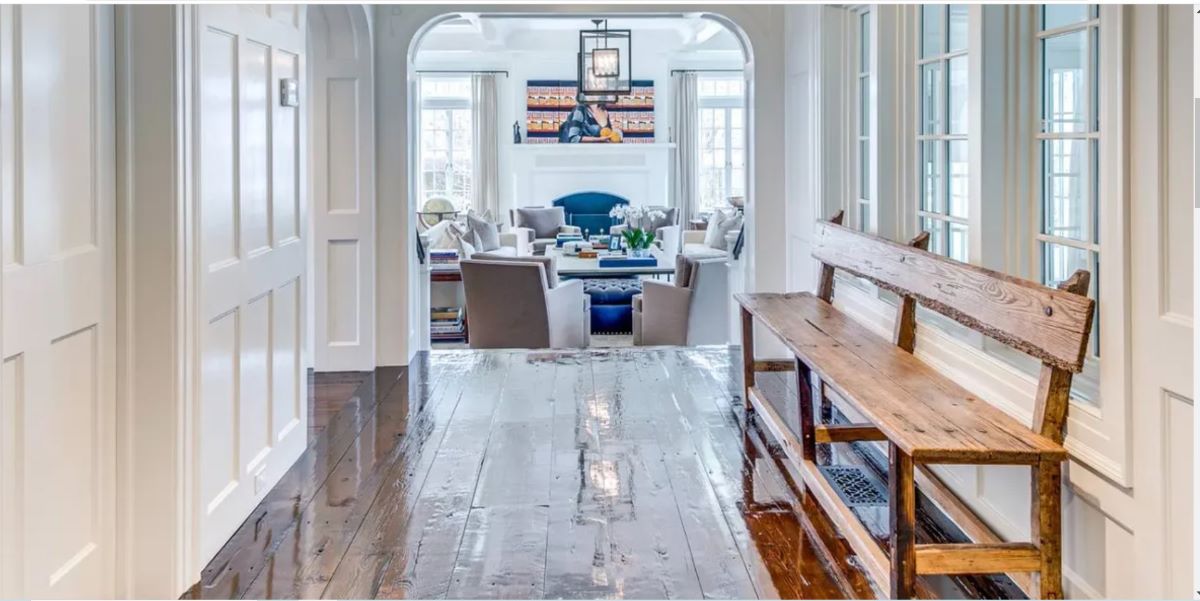 It was built when people didn't care about going to the beach. In fact, they avoided the sun. They went to the ocean to fish. Or to return to England. Otherwise, they valued good farmland on a hill, a family manse, when people had large families, like Baldwin's. This was a rich man's house. The first part of it was built the year the 13 colonies were organized, so have a little respect. ok? It's not a surf shack.
The house has so much going for it, all that old wood, which subsequent owners kept. You know how rare that is? Even as they tore out the walls to make great big great rooms. You can imagine Baldwin giving tours. See the ceiling beams? See the wide-board floors? This is the real stuff, man. King's Wood.
An exaggeration of fact: King's wood was white pine, to make masts for sailing ships, and these floors are undoubtedly some kind of hardwood. They are also not 24 inches wide, the standard for the width of a King's tree, 12 inches from the ground.
But Baldwin, for all of his love for the history of his old house faced one problem: no ocean. Today's buyer doesn't care about history. All today's buyer wants is access to the waves.
And Baldwin's house, as pristine as it is, sits on 10 acres, none of them adjacent to water. But it does have a pool. It's on a high spot in Amagansett. Great cell reception. It would be terrific for someone who wanted to have a small farm.
Imagine a large family, croquet, a pony or two, volley ball on the lawn, hide and seek. An apiary. In fact, the property adjoins an agricultural reserve. And savvy people know you can drive a few miles and drop people at the beach.
Baldwin grew up in Massapequa. He and his brothers knew a hundred ways to get to Jones Beach. You didn't have to live on the beach to go to the beach. Bicycles? I'm sure that was his rationale. And there were so many other things to do: fishing, for instance. And besides, there is that pool.
But location, location. Sarah Jessica Parker. She knew what she was doing when she bought those two little shacks on the beach.
Baldwin bought the Amagansett house in 1996 for $1.75 million, three years after he married Kim Bassinger and a year after their daughter, Ireland, was born. Their daughter spent her first five years in this house… until the separation, and two years later, the divorce. Baldwin has a lot of memories tied up here.
Big homes don't just sit there. This one is 10,000 square feet and has to be kept in primo condition to be shown. Driveways have to be plowed. It has to be heated so people can look at it. The house must be in tip-top $29 million shape, so no New Years Eve party. Tick tock.
In January, Baldwin cut the price to $24.9 million.
The house is 10,000 square feet, with four bedrooms, five baths, two powder rooms, a chef's kitchen, wine tasting room and a screening room. There are multiple covered porches, 1,276 square feet of them, which could also be used as bedrooms for summer sleepovers. There are second-floor balconies for throwing airplanes at guests.
In March, an 8,000-square-foot house in East Hampton at 31 Two Mile Hollow Road sold for $29 million, but what a house. It had a tennis court, a pool, an apple orchard. Oh, and it was 400 yards from the ocean with deeded access.
Sellers consult with their realtors the way patients consult with their shrinks or other go to the tarot cards.
Hear Baldwin gnash his teeth. He dropped his price again, to $22 million.
As of this writing, no one seems to see an historic house on 10 acres, with all those bells and whistles, as being worth $22 million. Ten acres, man. On a hill. Surrounded by farms. A wine cellar. To trod where Kim Bassinger has trod.
Or, realtors Saunders & Associates are now suggesting, buyers could divide it up into four lots!
And now for a house that DID sell: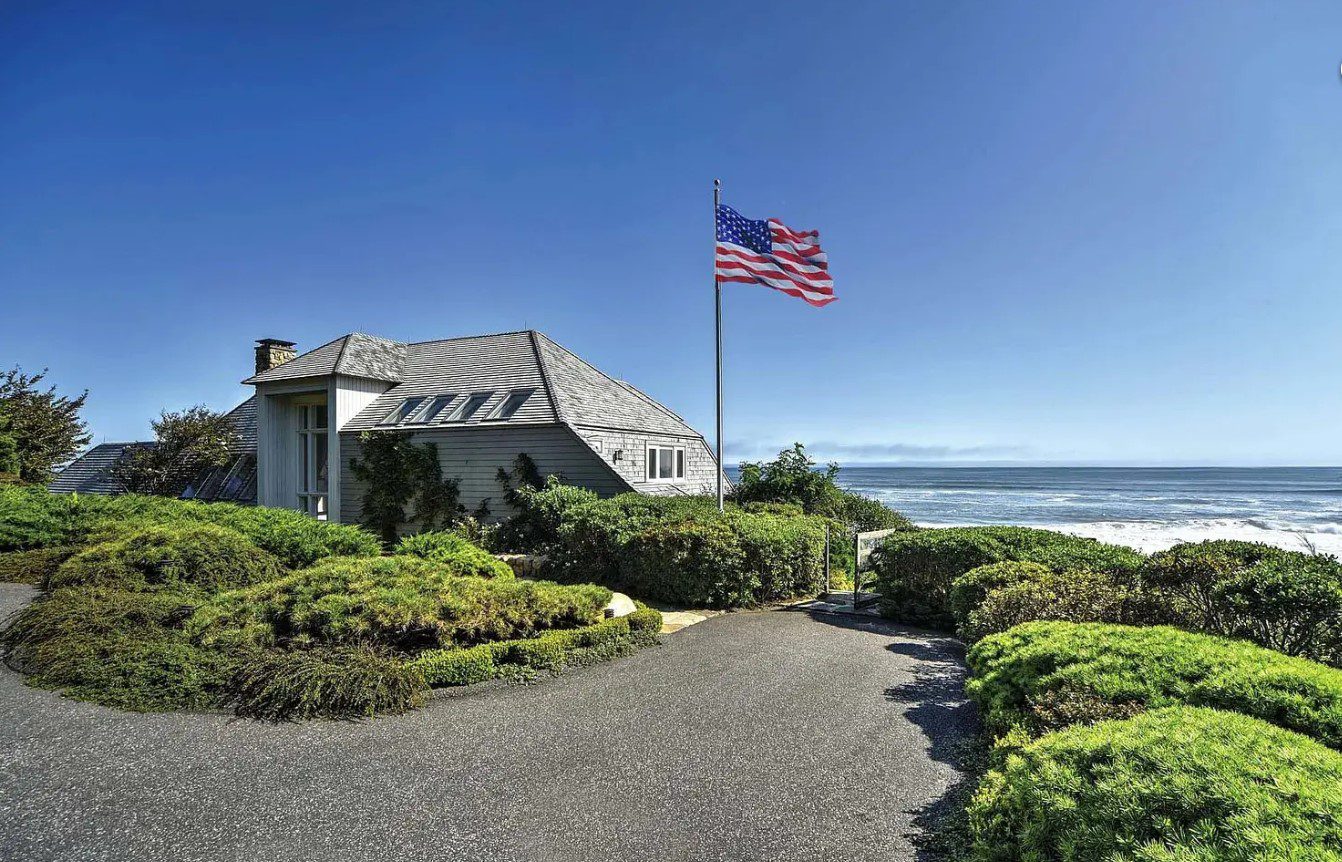 Disgraced financier Bernie Madoff bought land in Montauk in 1980 for $250,000. Because he was the kind of guy who had vision, he built his house not up top, but down the hillside, nearer the water. That way, he knew he could have a sweeping view of the ocean. And no one could spoil his view because he owned everything in front of him.
He did not get to keep it. U.S Marshalls seized his house and view and sold it to help repay the folks Madoff swindled. The theatrical producer Daryl Roth and her husband, the developer Steven Roth of Vornado Realty, bid up to $9.4 million in 2009 to get the house, more than half a million over asking price. (The same as $13.5 million now in constant dollars.)
Was it worth the price? No one can build a house today that sits any closer to the ocean. The Madoff house is 150 feet away from the water at high tide. Some people who go to the beach don't get that close.
The Roths hired the brilliant French architect and designer Thierry Despont to take away Madoff's echt 80's middle class style and turn the house into a place  that looked like the 21st century. (Perhaps a 21st century hotel.)
The 3,000-square foot home at 216 Old Montauk Highway includes not only the house but parking areas with a view, and one-and-a-half prime acres. It has 180 feet of water frontage. There is a new heated swimming pool. Some of the floors are heated travertine. There is a main room with a barrel-vaulted ceiling. Chandeliers abound. Windows can barely contain the view of sky and sea, which can be a tad depressing on a dark, moonless night. And the main patio faces the ocean with an uninterrupted view, except for some rather squat Tuscan columns, which seem to be overworked holding up the rather skimpy roofline.
A second-floor bedroom has its own ocean-facing patio.
An LLC called Froggy Dunes, incorporated in January at Tarbet & Lester law practice in East Hampton, apparently specifically to buy this property, bought it for $14 million in March. (That's $14 million in today's dollars.)
The sellers were represented by Bespoke Real Estate and Tim Davis of the Corcoran Group.
You know there is speculation about exactly who Froggy Dunes might be. The folks in Marlena's Pack House, the dive bar at Marlena's Yacht Club that used to be called Liar's Club, talk about it.
Montauk is a special place, kind of the end of the world. A surfers' world. And Froggy Dunes sounds kind of … not very corporate. So if it's a scuba manufacturer, or, horrors, the Budweiser frogs, they would be horrified.
Buying a place this close to the ocean, with such a history, must mean that the new owner is someone interesting. And in today's world, $14 million isn't that much.
They can only hope it's Leo DiCaprio.
— By Linda Lee
Linda Lee is a former editor and writer at The New York Times.