It was a nice two-bedroom home in a condominium at Montauk Shores. If $3.75 million seems too high for just 800 square feet, consider the cachet of Montauk Shores. It has become home to surfer billionaires, who want to be near Ditch Plains Beach. It has security, a heated swimming pool; the unit comes with its own yard and parking spaces. And there's that 180-degree view of the ocean.
So let's look at the house, Unit 15. Here's how it looked in 2013, when it was a two-bedroom, one-bath 625-square-foot mobile home that sold for $779,000. That seems like a lot for a trailer house in 2013, but there it was, with that 180-degree view of the ocean.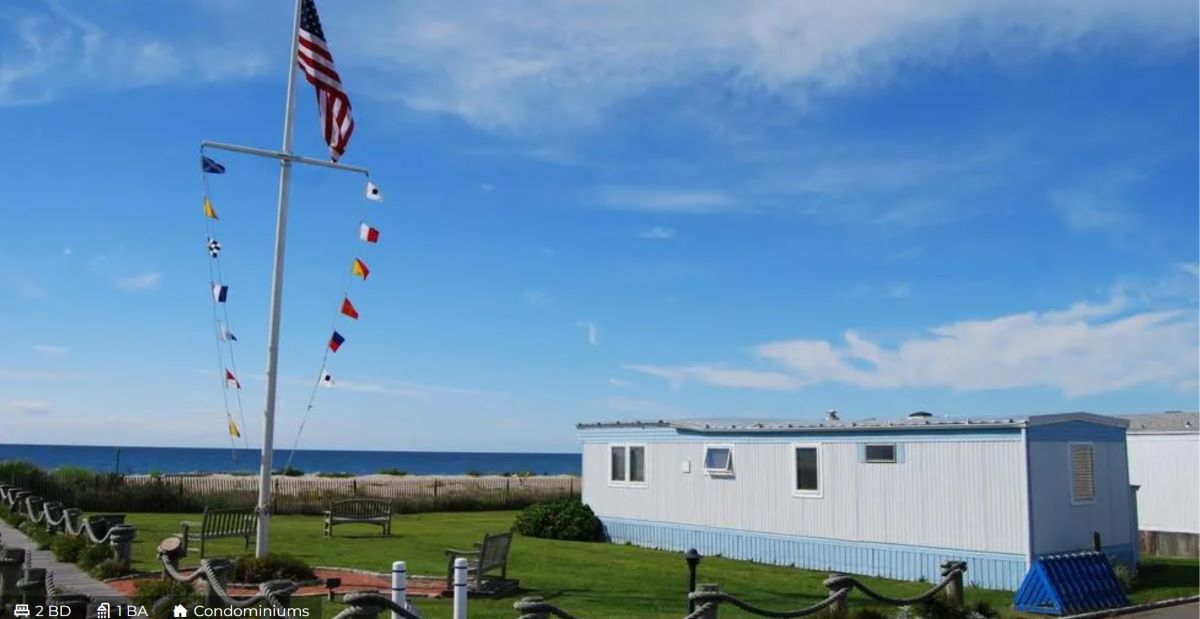 Ten years later it looked like this, after gaining one en-suite bathroom for the primary bedroom, a gas fireplace, high-end appliances, a private deck, a grill and an outdoor shower. Then there were the modernist finishes, indoor and out, larger windows, and a new roofline, making it look like a trendy modern house. All by the local builder John Hummel.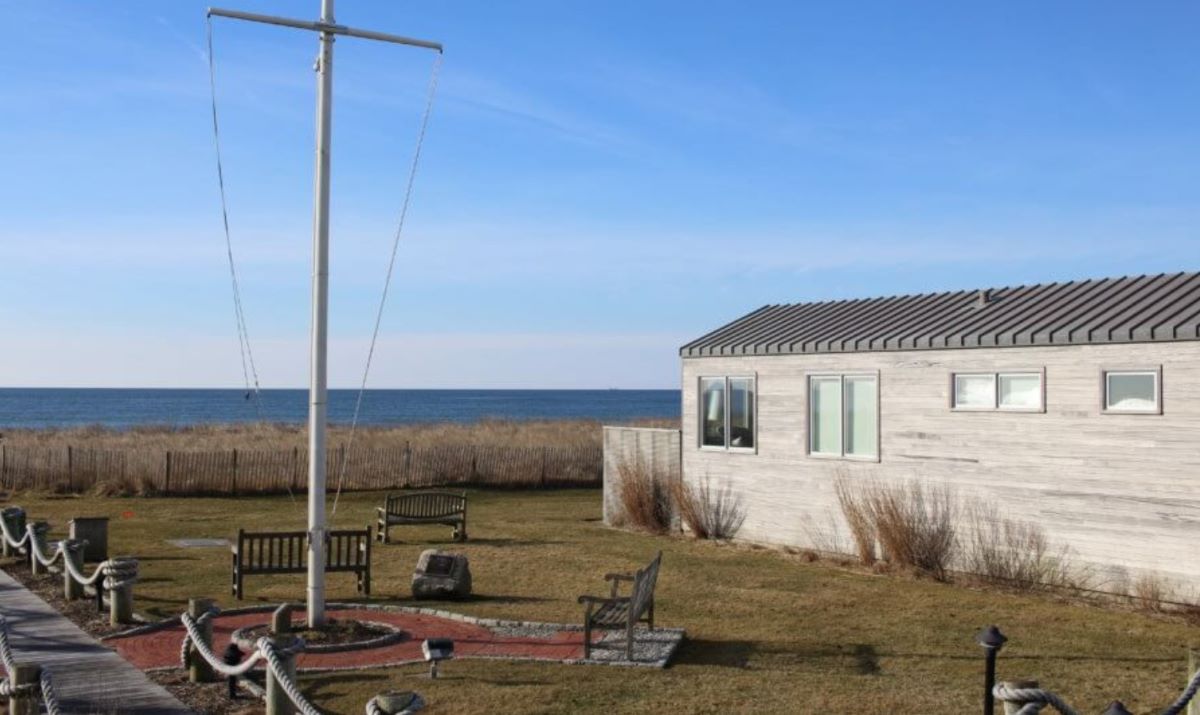 What more could someone want for $3.74 million? Well, maybe a basement. Hummel could do a lot, but he couldn't do that. Unit 15 at 100  Deforest Road started life as a mobile home and that's what it will remain, no matter what cosmetic touches are added.
Montauk Shores started in the 1930s, 40s and 50s with tents, sheds, shacks, caravans and people sleeping on blankets under the stars. At times it looked more like a Hooverville than a campground.
With the aid of lawyers, the ragtag operation incorporated into the condominium it is today: 152 owned sites and 47 leased sites.  Most residents are weekenders; 20 percent live there full time.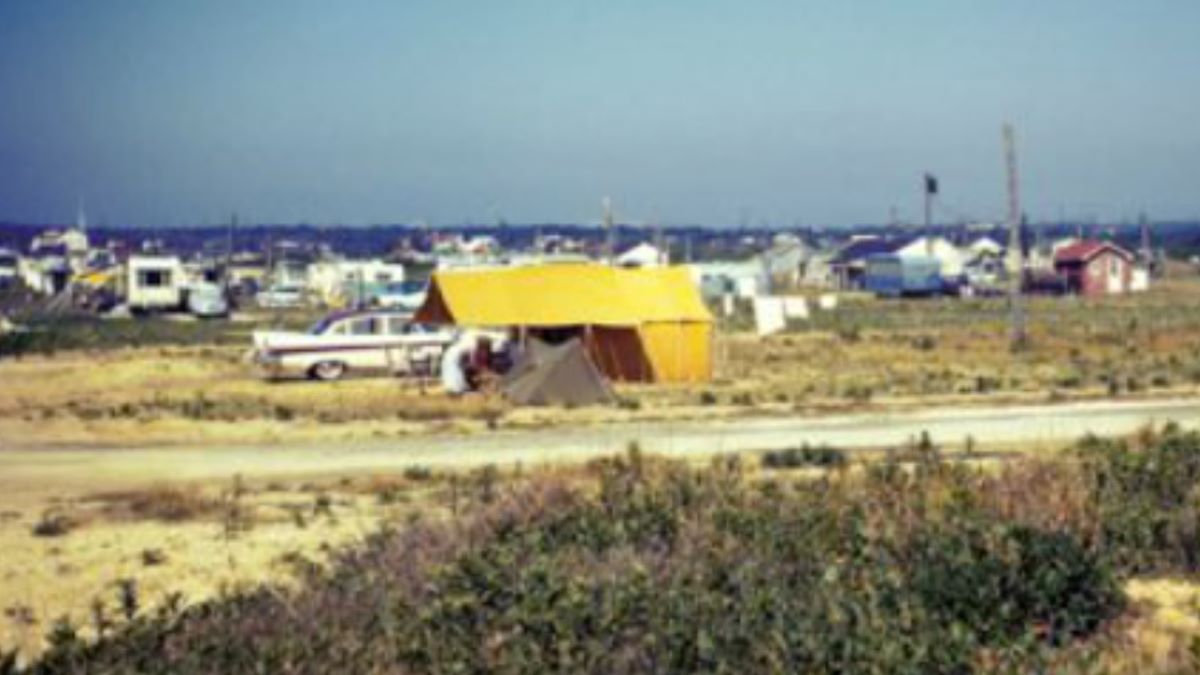 Homes are always available, and with the Hummel house breaking the previous price ceiling of $1.6 million, more of them are being priced sky high.
How about this 2,150-square-foot home, just steps from the ocean? (Some manufactured homes start out as houses.) Compass Realty has had the listing for 200 Edgewater Drive for two months.
The price is $5 million, with a million down. It is new construction, 2015: two bedrooms, two bathrooms, and it has a finished attic for the munchkins. The water is right there.
The water is right there … if you look to the right. Some window treatments, and it would be possible to block out the view of the manufactured homes that arrive on wheels. Those are the ones that sit between this manufactured home (with crawl space) and the water. You don't get 2,150 square feet on wheels.
There's a spacious deck on the ocean side. The view from the attic window is better. The house has full-size washer and dryer, walk through closet, lots of green energy details, if that's your jam.
For $5 million, a house of that size, that close to the water would be pretty tempting. There are Porsches and Ferraris, surfers and cool folks in some of these, um, manufactured homes.
Or not? $5 million in Montauk Shores?
Palm Beach County
Briny Breezes is not as high-end as Montauk Shores. Florida was mostly terra incognito to Americans until after World War II. Servicemen who had trained there liked it and wanted to go back. And Dwight D. Eisenhower's massive highway program – meant to move troops and equipment in case of attack – also meant that people could get there.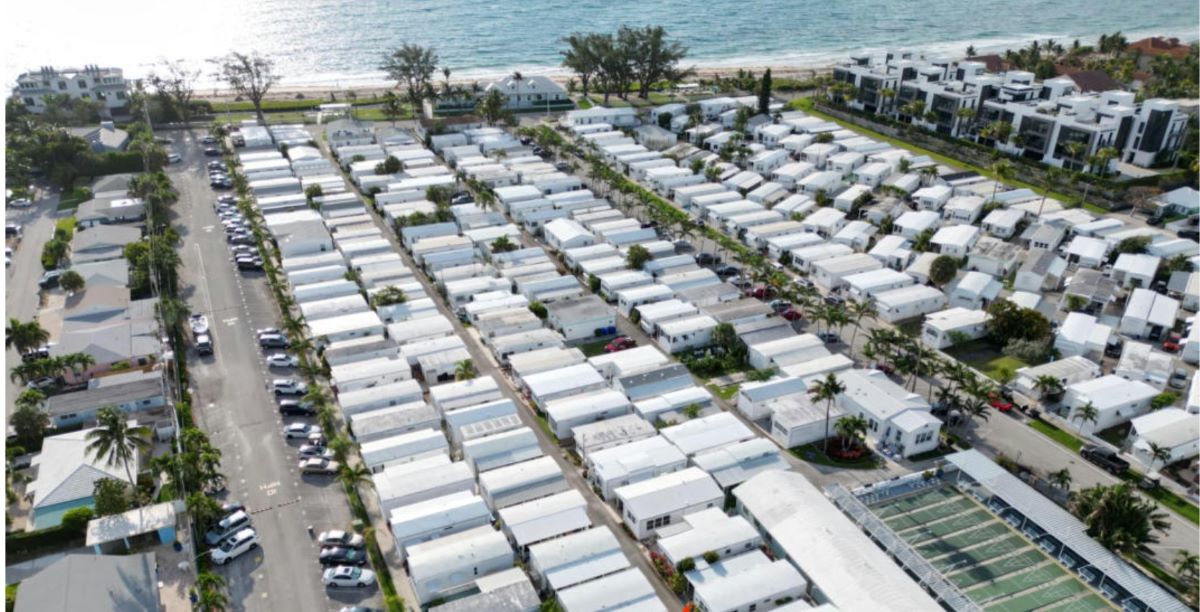 Thus the great tourism boom that brought travelers to Florida. What had once been Ward Miller's 43-acre campground on a barrier island turned, in 1958, into a community owned by the campers. It became the Town of Briny Breezes in 1963.
It sits on both sides of N. Ocean Boulevard, highway A1A, A starter home, a one-bedroom, one-bath 1967 trailer home in Briny Breezes, 330 square feet, is still on the market after more than a year for $249,000. That's $1,860 a month to live in a very small trailer house in Florida.
It is listed by Arena & Company in Boynton Beach.
There are bigger, newer, and more expensive units. At the end of a canal, one is on the market for $779,000. It is over 1,000 square feet and decorated in ornate, pastel manufactured home style.
Ordinary trailer houses lined up in a row, on the ocean side but nowhere near the water, command prices of half-a-million dollars. They come with a tiny side area, big enough for a rocking chair and a flower pot. And a parking space.
Malibu
But then there is Paradise Cove in Malibu, famous as once-a-surfer hang, now movie-star-hide-out.
It is gated. There is security. It's a friendly place. Matthew McConaughey — you knew he would have lived here — was a resident 20 years ago. Pamela Anderson still lives here and so does the actress Minnie Driver. And Sarah Paulson.
The oh-so-cool architect/builders Marmol Radziner redid one house that sits up against a canyon wall. Listed as 97 Paradise Cove Road, it is for sale for $4 million. But it is only two bedrooms and one bath, and there is no estimate of the square footage.
Perhaps that is because there are two buildings, the main home and what might be an office/studio or a second bedroom but one that has no bathroom.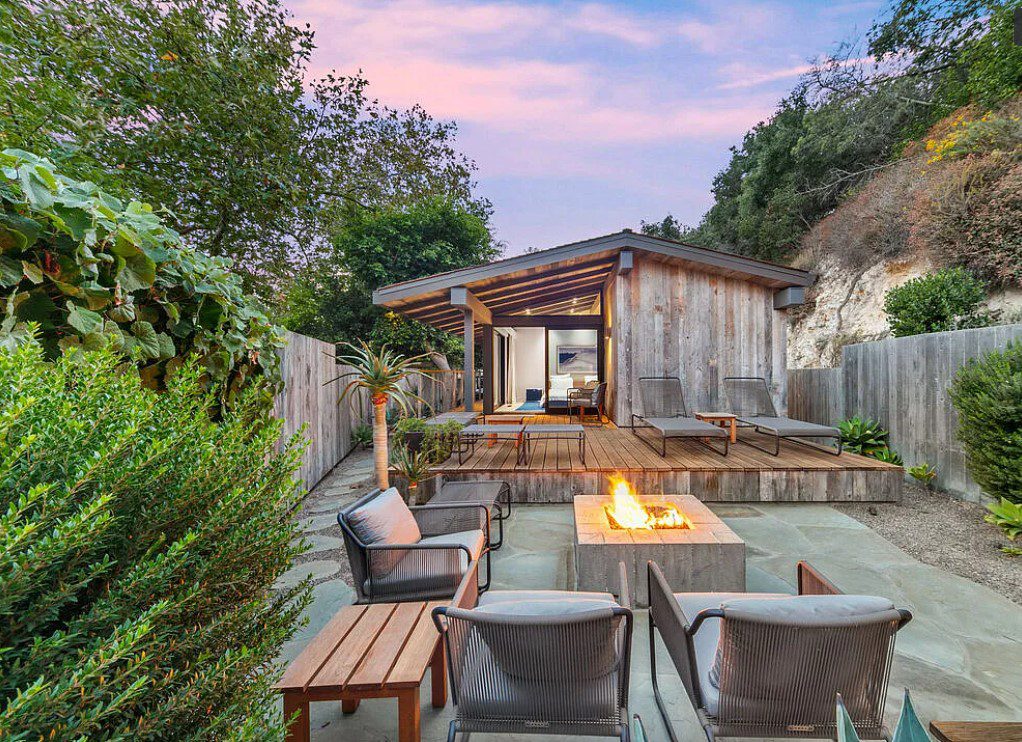 There is an outdoor shower. There is parking only for a golf cart, a common form of transportation here. Otherwise parking is on the street.
There is a large deck, but the view is treetops. The original mobile home must have been wedged into a site at the end of a road. The home is surrounded by rocks and tall trees. The architecture is soaring and light-filled. There is no hint that this started as a manufactured home.
Everything about the house — except the lack of a second bathroom — says this is a first-class build.
But for $4 million, even with the star power of Marmol Radziner, and the plus of complete privacy, it may be a hard sell for Compass, which seems to specialize in luxury manufactured homes.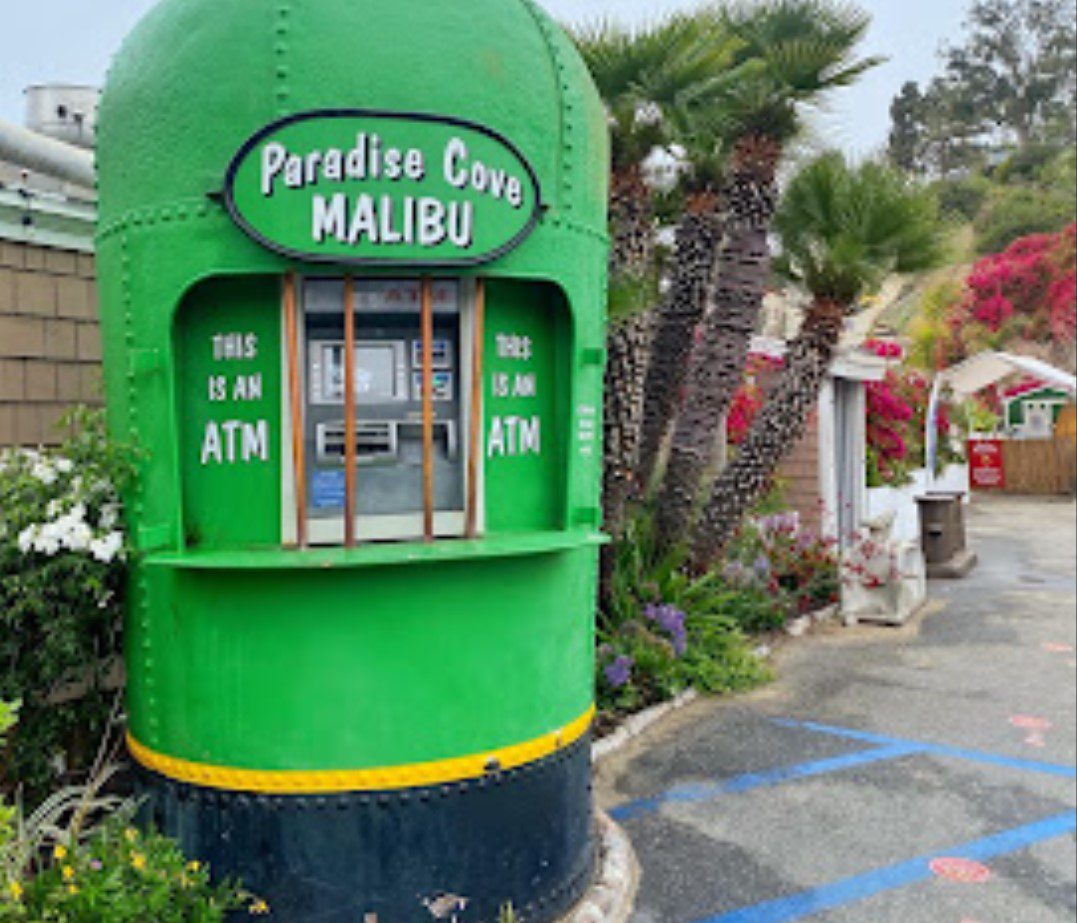 Another house does have a view of the ocean, and is at the enviable address of 101 Paradise Cove Road. It went on the market July 28 with Compass.
The house actually looks like a trailer house from the road, but it offers two parking spaces.
It's the view from the other side that tells the story. The 1,400-square-foot house seems poised to become party central. It is located where the tenants and guests can monitor who comes and goes from the large covered deck. Watch the sun set while having a cook out. Walk down to the beach. Let's just say this. The mobile home cum beach house went on the market for $4.5 million.It will not be on the market for long.
Interiors are clean and modern, although the standard wide-angle lens distorts so much it is hard to tell just how big the living area actually is.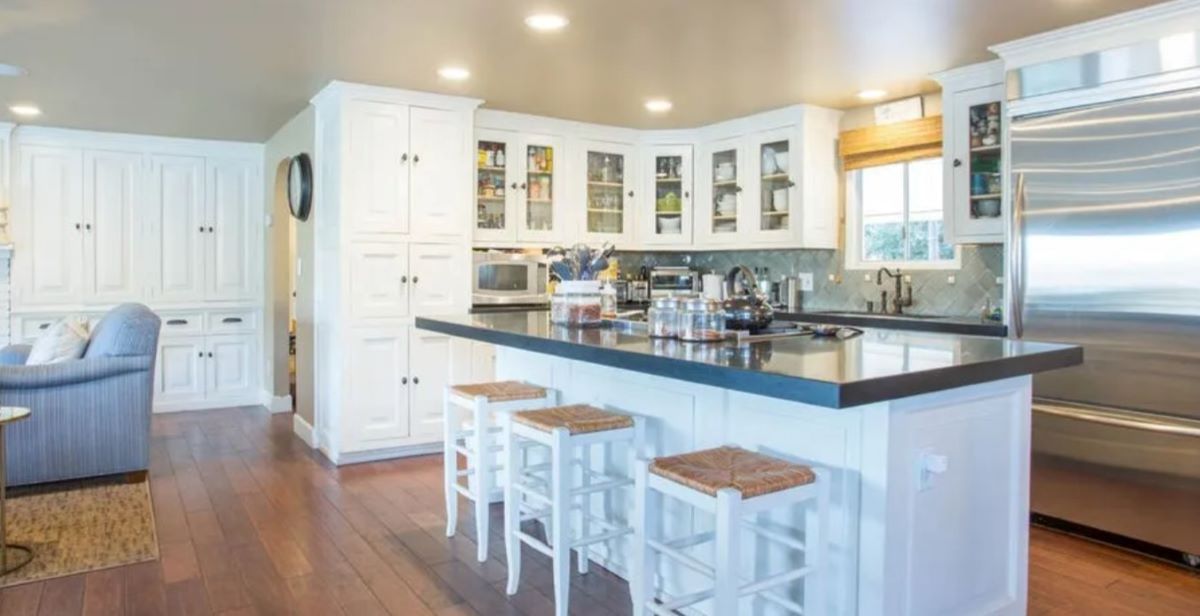 It may be hard to understand how a 1,400 square-f00t home began life as a 1968 trailer house. Perhaps a view from below will help.
It is the rough and tumble aspect of these houses, the way they were originally sited on these hillsides, and how they have been expanded, that makes them special. They have history. They are rooted here.
For anyone living in the Hamptons, a $4 million manufactured home in Paradise Cove might seem like a good deal, either as a weekend place or as a  West Coast second home. Especially if it doesn't have two manufactured homes parked directly in front of it.