The Authors Came, Sat, Signed & Supped
T
The East Hampton Library estimated that 2,ooo people came through their tent in Herrick Park on August 12, the day given over to Authors' Night. It was the 19th time the library had proven that print still matters. That people do not only read books, but they lug them around. And they care enough about the people who write them to pay $150 just to enter a tent where the 100 authors were gathered.
The main buzz inside the tent was that Katie Couric was there. Just like anyone else.
Here is a gallery of photos by Lisa Tamburini of some of our and your favorite authors who signed books that afternoon:
These two glamorous authors were bound for the same dinner party, No.4. And that must have been a gossip-fest. Her book is called "No Filters" for a reason. And David Netto is, himself, a royalty of the interior design world, with a book about Stephen Sills, another design world prince.
Maggie Haberman, from The New York Times, who wrote "Confidence Man," about Donald Trump, was paired at Dinner No. 10 with Jim Acosta, the CNN correspondent who wrote "The Enemy of the People: A Dangerous Time to Tell the Truth in America," also about Trump. What was the dinner table conversation like there?
And, because he is so tall, and so popular we have to have a photo of Ryan Serhant, the luxury real estate broker.
A DINNER WITH MISTY COPELAND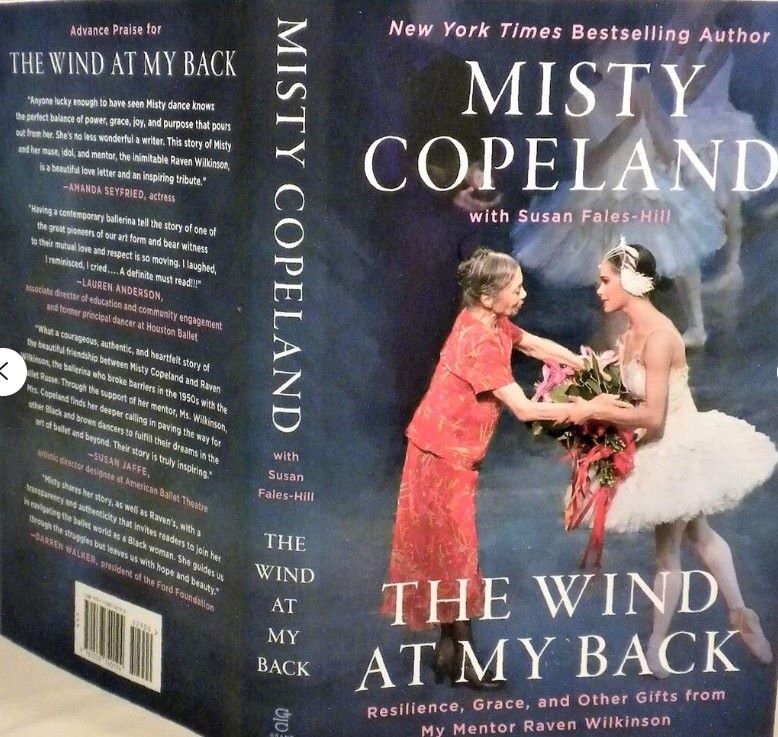 First, let's not forget that Misty Copeland was there because she wrote a book, "The Wind at My Back," which was published in 2022. She had spent the afternoon signing books, and she still looked fresh and cheerful when she arrived at Baker House for her author dinner.
The capacity for this night was 24, because, in case it rained, dinner would have to be moved into the breakfast room, said Antonella Bertello, mistress of Baker House 1650. The bed-and-breakfast looks like an English cottage in the Cotswolds, and with perfect weather, it could not have been more romantic to dine in the courtyard.
People began arriving a 7, and, as the hostess said, they love cocktails, a chance to meet each other. She offered them, among other things, little tomato tartes with cheese, a cracker with a kind of salad on top. (She confesses she is not a foodie, and that she farmed out the menu to others, including vegetarian options for dinner.) Glasses were filled with her house champagne, an Italian sparkling wine, red wine, white wine and a rosé from Wölffer vineyards.
Because Copeland inspires so many little ballerinas, two of them begged their parents to come to dinner. She was delighted to pose with each of them.
"The girl was so thrilled to talk with Misty," Bertello said.
Other guests included Copeland's manager and publicist, Gilda Squire; Anne Chaisson, who founded the Hamptons Film Festival, and her husband, Jeff Gillis; and another book author, Sandra Elaine Scott.
The dinner menu was halibut in sesame crust with vegetables, a seared beef fillet with vegetables, or a vegetarian choice, a cauliflower dish; then an espresso panettone.
Conviviality ruled the evening.