Bringing a bit of the East Village to the Hamptons, the iconic public artwork "ALAMO" is making a guest appearance at the Hamptons Fine Art for one week, July 10 through 16. It was normally standing, and twirling, in front of Cooper Union, at the conjunction of Astor Place, Eighth Street and St. Marks Pl. in the East Village. That is, until engineers decided it was wobbling, and in danger of toppling.
Braces were added to keep it from turning. Experts were called in. Heads were scratched. Finally the Cube, as everyone calls it, was removed and sent for repairs.
In fact the Cube, official name "Alamo" (1967) was a public corten steel artwork by one of the Hampton's own, Tony Rosenthal, who lived and worked in Southampton.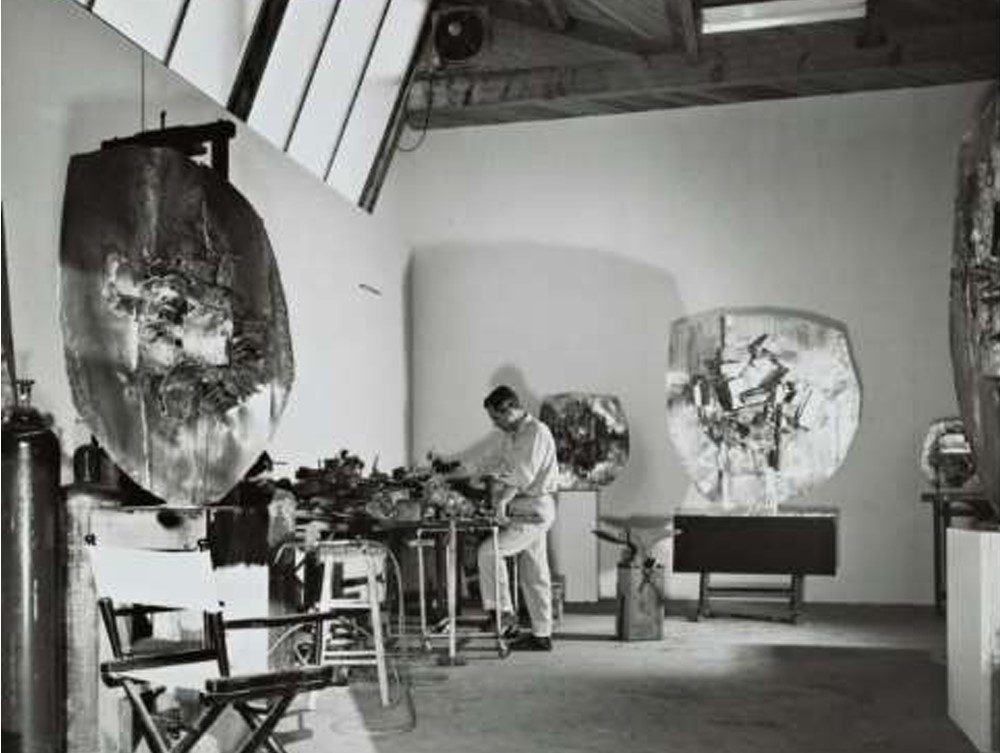 Rosenthal did five public sculptures for Manhattan, and they are all still in New York City: "5 in 1," five giant intersecting corten steel discs painted red at 1 Police Plaza (a reference to the five boroughs making one city), "Rondo," a bronze on East 58th Street, and two others.
The final two are made of iron: "Hammerskjold," abstract girders, one making an "h," now residing at Brooklyn College and the least well-known, "Steelpark," corten painted in primary colors on East 80th Street.
Rosenthal died in 2009. One way the Hamptons Fine Art Fair organizer, Rick Friedman, lured the Cube to the fair was to offer a posthumous Hamptons Artists Hall of Fame award to him, along with four others. The City of New York, which owns the statue, made the decision, in consultation with the Tony Rosenthal LLC organization, based in Southampton.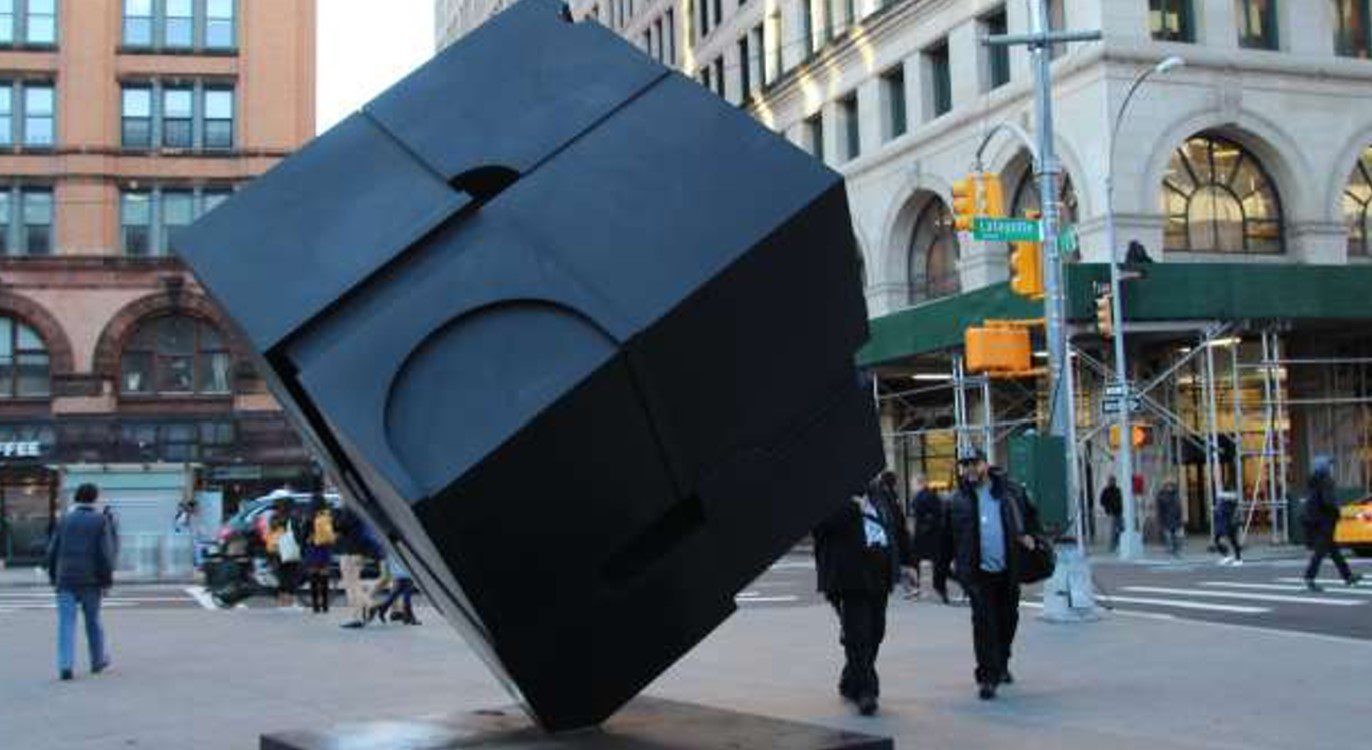 While the Fine Art Fair runs from July 13 (the invitation-only Vernissage, to benefit Guild Hall) to the 16th, with regular admission $15, the Cube, or "Alamo," as Rosenthal called it, will be on-site, just outside the tent, from July 10 onward.
Anyone can stop by and give it a spin, just as college kids, street vendors, old hippies, musicians, late-night ramblers, people leaving the Public Theater, high school kids, anyone trying to show off to a friend–all those people have done for more than 50 years. Except when the Cube was rusted tight. Or welded to barricades to keep it from moving.
The induction ceremony for the five artists will be on Saturday, July 15, at noon in the VIP Krasner Cafe.  Two other awards will be posthumous, to Fay Lansner and to John Ferren. The living artists who are being so honored are Cornelia Ross and Hans van de Bovenkamp, whose abstract sculptures may remind some of Rosenthal's work.
Smaller works by Rosenthal will be on offer at booth 333, by the Tony Rosenthal Art LLC. 
It's not entirely clear that the City of New York understood what this Hall of Fame award implied when they accepted the offer. The fair states that it is meant to be "a rediscovery for those esteemed local artists who have not fully received the national fame and recognition they deserve."
Tony Rosenthal's work as a public artist, and as an abstract expressionist, certainly has gone  far beyond being local to the East End.
But at least the Cube has come home for a week.
— Linda Lee
Linda Lee was a writer and editor at The New York Times