What was once shocking, then becomes accepted and then is de riguer. Has the Watermill Center lost its relevance in the art world? It may be months before the verdict is in. Certainly Robert Wilson, 81, the founder of the center, is loved and revered. And the Gala on Saturday night, July 29, was put on with as much verve as anything in the past.
Several people had gone to Polo Hamptons, and then Watermill. But as one observer noted, the Watermill Center brings out more New Yorkers and art-world grandees than any other event Out East. Robert Wilson has that kind of respect.
The art world darling Daniel Arsham was in attendance. We wonder what he made of the cacophony at the center of the evening. It started with a police siren — a little titillation for those who thought something naughty might be going on. Then came the banging and hammering. There was indeed a police car on the 10-acre property, and it was going to be dis-assembled with axes, hammers, drills, acetylene torches.
A racket ensued. It was hard work. People sat in chairs and stared.
Arsham, a veteran of Watermill, has done automobile art himself, but in a quieter and more cerebral way. He calls them "Eroded" cars, a Ferrari (2018) and a Delorean (2021) among them. They look as though acid, or giant moths, have eaten through their sleek surfaces. They have been shown at the Perrotin Gallery in Paris.
Back to the goings on at the Watermill Center. Blythe Danner was mobbed.
One woman reclined in a low pool of water surrounded by flowers. Considering the temperature that day, it's a surprise guests didn't join her.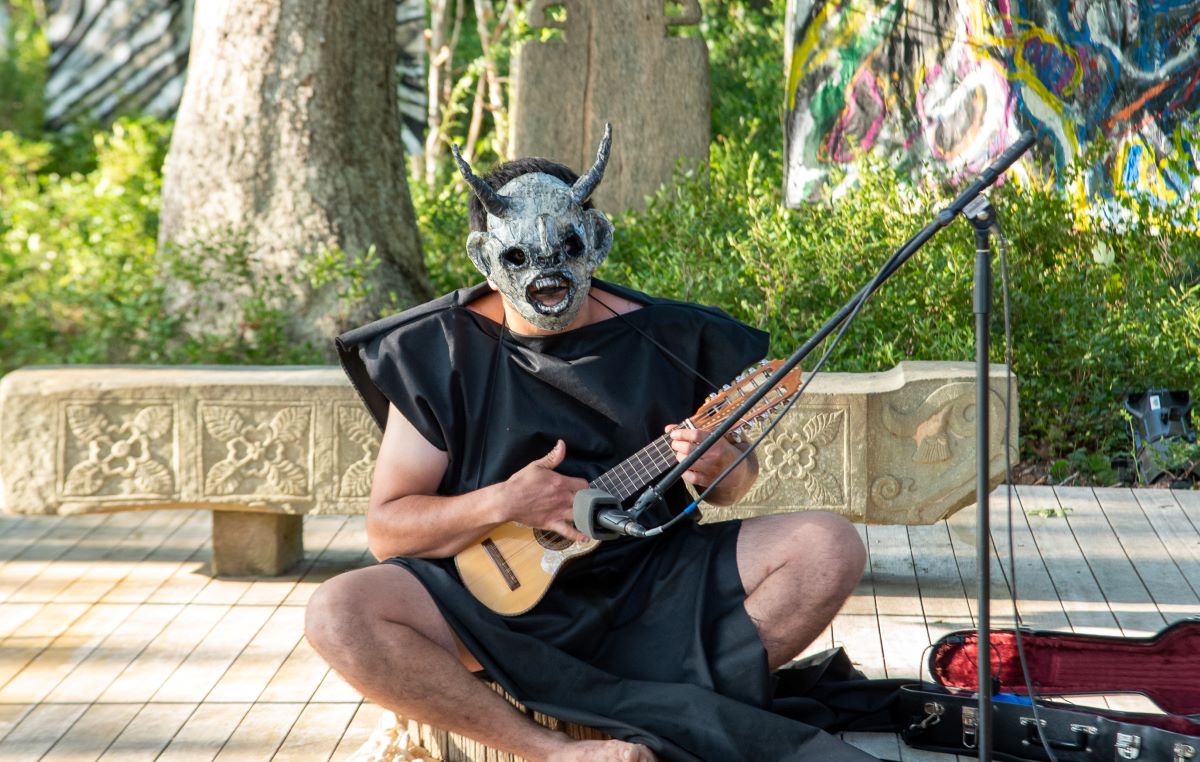 One artist, wearing a mask that looked a goat death head, played a ukulele, and screeched into a microphone. Much of what he did was lost in the noise of hammers and axes.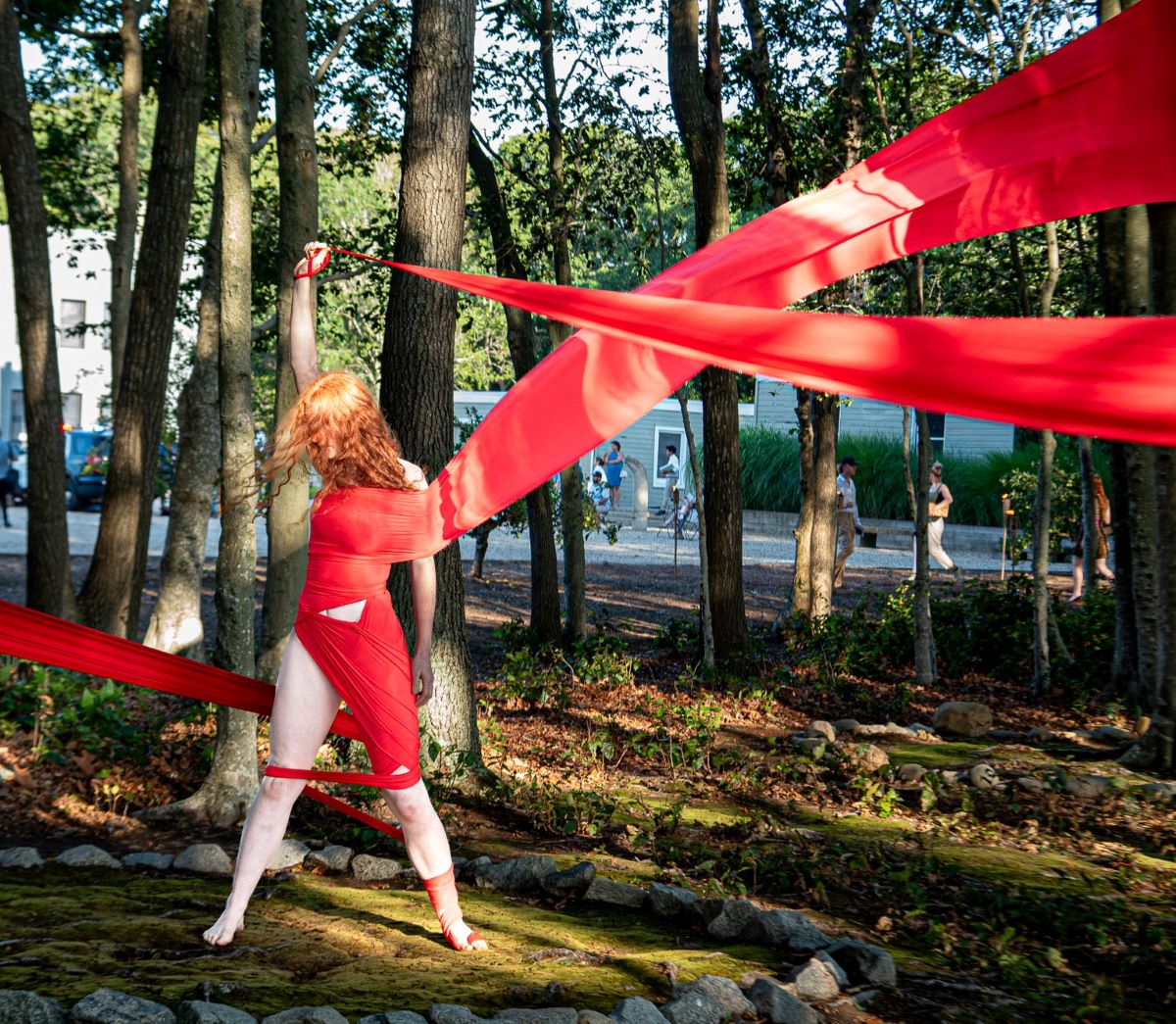 In another spot, a red-headed woman wove herself into and out of wide strips of red cloth. Elsewhere a male dancer slowly moved across a raised platform. David Hochberg, an artist's agent, commented, "Some of it makes you laugh. Some of it makes you smile. Some of it just makes you shrug your shoulders."
Outside the confines of the Watermill Center, neighbors went on with life as usual. Apparently they have become used to all kinds of things happening across the street.
Inside the Watermill Center, the attendees were as colorful as the artists.
Waiters roved the grounds handing our champagne, wine and drinks, as well as a considerable amount of food. Since the evening started at 7pm and would last until 10pm, refreshments were required.
The culmination of the evening was the performance of a satirical, 90-minute play "Ubu," on an outdoor stage, directed by Robert Wilson. It was to begin at 8:30, but with one thing and another, Wilson was delayed in taking his seat.
Robert Wilson, Nicole Salmasi, Polina Proshkina (Photo by Lisa Tamburini)
The setting was magical and, as with any of his productions, the lighting was magnificent. The woods behind the thrust stage were uplit. Crumpled paper made for a spooky and textured setting. The whole tableau looked unreal, almost as if we were seeing it in black-and-white.
Just as the play was about to begin, the skies opened up and a downpour began.
Some people ran for their cars, convinced the evening was over. Others headed for a tent, where champagne and desserts were being served.
Some guests said the best course was to continue drinking champagne. These die hard souls were rewarded. A person with a grasp of weather forecasting announced that the rain would end in 49 minutes.
It did. After seats, stage and actors were dried off, the audience re-assembled and some last-minute adjustments made — the actor's microphones fell victim to the rain — and, wouldn't you know it? The show went on, although in a shortened form.
Robert Wilson was pressed into service as a narrator. It didn't make much difference because most people couldn't follow anyhow.
When one is watching an absurdist play that originated in France in 1896, that caused a riot at its first (and last) performance, where curse words are supposed to be mispronounced, and props are supposed to look fake. Then filter it through Robert Wilson's stagecraft and a rainstorm. It's a farcical version of Macbeth, about overthrowing the King and Queen of Poland. .
If anyone got that out of it, it was a miracle. As David Hochberg said, "It was the 'USA Today' version. It was perfect for me."