Juneteenth commemorates the date, June 19, 1865, when slaves in Texas learned they were free. It was a day of celebration. And of heartbreak, because the Emancipation Proclamation had been signed on January 1, 1863.
So it is a day of celebration and bitterness. This is the second year it is a national holiday, so the ways of observing it are still under construction. Here is how the East End is doing it.
SATURDAY JUNE 17
Because it's the weekend, our Juneteenth celebration kicks off with Art & Soul's all-day Sipping celebration at the Southampton African American Museum (SAAM is a small building, but lots of parking) at 245 N. Sea Road. Tickets are $162.54. On the menu: guest speakers, including the actors Charnele Brown and Kenneth Browning, a chance to see the museum exhibit, live music by the jazz trio Certain Moves (keyboard, sax, guitar), a soul food extravaganza and summertime refreshments of the alcoholic variety. Plus gift bags. SAAM is the organizing force behind many of the weekend's observances.
SUNDAY, JUNE 18

June 18th, Sunday, at noon in East Hampton, the Reverend Walter Silva Thompson Jr. and members of his congregation at the Calvary Baptist Church, officials from the Town and Village of East Hampton along with the East Hampton Anti-Bias Task Force will talk about, and presumably sing about, the meaning of Juneteenth. And here they are again, the Certain Moves trio. Expect various kinds of head coverings on the trio — porkpie hats, durags, backward baseball hats – plus sunglasses. In June, at this hour, it is hot.
You can leave Herrick park and drive to the Parrish Art Museum on Sunday for the screening of two short films that explain the importance to the black community of an enclave in the Hamptons called SANS. (Pay attention, not SAAM, the sponsor of this weekend's activities.) SANS is Sag Harbor Hills, Azurest, and the Nineveh Subdivisions of Sag Harbor, originally an  undesirable marshland, as current residents explain in the 9-minute film made by the New York Times magazine called "A Beach of Our Own." In that film William Pickens III says that Langston Hughes sat under a hickory tree in 1952 that is still standing and wrote poetry. The Black neighborhood is five generations old and hopes to continue for many generations, despite threats by developers. The screenings at Parrish also include a 35-minute episode of "Home" from Apple TV+ about the neighborhood and there will be a panel discussion; 2 pm to 4 pm,  279 Montauk Highway in Water Mill. Note: This event may be sold out, but you can see the New York Times film on your computer here .
MONDAY JUNE 19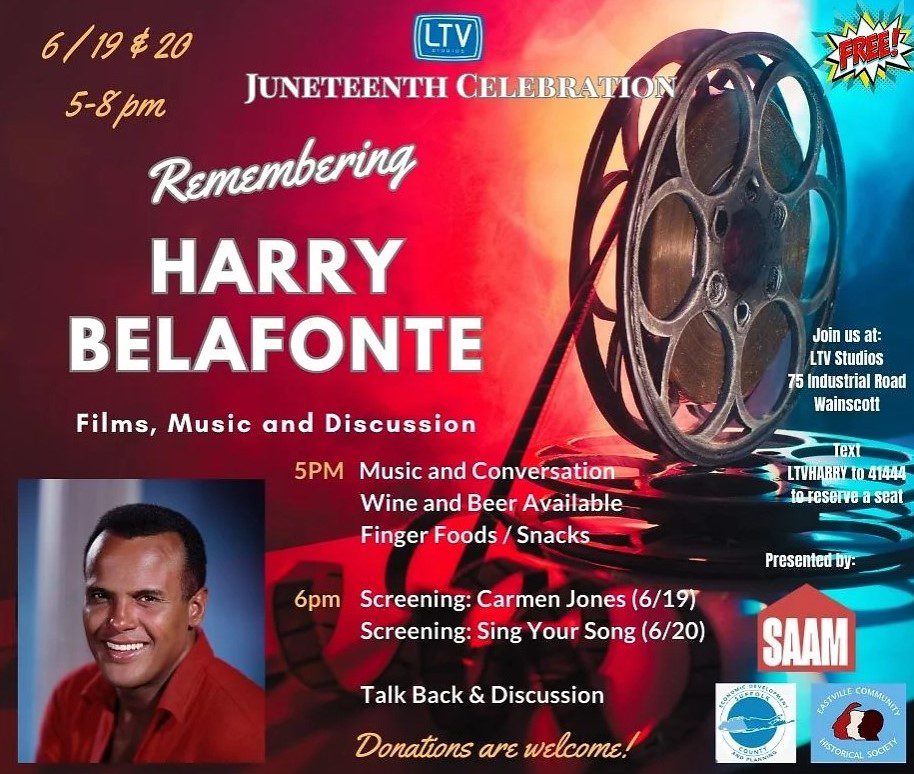 Finally, Juneteenth itself and no speeches, just Harry Belafonte, who died in April, and has long stood for Black acceptance, in the music industry, then in Hollywood. Belafonte married politics, pop culture, activism, and humanitarian activities. And calypso. The fun starts with pay-as-you-go wine and beer, finger food and snacks between 5pm and 6pm. Then the screening. On Monday, it is "Carmen Jones." On Tuesday, "Sing Your Song." Carmen is from 1954 and melodramatic, and "opera." Because of that, Belafonte's voice was dubbed. Can you believe it? Belafonte is handsome, but no singing voice? Why go? "Sing Your Song" is a 2011 documentary and you hear and see the real Belafonte. So go and see that. $16 admission. Text LTVHARRY to 41444 to reserve a seat. LTV studios is at 75 Industrial Road, Wainscott.
There, you have celebrated, or observed, Juneteenth. In a few years we will know which one it is.