In May (May!) a man got two tickets for having his dog on the beach in East Hampton: one for an unleashed dog and the other for his dog on the beach after 9 am. It was a warning shot. A crackdown. Police gave out seven tickets just before Memorial Day. They were probably all locals who had forgotten. As of the second Sunday in May until September 30, East Hampton Main Beach has strict rules.
Dogs may be on the beach before 9 am, and after 6 pm, but on a leash. And (of course) people are expected to pick up after their dogs.
Those dates bracket summer beach days, when the town does not want dogs interfering with anyone out for a tan, a dip in the kind-of-warm Atlantic (70 degrees is as good as it gets, in July), surfing or boogie-boarding, or having a picnic or playing volleyball on the sand.
People who do that are the lifeblood of summer Hamptons. They fuel the economy that makes housing prices go up. They bring in the high revenue shops that pay high taxes. They pay for all those gardeners, and realtors and architects, the landscapers and decorators and cleaners and maids and valets. The service people who somehow afford to live Out East.
So no slobbering, messy dogs on the beach. Not even well-trained and well-clipped Shih Tzus. So ixna on the ogday.
However. That's just East Hampton Main Beach. There are other places, and we can tell you about them.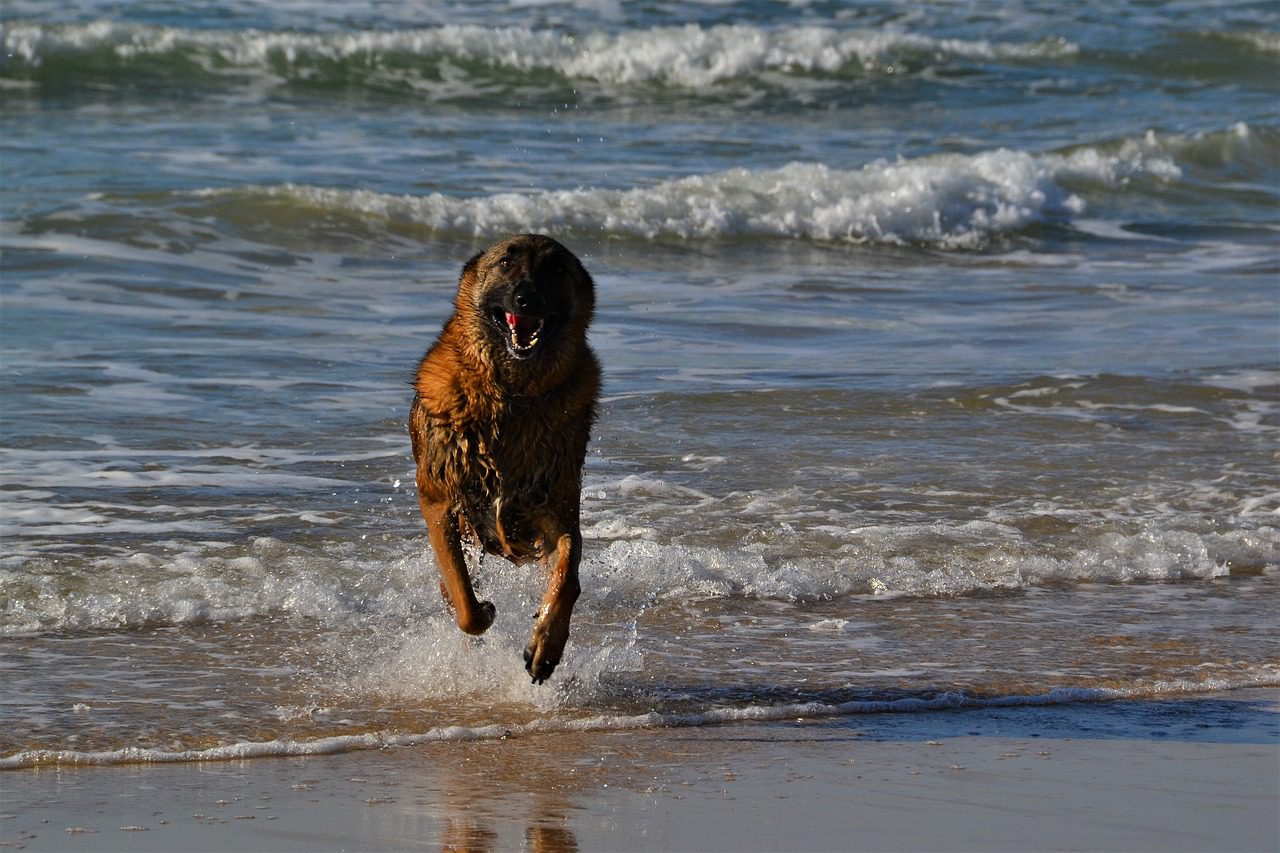 Secret Dog Beaches, If You Don't Get Caught
Here is the idea. Head east or north. Get away from the crowds. You know that phrase "South of the Highway"? Go the other way.
Go to where things are less expensive, more relaxed, like Sag Harbor, or Montauk. Places that are further from Manhattan. (It works!) Beaches that face the sound. Beaches with no lifeguards. Marshy areas. Places that are more natural — but not nature preserves! We will try to give you some examples.
Here is one that the owner of Mill House Inn pointed out to us: the Beach at Northwest Harbor County Park. Just put that into your GPS and follow the directions. It is on Northwest Landing Road. Take a look:
If you have a big golden retriever, a black lab, a Portuguese water dog, a Newfoundland — one of those fetching-diving-swimming dogs — all you want to do is make him happy. You want to see that big lumbering girl dive into the waves and come back grinning, sopping wet, and flop down exhausted. See that sign that says "No Lifeguard" and "No Swimming"? It doesn't say "no throwing sticks for your dog," now does it? This is the Wiborg Beach, another one of those secret beaches. Again, just pop it into your GPS.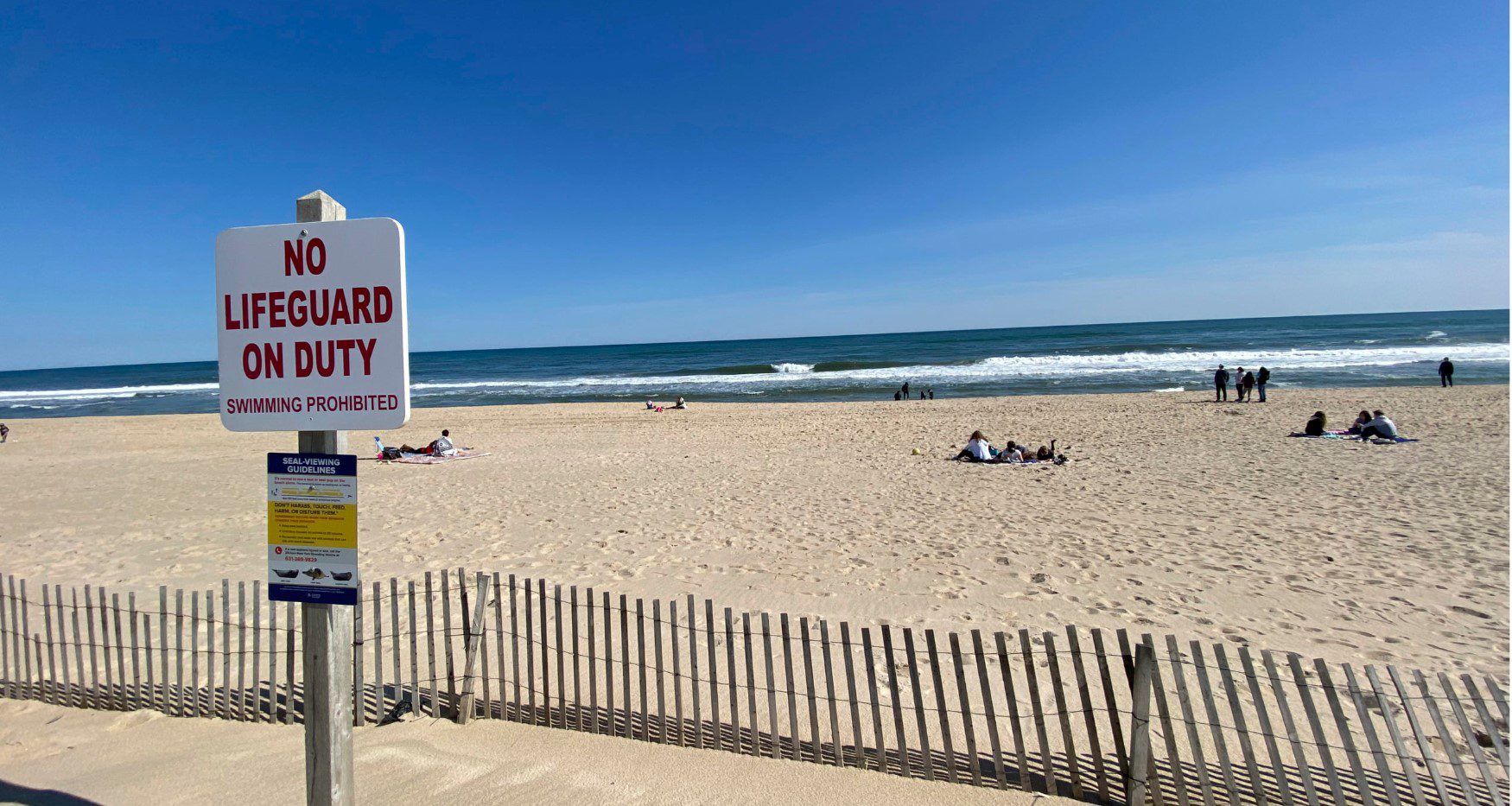 But you don't want the bay, You want the ocean, right? Even if you don't own a 171-foot strip of ocean-front property. (Why does the measurement always end in one foot?)
Once you get past Amagansett, things loosen up. Soon you are in surfer territory. And that's where Montauk comes in. We suggest you try Ditch Plains Beach. Beware of the surfers and boogie boards, because they may not be able to see your dog's head in the waves. You are your dog's keeper, and a lot taller than he is. So keep a sharp eye out.
Where to Stay with Your Dog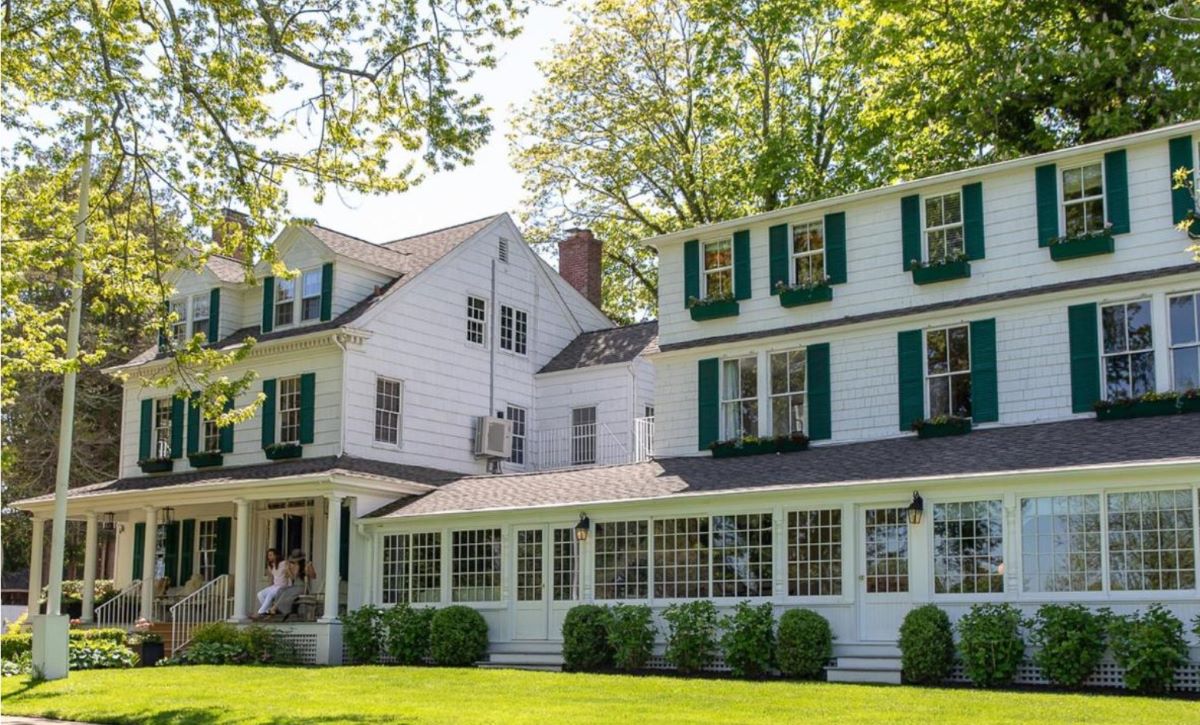 The fallback, the Maidstone Hotel, is under new management, and the "yappy hour" is gone. The good news is that the surcharge for pets is gone too. The new owner is a dog lover, or so says his manager. But there are limits. The limit is 30 pounds. (So make sure your bulldog looks trim.)
The Maidstone is right in the middle of East Hampton. And the restaurant, which reopens on Friday, July 1, will accommodate you and your pooch on the porch.  We have been told by several guests that in off-season, or in truly horrible weather, management will invite people and their well-behaved dogs inside the bar or lounge for a drink or meal. They really do have a heart.
Rates run about $595 a night, midweek, and up. Be wise and book far in advance.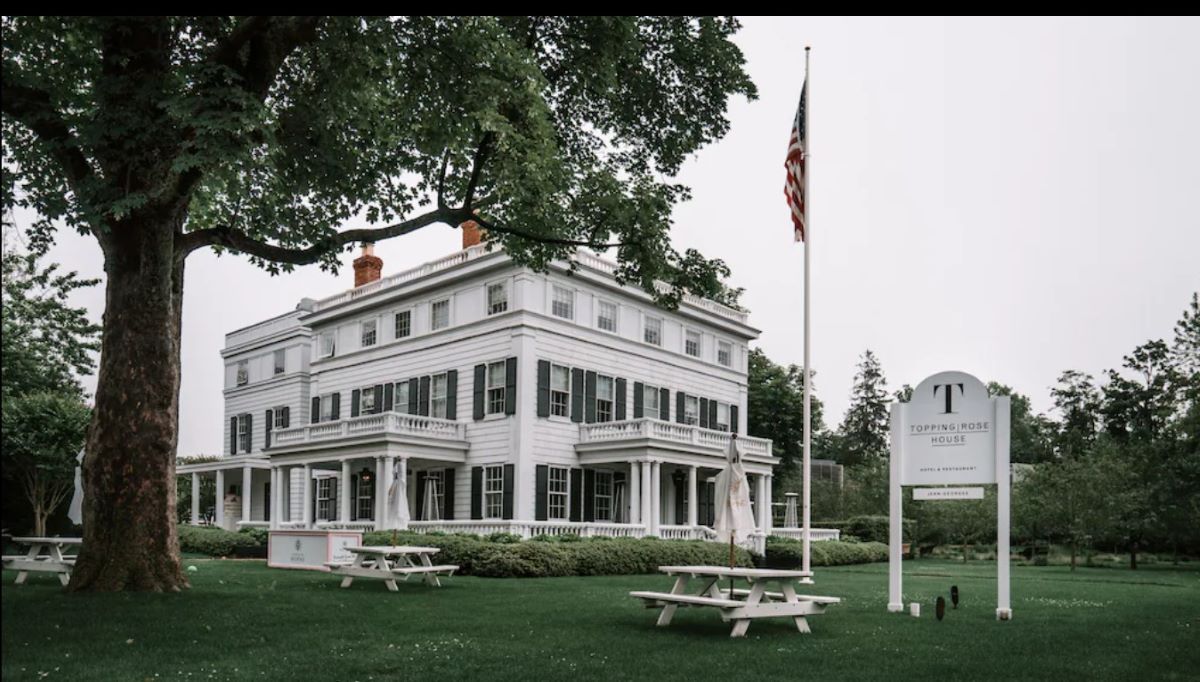 Topping Rose House also has a 30 pound limit for dog guests. And there is an additional fee per night of $35. But what is that on top of $1,047 midweek? There are also cottages available for $1,500 a night. But what services! Each morning you are served a personally cooked to-order breakfast. The grounds, the pool, the restaurant. Topping Rose House in Bridgehampton has a golf course, tennis courts, a beach, a vineyard, a spa, fitness classes. It is an experience rather than a night's stay. As surely you and your dog know.
Further down the economic scale there is the Bridgehampton Inn, which allows one dog up to 30 pounds for a fee of $50 per stay, plus a $200 refundable deposit. But guests must book a king room only. A king room is $742 a night, when available.
The Southampton Inn welcomes two pets of any size for an additional fee of $55 per pet, per night. Both dogs and cats are permitted, but pets may not be left unattended in guest rooms. Treats are available at the front desk and bowls are available upon request. There is a designated pet relief area on the south side of the building. Rooms are from $508. This is the rare hotel that will accept cats.
Finally Kenny's Tipperary Inn in Montauk, where a one-bedroom apartment, mid-week, is $319 a night. And yes, dogs are allowed. There is no weight limit on the dogs they will allow, but the dog fee (per dog) is $125 from June 15 to September 15. There is a zen garden in front and a pool in back. And many more features. The Tipperary is, in fact, a converted motel, but there are charms here if you have that Newfoundland that just has to be in the ocean.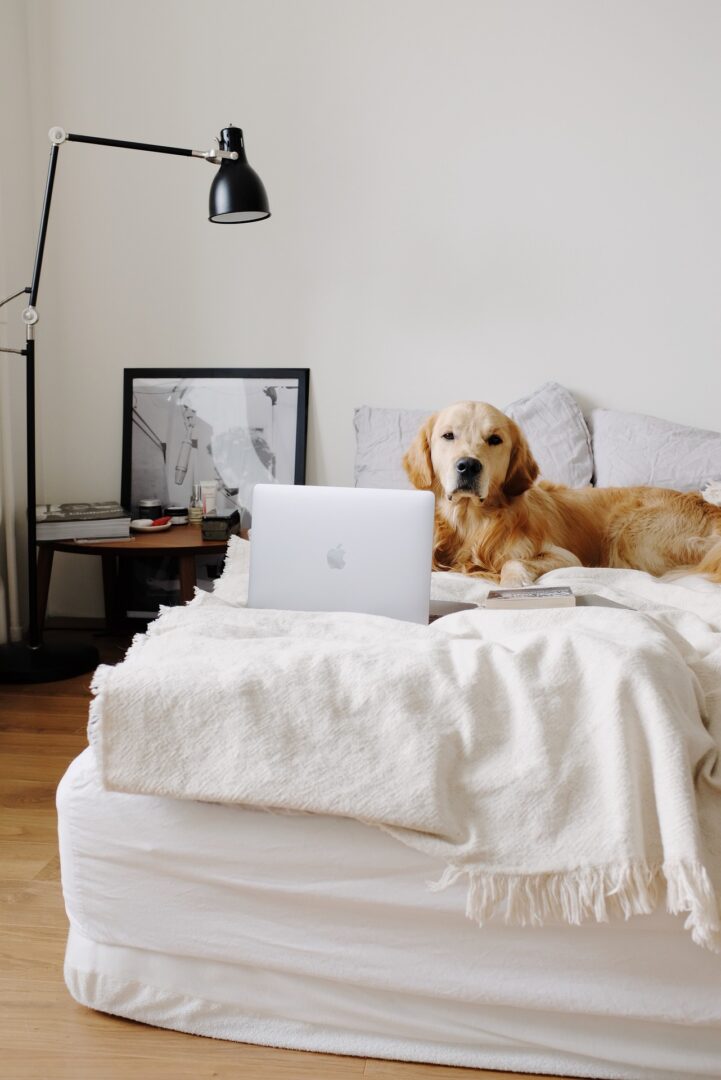 In addition, there are bountiful AirBnBs that will accept dogs, sometimes even without a fee. I found one that would take cats. It isn't hopeless. The bigger the dog, the more luck you will have if you have a car and plan to travel midweek. Or out of season.
Eating Out with Your Canine Companion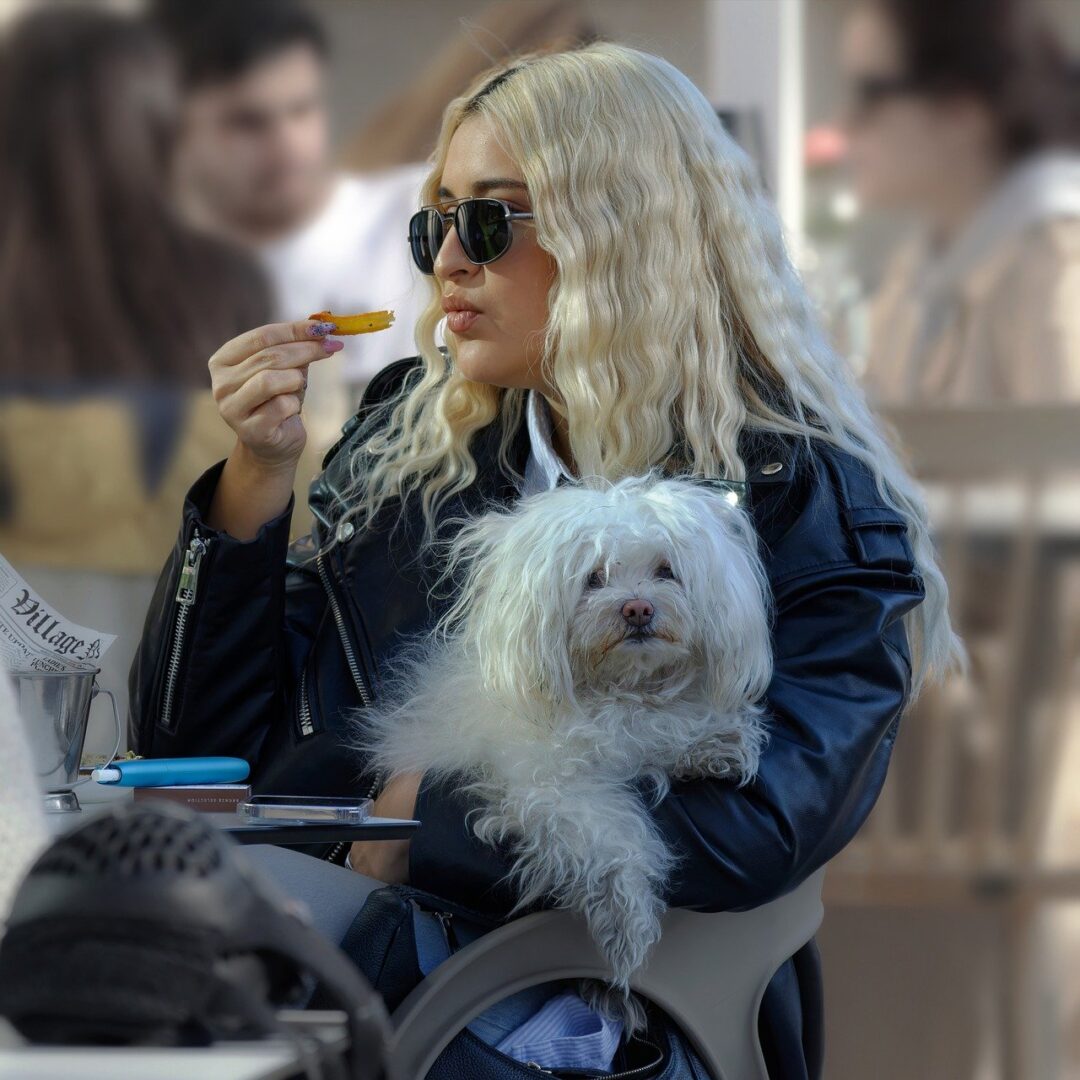 Eating out with your well-behaved, well-groomed dog (the smaller the better) is easy in the Hamptons. As long as you go to a restaurant with an outdoor component, a garden or patio or porch. And it is easiest in the morning, fine at lunch, becomes more difficult at dinner.
French restaurants seem to happily serve their refined guest with un petite chou chou on a lap. Even coo over it. In Sag Harbor, the list of such restaurants would include Sen, Estia's Little Kitchen, Tutto il Giorno, the Dock House, Beacon and Buddhaberry,
In East Hampton, the restaurants would include Pierre's in Bridgehampton, Jean-Georges at Topping Rose House, Lobster Roll in Amagansett, Le Chef in Southampton, La Fondita in Amagansett, of course the restaurant at the Maidstone Hotel,  Bistro Ete in Water Mill and more.
More To Do
The best possible thing is to let your dog off the leash and play. That is possible at the Springs Dog Park. It is 20 acres. The only problem is finding it.
We are going to try right here.
The park can be tough to find at first. An explanation "Three Mile Harbor Road" is also "Hog Creek Road" so don't be confused if the signs change. You are going to take Three Mile Harbor/Hog Creek Road to "Springs Park Road."
It's that simple. Once you are on Springs Park Road, you just follow it around until you reach the dog park. Bring Fido
Your GPS should find it for you.
There are other things in the Hamptons. Dog grooming, dog training. Outdoor movies with your dog. Hikes.
The best guide is Bring Fido and just fill in which Hamptons you want to explore.