The opening of one new pop-up shop in East Hampton merited coverage in Vogue magazine. Along with the already-opened Chanel, Gucci, and Louis Vuitton emporiums, a handful of new shops have crowded their way into the burg in the last few weeks.
There are exquisite opportunities to spend money in town: Curio (out of Miami Beach), Mytheresa and Flamingo Estate, Marina St Barth, Bobbi Brown's Jones Road, Zegna, Givenchy Plage, Derek Lam, Urban Zen and Zimmermann have joined Louis Vuitton in making East Hampton a place where men and women can arrive with empty luggage and go to a gala that evening. A lot poorer for having spent time here.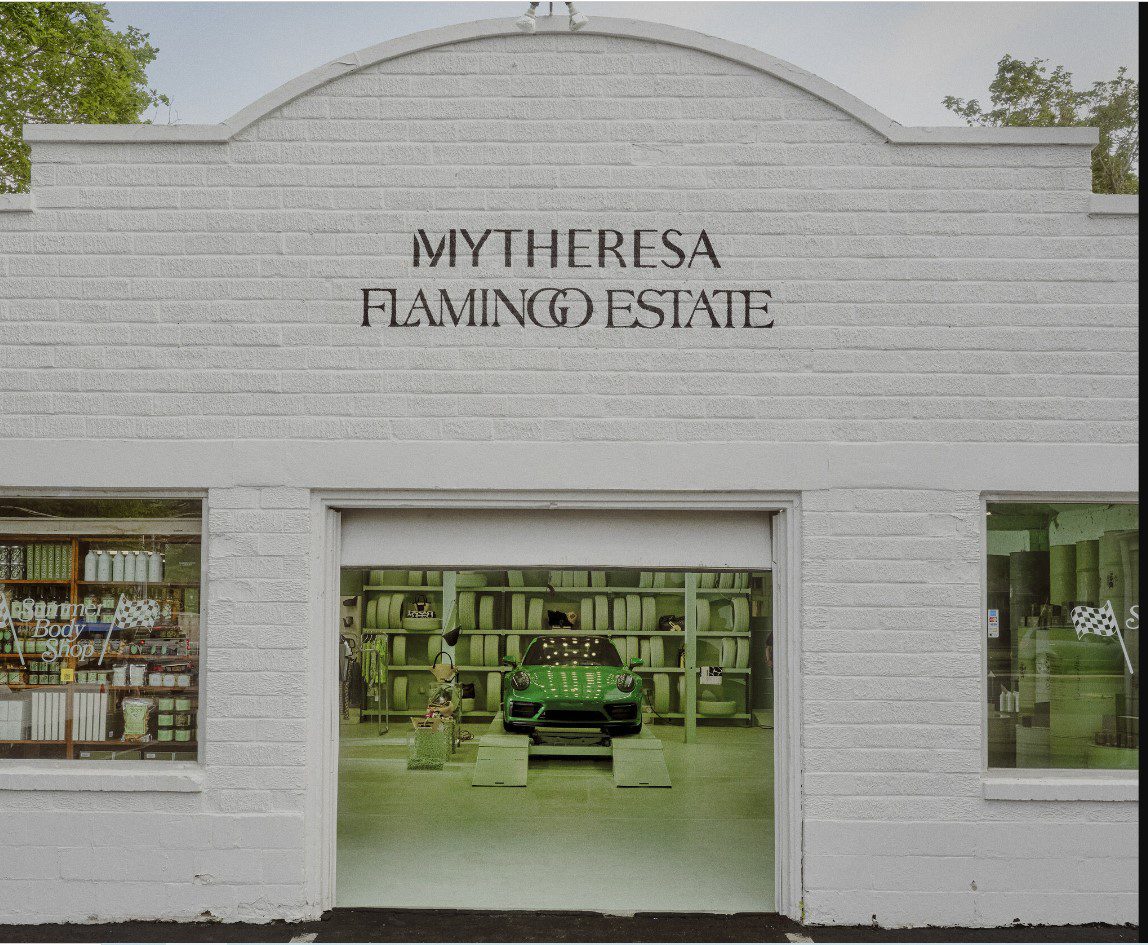 Summer Body Shop
Let's start with the splashiest one. The backers behind this one, Mytheresa and Flamingo Estate, are so controlling, they will open it only four days a week, and close it on July 30. Not only that, you will need a ticket to get in. See the note at the bottom.
We will call them Mytheresa for short. The shopping "experience," as they are calling it, is in a former garage. The Summer Body Shop has its offerings — say a $2,940 eight-inch square orange PVC bag from Rhaite — displayed on tires and oil drums and next to wrenches.
Careful you don't back into the a Porsche 911 Carrera GTS in the middle of the shop. Mytheresa plans to circulate new products to the Body Shop every week, to keep shoppers on their toes. This week there was a Zimmermann raie floral ramie minidress for $795, perfect for a summer cocktail party, and a Jacquemus Le Foulard Lamba printed sarong on sale for $161. One might expect rather steeply priced items by Dolce & Gabbana, Versace, and Toteme as well.
Open from 11am to 6pm, Thursday through Sunday, until the aforementioned July 30. Note: prior to arrival at the store, all visitors will need to sign up online to secure a QR Code (or "ticket") to the experience.
Givenchy Plage
Givency Plage, the Paris fashion house's homage to the residence of Hubert de Givenchy at Saint-Jean-Cap-Ferrat, will be in East Hampton from July 1 to July 14 at Topping Rose House. And that means a great deal of "Old Pink." Apparently that is Givenchy's current designer's interpretation of the pearly pinks along the French Riviera. To us, it looks more Pepto than Barbi-core. But we do not pretend to have the refined sensibilities of French fashion houses. Prices will sometimes be on the crazy side. Destroyed denim seems more expensive than silk. Narrow-fit jogging pants, otherwise known as sweatpants, are $860. A cotton toweling jacquard mini short in pink is $750, with a matching cropped t another $570.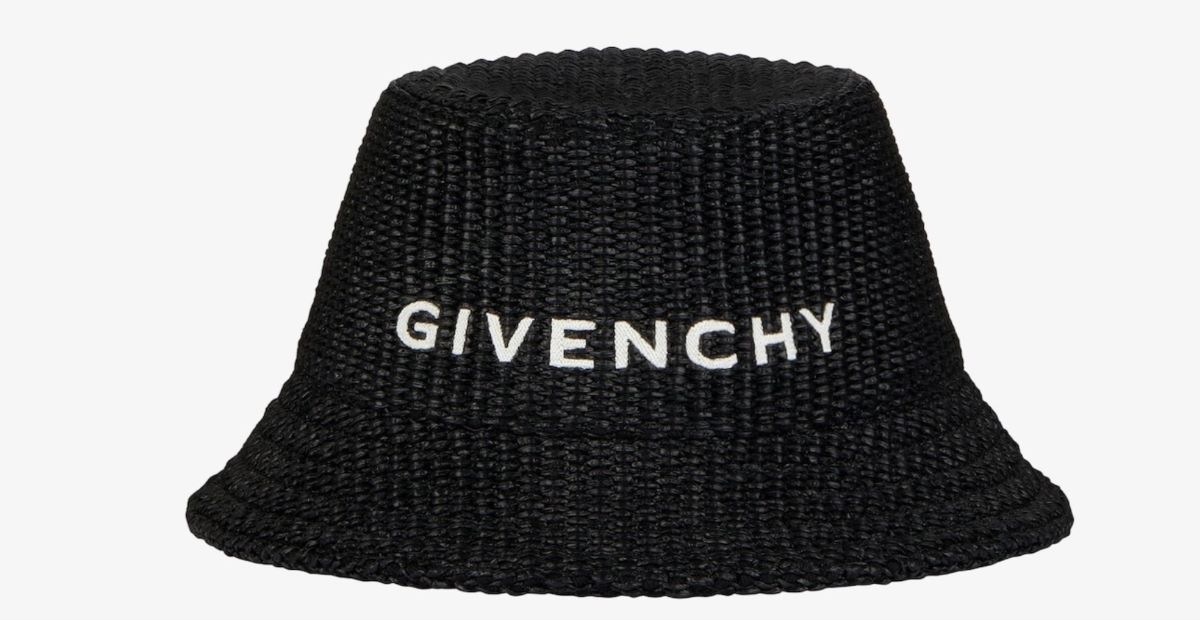 But Givency's Bob hat, another word for bucket hat, in reversible raffia, is only $500 — compared to $650 to $800 for various versions of the Prada hat. We are going to mark that as a Buy. Also take a look at the raffia tote bags.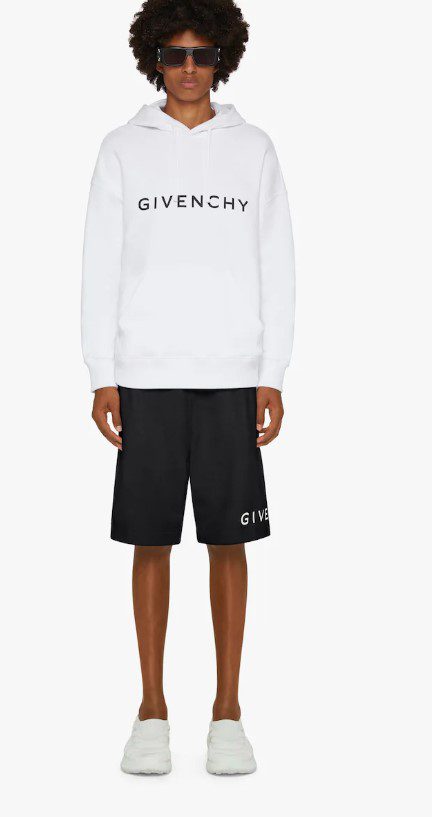 Also we should mention that Givency sells men's clothing, like Bermuda shorts, for $690. So many times, the guys are left out of the high fashion scene. Not this time.  Givency Plage will be at Topping Rose House through July 14; 1 Bridgehampton-Sag Harbor Turnpike, Bridgehampton.
Marina St Barth
The French designer Marina Cocher started her shop in St Barth. Then Hurricane Irma destroyed the island in 2017, and she moved to Palm Beach. In 2021, she opened again in St Barth and opened new shop in Southampton. And now she's unveiled her East Hampton outpost at 32 Park Place, next to Tracy Anderson.
As expected, this is where to find bathing suits, wraps, kaftans, shoes, hats and beach bags. But the shop also carries Oud's fantastic print fashions from Paris, jelly bracelets, Carmen Sol tote bags and items from Charo Ruiz in Ibiza. There is probably no better place for women to go for beach essentials, resort wear, linen tops and pants and long dresses. The Eau d'Italy scented bar soaps will remind your guests of the Amalfi coast.
Marina knows what her customers in Palm Beach and St Barth want, like her simple wardrobe staple, the Spolverino linen midi dress, for $390.
It is one of those go anywhere, useful for everything pieces and she sells it in a multitude of colors and prints. Marina Cocher has made her career selling simple, and simply beautiful clothing and accessories.
Derek Lam
His is not a well-known name, perhaps. But Derek Lam is definitely going to be popular with the younger set. His line of denim, dresses and jackets, and his commitment to offering larger sizes, has made him a star with a wide range of shoppers. His soft, feminine dresses are easy to wear and his jeans come in a range of styles. He offers jeans in high rise, ultra high rise, crop, flare, wide leg and straight leg — all in the same collection. It's his way of saying: You decide. The denim is eco-conscious. And people wear his clothes because of their fit and feel.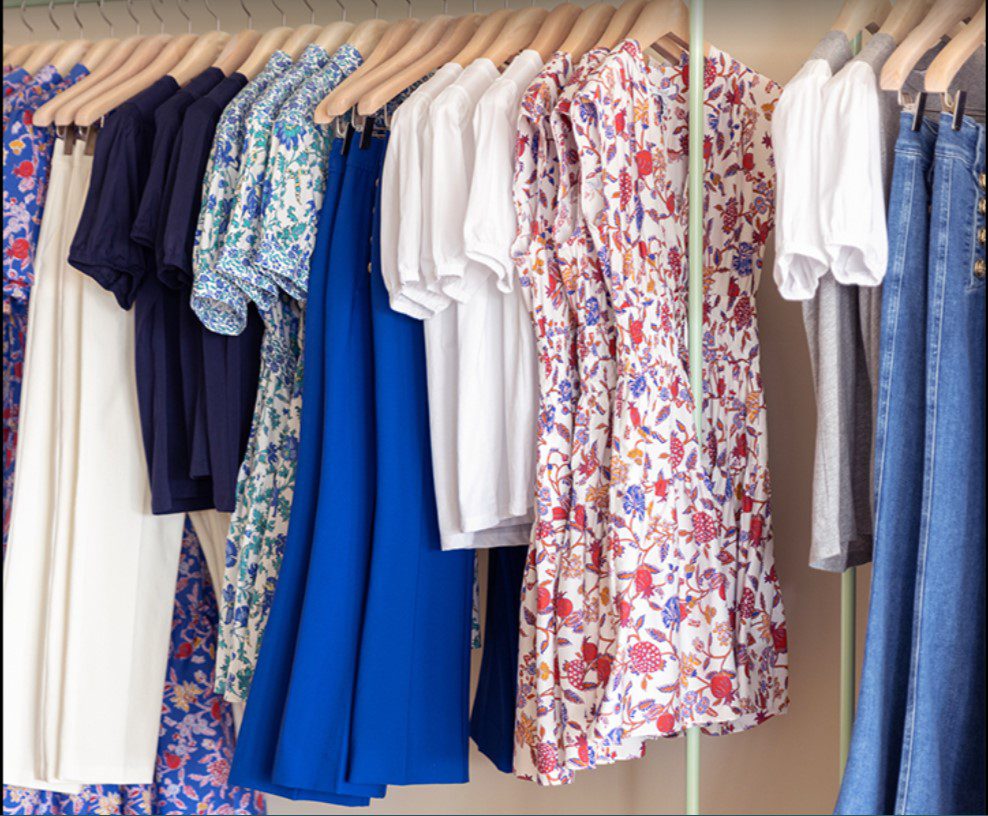 For ten years Lam designed a couture line and he was also chief designer for Tod's, the Italian luxury brand of leather goods. Now in his 50s, he decided to focus on ready-to-wear, and on making clothes in a responsible way. His shop in East Hampton is at 20 Newtown Lane. Gucci and Zimmermann are across the street and Louis Vuitton is at the corner. That part of East Hampton is the Gold Coast. Let the oldsters head to the other stores. Young and hip shoppers will go here and to the next shop.
 Aviator Nation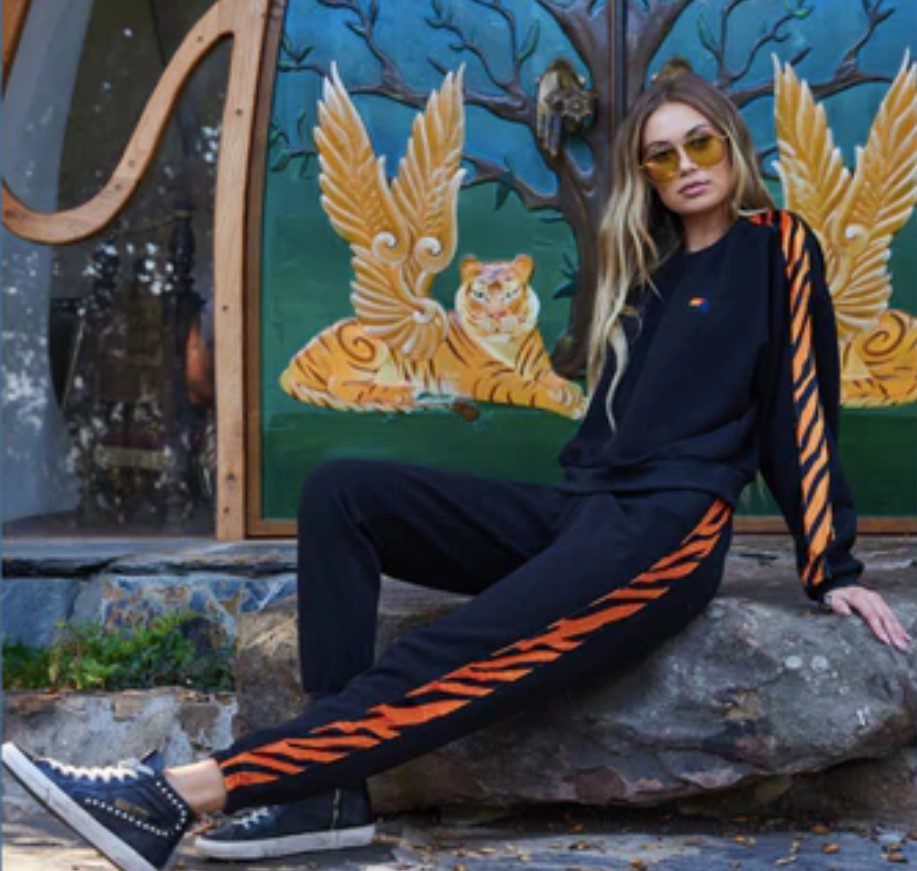 Aviator Nation is at 87 Main Street, and at first glance it seems like a Foot Locker with sweat shirts and jogging clothes at inflated prices. Why are these things so expensive? Two words: Reese Witherspoon.
Well, actually, it's more than that. Aviator Nation is something of a flash in the pan. While it's been around for almost 20 years it was only in the last three years that it really took off.
Credit goes to stay-at-homes during Covid, and the internet. It was a story, you see. This single woman, Paige Mycoskie, blonde, attractive, former contestant on "Amazing Race." She started it by herself with a sewing machine. And designs everything herself. 
It was a story that caught on during Covid and spread through the internet to Australia and Japan, where her sweats are popular.
People were stuck at home, living in their sweats. Why not spend $160 on these kooky clothes from an earnest woman in California?
Aviator Nation — she named it after Tom Cruise's aviator glasses in "Top Gun" — saw sales increase from $70 million in 2020 to $110 million in 2021. Sales are expected to double in 2023.
Oh, and Paige Mycoskie is the sole owner. 
The East Hampton store might become a year-round source for clothes for men, women and babies. Yes, Aviator Nation sells velour baby sweatpants.  
Bobbi Brown's Jones Road
Bobbi Brown has a home in Montclair, NJ. There is a Jones Road shop there, and another one in Greenwich Village.  She also has a home in Sag Harbor, thus her third Jones Road shop opened in May in East Hampton.
Why does the world need another line of cosmetics? Even one from a person like Bobbi Brown, who already has a best-selling line of cosmetics?
Of course the answer is that these cosmetics are different.
When Bobbi Brown talks about the wonders of her new products, how they are cleaner, simpler, somehow you believe her.
And if you look at them, they even look stripped down. The face pencils are meant for disguising under-eye circles and discolorations. At the shop, sales clerks will work to discover not just skin tone but undertone, and to figure out which is the best shade to make a natural-looking correction.
It is so much better to do this in person than on-line.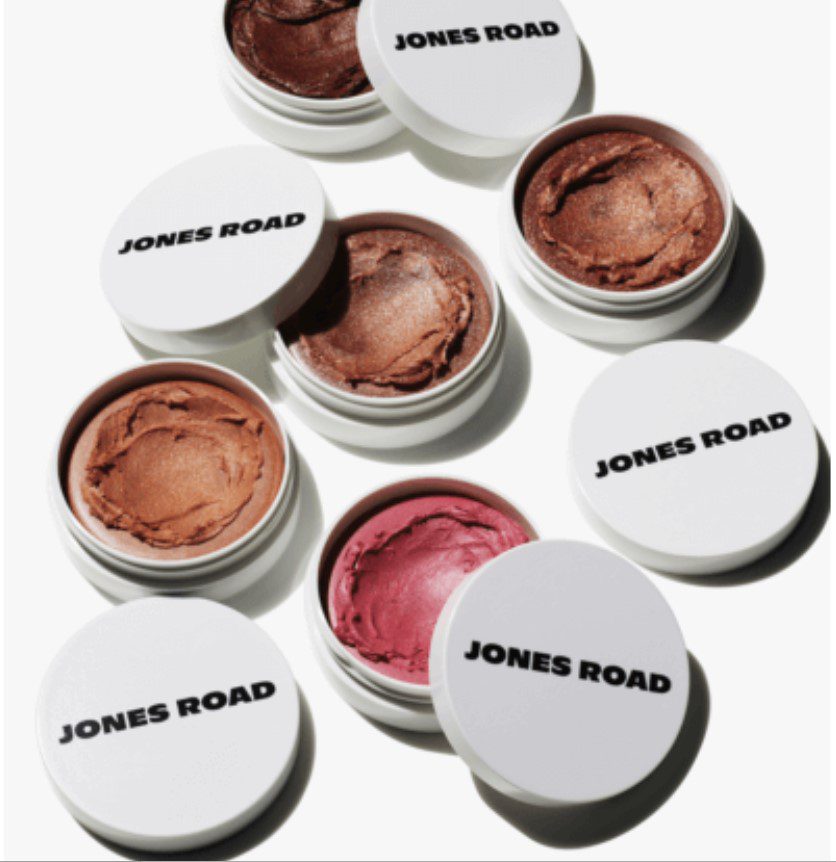 Even more beguiling is Jones Road's "Miracle Balm." How could anyone resist something called a miracle, something described by Bobbi Brown herself as skin treatment meets makeup. It's a moisturizer, a bronzer, a blusher and a highlighter. Yup. Supposedly Miracle balm gives the wearer the no-make-up makeup look. So for $38 dollars a jar, well. It would be hard to resist. Again, specialists are at hand to help customers find the right shade to accomplish their goal: disco, business meeting, school teacher. The Bobby Brown Jones Road shop is at 55 Main Street.
Zegna
At last, the store the men in the Hamptons have been waiting for. Up until now, they have had Orlebar Brown for swim shorts, Todd Snyder and Ralph Lauren for tuxedos, and J. Crew for sweaters and khakis. But until Zegna opened East Hampton men had nowhere to go to buy triple-stitched blue-suede slip-on shoes that would be custom fitted to their feet ($750). Zegna calls them sneakers, but that seems to be their term for anything that is not a leather shoe.
Zegna's most recent fashion show in Italy was mostly about "un." Unbuttoned, unlined, and unfitted. Few if any of those looks are likely to be available at this pop-up shop, which seems happy to sell sunglasses, shirts and swim shorts to customers out East. Do take note that Zegna has entered into the sweatpants/jogging sweepstakes with its own entry. The Zegna jogging pants are peach. They are knit and cotton blend. And they are $1,990.
So we think that beats the price of narrow jogging pants from Givenchy, if it is a matter of who can spend the most to go for a run.
Curio
This is something of a mystery, like the dog that didn't bark in the night, no one has talked about Curio. Introduced with great fanfare in May, this was to be a fantastic outpost of Faena's
heralded shopping space
in Miami Beach. It was to be part of Project Hamptons, at 21 83 Montauk Highway in Bridgehampton. We wrote about it back in May.
And then?
Not much. Very little programming. No real events. There are supposed to be all kinds of interesting designers' clothes and artworks inside.
Maybe someone should go check?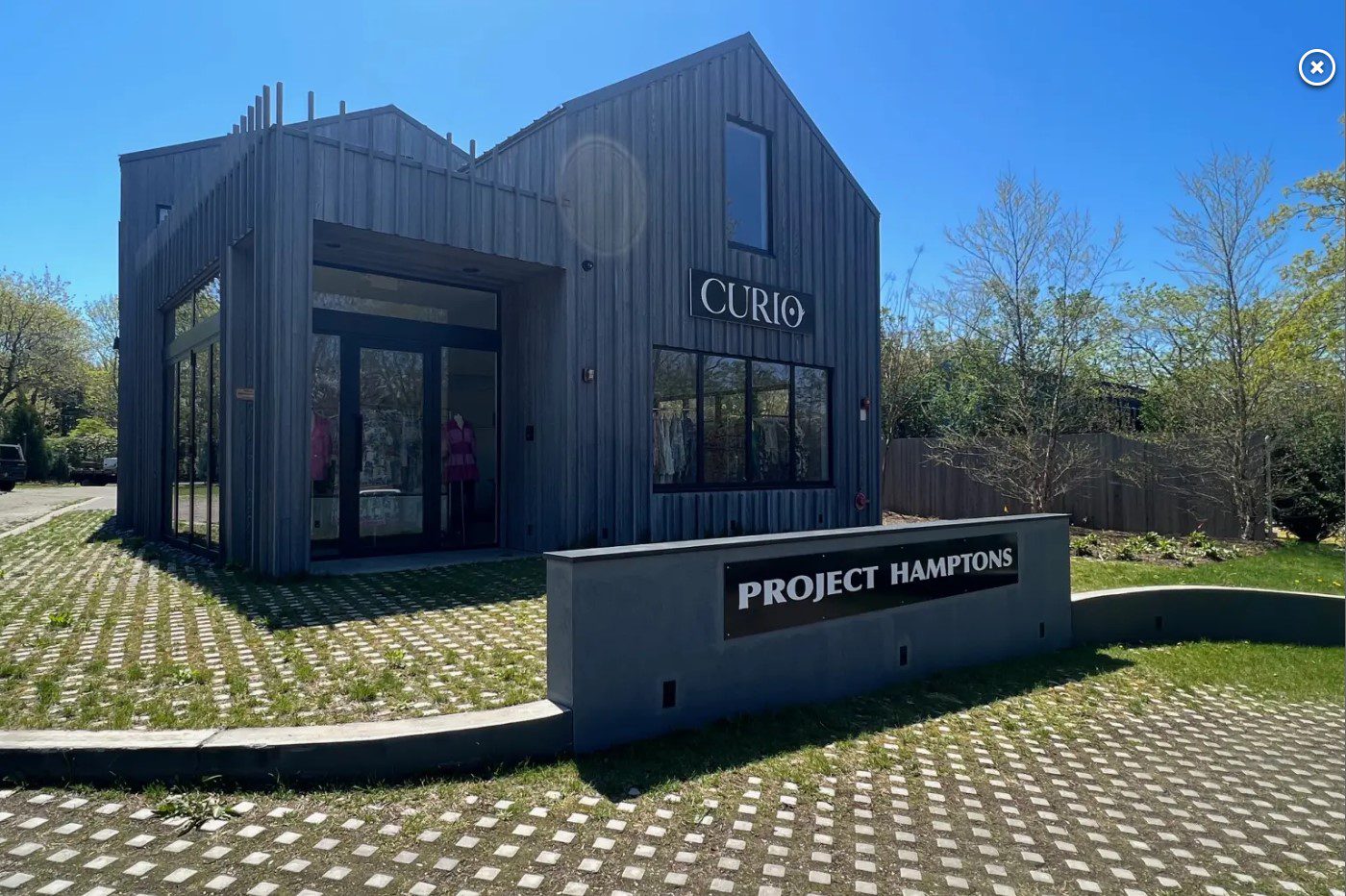 Urban Zen
Donna Karan is a long-time East Hamptonite. Leave it to her to open a shop that is hard to find. First you have to go to Sag Harbor. That is easy. Then you have to figure out which part of the building is the busy restaurant Tutto Il Giorno, and which part is
Urban Zen
. They are both at 16 Main Street.
After that it's easy.
Once inside you will find racks of clothes, even Karan's "Five Easy Pieces." But the rest may resemble a jumble sale. There are hand-dyed silk dresses, chandeliers, primitive chairs carved out of wood, Some tables hold chess sets or books. There is handmade jewelry. Art and table settings. Lamps, table runners.
It may be confusing which parts are for sale. Is the table part of the display, or can you buy it too?
In the end, it is, as Karan says, "a philosophy of living." The shop is at 16 Main Street in Sag Harbor.
Zimmermann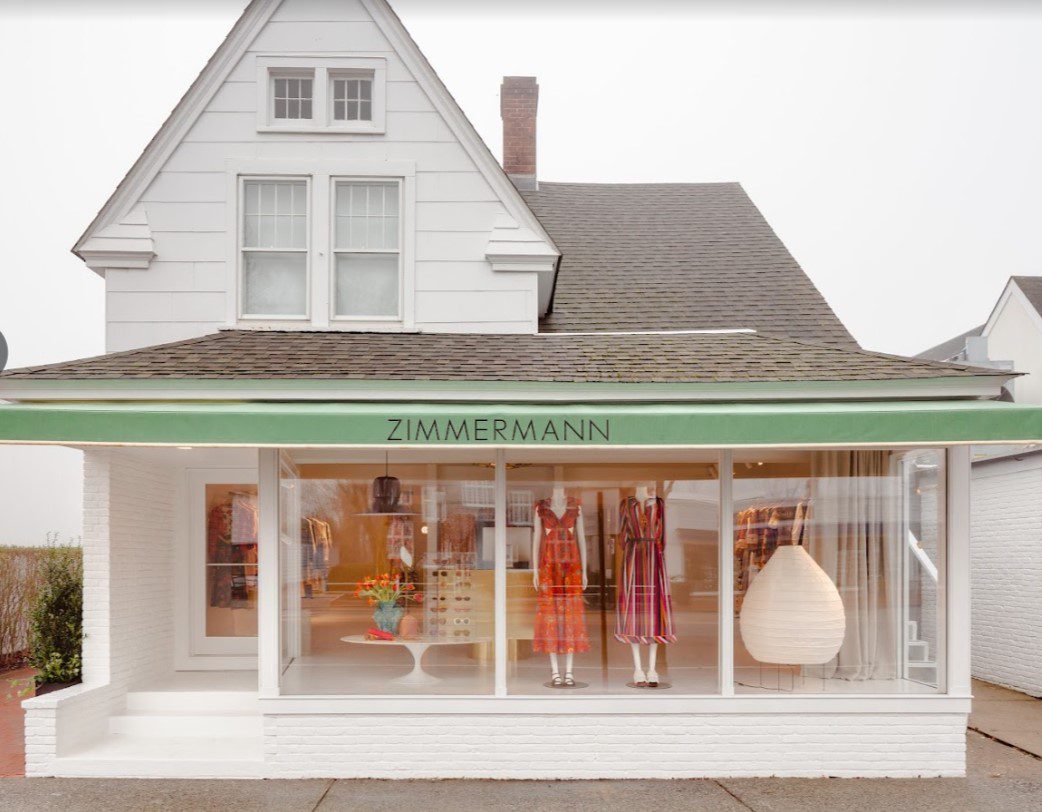 The brand was founded in Sydney, Australia by two sisters, Nicky and Simone Zimmermann, in 1991. What appeals to women is the feminine look and feel of Zimmermann clothes.
Nicky is the designer, and Simone is the businessperson. The two of them threw a dinner party in East Hampton on June 24 at which everyone wore Zimmermann. Even the table settings were Zimmermann, since their ambitions have gone beyond women's fashion to men's, children's, accessories and home furnishings, at least in Australia.
The East Hampton shop offers bathing suits, dresses and shoes. There are a few shirts and accessories, but the name Zimmerman is most associated with romantic, soft prints, often on long dresses. They have some prominent fans, including Beyonce, Bella Hadid, Chrissy Teigen, Karlie Kloss, Jessica Alba, Kate Hudson and Jessica Biel.
It is no small thing that Zimmermann has a showroom in Paris.
This is not the first year that Zimmermann has opened a shop in East Hampton. This year, however, it seems that every other luxury shop in East Hampton is also offering some Zimmermann pieces, to satisfy customer demand.
— Linda Lee
Linda Lee is a former writer and editor at "The New York Times"