With the shocking loss of Kate Spade and Anthony Bourdain so recently, the spotlight has turned to depression as it loses its social stigma, and prevention is transformed into a powerful rallying cry to help those who suffer, before it is too late. These boldface names are just the latest among A-listers who have found their talent and lives severely compromised by depression. The illness may be making Page Six headlines now, but it's a struggle that artists like Michelangelo and Edgar Degas grappled with many, many years ago.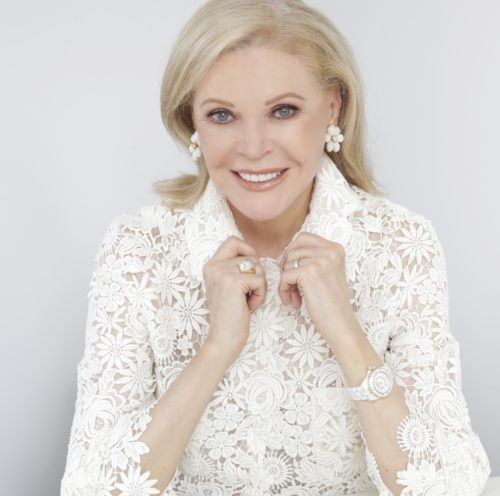 Hope For Depression
Philanthropist Audrey Gruss has long been ahead of the curve where this cause is concerned. She established The Hope for Depression Research Foundation (HDRF) in 2006 in memory of her late mother Hope's decades-long battle with clinical depression. With its acclaimed Depression Task Force of top neuroscientists, HDRF has become the definition of frontier science. It is, she explains, "an engine for innovation and a model for the entire field. HDRF's acclaimed team of seven brain scientists are actively collaborating and sharing data across multiple institutions. In only five short years, they have defined several specific directions for pilot clinical trials that may lead to new medications."
Walk of Hope in Southampton – August 5
HDRF is on the forefront of changing public attitudes about depression: annual events and campaigns — including the Walk of HOPE and 5K Run in Southampton on Sunday, August 5th. This Walk/Run goes around Lake Agawam in Southampton. About 200 joined last year (and this year HDRF is definitely looking to top that number (FYI: canine friends invited too!). The Mayor of Southampton will be a co-Grand Marshall for the event which just goes to demonstrate how amazing the community commitment is.
It's estimated that 350 million individuals globally suffer from depression, yet until recently it was certainly not a conversation topic that's been comparatively mainstream. After a celebrity suicide, Gruss notes, "people definitely pay attention to depression, care about it and want to do something about it. It's an opportunity to reaffirm our commitment to end stigma and speak openly about mental health. But as a society we should also confirm our commitment to research."
Making Depression a Priority
Suicide is the tenth leading cause of death in the United States, and she emphasizes, "untreated depression is the leading cause of suicide. Yet neither suicide nor depression get federal recognition as a public health priority." Through research and fundraising we have made major strides against cancer, and rates of death from heart disease and HIV have plummeted over time. But, Audrey Gruss reminds us, depression has grown to be the leading cause of disability worldwide: "We need sustained interest beyond the headlines, and we need research to lead the way forward."
At the moment, depression is misunderstood, under-funded and under-researched. There have been no new categories of medication in over 30 years since Prozac. Gruss however is striving to make a difference, and she is succeeding with HDRF by funding pioneering scientific research into depression – its biological markers, how it starts and progresses in the brain, and how to prevent and treat it. She is proud of the gains made with HDRF; every day there's a steady increase in knowledge, and the scientists are beginning to identify key gene families they believe are at the root of the illness.
Breakthrough new treatments that can move the field forward, beyond Prozac, are on the horizon. Boosting awareness about depression isn't easy, in fact you could say that it could even be depressing given the vast need for help and the lack of understanding of the disease, much less the challenges in finding the right treatment.
Celebrities Help Fight Depression
When a famous face connected to HDRF is able to reveal their own struggles, their voice helps raise awareness and ideally, empower people to seek help and encourage their loved ones to respond with compassion if not action. Brooke Shields, Richard Dreyfuss, Candace Bushnell, Linda Hamilton, and Terry Bradshaw are among the bold face names who have spoken from the heart at HDRF events about overcoming depression, its stigma, and its symptoms. "For every celebrity that opens up, there are millions of people who suffer in silence and who do not get the help that they need," Gruss reveals. "We do not have the government declaring a war on depression as they did with cancer in the 1960's."
Stay tuned – Audrey Gruss is no pacifist when it comes to fighting this battle. She's got major ammunition to use this November as a yet-to-be-named celebrity speaks at the HDRF November Luncheon and receives the Hope Award. Hints Gruss, "This is a personality with worldwide visibility." She looks forward not only to genuine revelations from a tremendously admired celebrity, but to the "enormous impact via media coverage this celebrity will have on our audience and the millions of those who struggle with depression."
Tranquility Out East
Time out East then for Audrey Gruss is a refreshingly tranquil interlude between skirmishes fought to keep hope alive in individuals suffering from depression. But her love for her mother Hope, the catalyst for this vital battle, is literally growing strong as she planted a 90-foot glade of Lily-of-the-Valley celebrating this woman whose life is serving as an inspiring force for change. "Hope loved Lily-of-the-Valley and considered that her signature flower. Every year they bloom for about 10 days in late May, and I make at least 30 bouquets to send to all my friends to wish them a 'Happy Spring.' "
Heading out to Southampton well before the weekend traffic starts, she and her husband Martin stay through Sunday evening at their traditional Stanford White-inspired home, modernized with all the latest technological amenities. Perfect Earth founder Edwina von Gal is responsible for the landscape blossoming with white rose bushes, white hydrangeas and dogwood trees surrounding the pond. The six-acre property is a genuinely relaxing country environment filled with the natural bounty of fruit trees and fresh flowers including, hydrangeas "so full and strong, they look like they are on steroids!" says Gruss like a proud parent with an exceptional green thumb.
Arranging the flowers from her cutting garden, especially the saucer-sized dahlias, and the ruffled, rose-like lisianthium is a personal passion and a weekend delight. But if flowers are Audrey Gruss' passion, cars are her husband Martin's, "My husband even has a special garage for his vintage car collection. We invite friends over with their cars and have a special exhibition car court with grass pavers."
Living the Healthy Life on the East End
Enjoying a healthy, natural lifestyle is a priority during Southampton time, with meals of fresh fish from a source in Hampton Bays, "so fresh it tastes as though it just jumped out of the ocean." Sweet white corn, tomatoes, strawberries, and peaches grown on local farms are favorites too, and many weekends bring the discovery of new small local farm stands. But staying close to home has its charms, "My husband and I love to walk
early in the morning in our neighborhood. It is so quiet and beautiful. Hearing the birds sing, a few dogs bark, and saying hi! to the bicyclists going by is a wonderful way to start the day."
Time out East is unpressured, easy, and real. The first thing Audrey Gruss does when she arrives is change to comfortable loafers, put on a straw hat, and go for a walk in their apple orchard to see how their apples are growing. Every phase of growth is rewarding, from the prettiest buds to blossoms to small fruit to ripe Matsu apples, a "scrumptious hybrid of Yellow Delicious apples and Green McIntosh for perfect sweetness and crispness," she says. "We usually have a fall apple-picking party and then make 800 jars of homemade applesauce for everyone on our Christmas list."
Even when it comes to looking chic for a Hamptons' weekend, she keeps it simple, opting for equestrian stretch pants in every color from Dazzelle, topped with long boy-cut shirts in different colors, and a Borsalino Panama hat, a Tod's sneaker or espadrille. At night, she opts for a slim black pant, a tunic top in silk or linen with beautiful embroidery, a sling-back shoe and a small clutch bag. Practical and perfect.
Relaxing though country life may be, every day in the Hamptons starts with a workout routine, "I wake up and go to the gym in our basement. I watch the news while I'm on the elliptical and then stretch. I'll have breakfast with my husband, and then we read the papers. I shower and begin another lovely day in Southampton — rain or shine." Evening comes and tranquility eases in: "I wind down with a cup of honey vanilla chamomile tea and a few pages in whatever current book I'm reading. This is a sure-fire way to go to sleep. I definitely try to relax more in the country and clear my mind of any stress or pressures that life in the city can create."
For Audrey Gruss to fight hard all week long, making a difference in the lives of those debilitated by depression requires sustained strength: "a balance of good nutrition, exercise, and enough good sleep – that's what we all need in order to be the best we can be." The war on depression is far from over, but Audrey Gruss is leading the charge every day to vanquish this disabling disease. If you're looking to get behind her and help change lives, you can find more information on https://www.hopefordepression.org/about-us/
Don't forget to sign up for the August 5th run walk in Southampton.
By Lori Zelenko