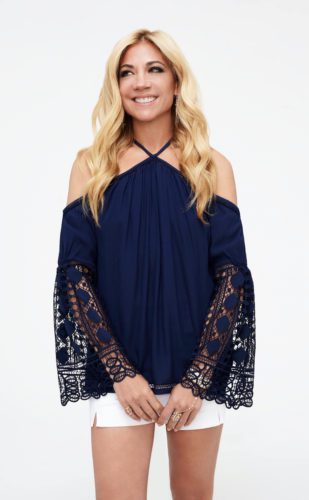 Mother, Philanthropist and Fashion Designer, Ramy Brook Sharp is a woman of summer. The weight of her world evaporates into the Hamptons heat the minute her car takes exit 70 off the LIE. Enjoying the escape from the fast paced city culture, the founder and creative director of self named line Ramy Brook aims to spend her days in happiness. When she's not vacationing in Greece with her husband and business partner, Rob, she spends her time golfing with her family, picking up fresh fruit at the Country Gardens farmers market, and having a debate between sunbathing poolside or laughing with friends on East Hampton Main Beach. The warmth and exhilaration of the summer months transcends in her character and her designs.
A mother of three, Ramy is a professional at balancing the family, work, and social schedule that many might find daunting but she juggles in style. Inspired by the laid-back lifestyle of the beach, her clothing line was launched in 2010 with the mission to help eliminate the gaps in women's wardrobes. Beginning with sexier tops to pair with jeans, her brand expanded into something much bigger. Sleek, sophisticated designs in vivid colors and luxurious fabrics serve the needs and demands of a multitasking woman. "We think that fashion is meant to be fun and effortless so we create our pieces with a woman's busy schedule in mind. Our designs will carry you seamlessly throughout all activities of your day, whether it be work or play." Her outfits flatter as they transition all the while uplifting spirits. That, she observes, is what women look for, especially in the active summer months.
Ramy's organic ideas stem from creating solutions to end the angst against getting ready. Not enough time to change? A Ramy Brook dress can take you from office to date night with the quick switch of accessories and attitude. Her cover-up collection was created to take a woman from beach to bar all while remaining glamorous. A fan of dressing up at the pool or beach, Ramy explains, "designing the cover-up collection has been pure fun and joy for me. There really is something for everyone. Long, short, opaque, sheer, bright colors, and patterns as well as more neutral options in traditional black and white." With multi-occasion pieces for the modern woman, it's only natural that her brand has become beloved to fashionistas.
Ramy is a caring force year-round; passionately dedicated to supporting charities close to her heart. One of the honorees at The 14th Annual Hamptons Happening on Saturday July 14th, she is dedicated in her support for the Samuel Waxman Cancer Research Foundation's mission to end cancer through collaborative cross-institutional research that not only helps correct cancer-causing abnormal gene function but also seeks to minimize toxic treatments for patients, particularly children and seniors, battling cancer. Later in August, Ramy will participate as the advisory chair for the UJA Hamptons Trunk Show, an event Ramy and her friends started together ten years ago. Ramy will also support Women and the Brain's up-and-coming ASL ride taking place with Soul Cycle. "Being philanthropic is an integral part of who I am," she shares.
Ramy is present in her participation to lend a helping hand however the need may manifest. A woman's woman, her goal is to have others feel three key things: happy, sexy, and strong. "We design our clothes so that women feel great about themselves. Confidence comes from within but having the right outfit shows the world who you are."
Donate to the Samuel Waxman Foundation Here
By Maggie Finney