Tips From The Hamptons Canine Concierge
The Hamptons serves as a beautiful backdrop for us in the summer with its gorgeous beaches and striking landscapes. With the beauty of our surroundings also comes a set of safety concerns for us and for our pets.
At The Beach…
Sun
Sunburn
The Sun can be just as harmful to pets as it can be to us. Hair should not be shaved completely to keep animals cool because it exposes more of the skin to the sun's harmful rays. Be sure to use pet-specific protection with an SPF of at least 40 on areas with less or no hair including the abdomen, nose, and tips of ears. Do not use people sunscreen; it is likely to contain toxic ingredients. Avoid extended exposure to the sun. Make sure your pet has access to shade and fresh water at all times. And after a day at the beach, remember to rinse your dog off; it's good for their skin and coat.
Sand
The beach serves as a summer playground for your dog. Running on the sand can cause irritation to the delicate skin on the paws. Always rinse your dog's paws when they get home from the beach and check the pads and the skin around the toes for redness and inflammation. If you see any of these signs or if your dog is constantly licking his or her paws, skip a few days at the beach and allow time to heal. Massaging a soothing balm is helpful for mild irritation.
The sand can be VERY HOT early in the morning from campfires that were not extinguished properly from the night before. Try to recognize and avoid these areas for both you and your pet's safety. Of course, if any condition persists or looks troublesome, do not hesitate to contact your vet.
About Dr. Cindy Bressler
Dr. Cindy Bressler is the Hamptons Canine Concierge providing Hamptons Dogs with services including accommodations, drivers, private jets, event planning, play dates, swimming lessons, training, organic treats, grooming and spa services. Available for routine house call visits as well as 24-hour emergencies, including weekends and holidays. Phone/text: (631) 255-8556 or e-mail: drcindybressler@gmail.com
Beach-Day Protection For Your Pet
Favorites for Sun Safety from the Easthampton.com Team 
A day at the beach can be fun for all if you take a few simple precautions. Avoid overexposure to the sun's damaging rays. Most beaches have off leash hours early and late, but even then limit your pet's time in direct sunlight. Our furry friends' feel the heat too. Play it safe and only use sun-protection products specifically for pets, here are a few of our picks for sun safety:
Solis UV Coverup
Love a good swim with your canine companion? Or thinking a few games of frisbee in the surf is where you're at? This Solis UV Coverup was made for you. With a UPF of 40+ you will be able to spend more time enjoying the outdoors without worrying about your dog getting too much sun. Besides your dog will look terrific in this sporty, stretchy, and colorful shirt.
https://www.rcpets.com/Solis-UV-Coverup/Product.aspx
Epi-Pet Sun Protector For Dogs
Prolonged exposure to the sun's rays can cause a sunburn; dogs with short light colored fur and white or pink skin are particularly at risk. The only FDA compliant sunscreen for dogs (not for use on cats) Epi-Pet Sun Protector Sunscreen is a non-greasy, quick dry formula; even safe if your dog licks it off their paws. Water and sweat resistant, it's best applied every 2-4 hours if the dog is outside or in the water for more than 80 minutes. Even with sunscreen and even with dogs who are less at risk, be careful not to overdo outdoor exposure especially in the heat of the day.
Opie & Dixie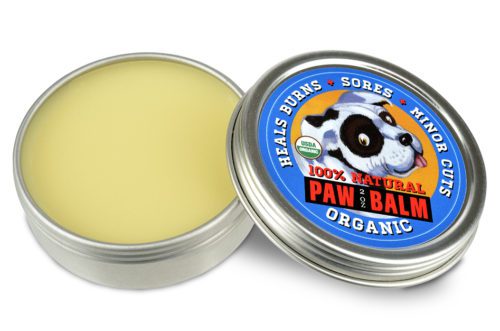 Dogs' paws feel heat as much as humans' do on the bottom of their feet. Keep this in mind while out walking or playing on the beach. The water may be cool but sand gets hot so keep balm on hand to soothe your dog's paws after a day in the sun and surf. Opie & Dixie makes a safe, gentle treatment for your dog's paw pads. What pet doesn't appreciate a paw massage with natural essential oils like Rosemary and Lavender plus cooling Tea Tree and moisturizing Sweet Almond? This is one sure way to make your pet your BFF.
By Dr. Cindy Bressler