Lights, LEDS, Action: Guild Hall's Gala
By Katlean de Monchy–
Sorry Barbie. Your energy was present. And many of the ladies (including "moi") wore shades of pink.
But Guild Hall celebrated the best Ken of all. That was Ken Wyse, who, since 2014, has been the chair of the Development and Events Committees. He was honored at Guild Hall's August 4 Gala for his outstanding leadership and enduring commitment.
A night to remember, it raised over $1.1 million to support the institution's year-round interdisciplinary programs. On arriving, Marty and his wife, Michele, pause for a photo in front of Guild Hall, which holds this inscription: "The Marty and Michele Cohen Arts Building."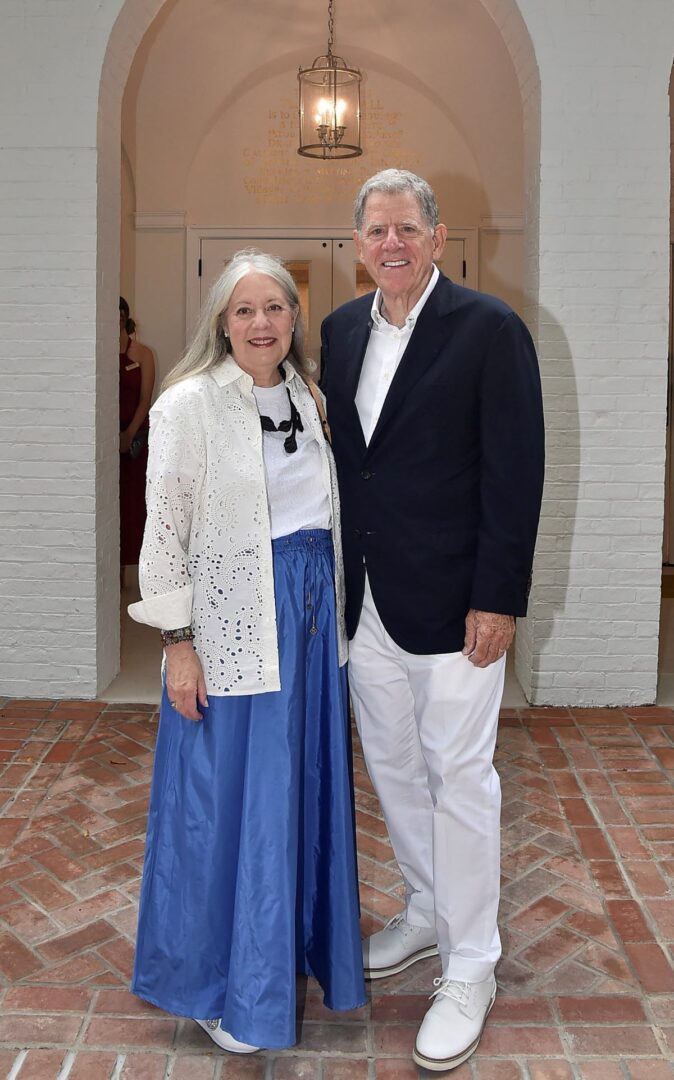 (photo Patrick McMullan/Getty)
The Galleries
Since art is at the core of Guild Hall, the evenings' guests were treated to two art exhibits. First, a special preview of Celestial Garden, an immersive installation by artist Leo Villareal, known for his light sculptures, use of LED technology, and computer-driven imagery.
I caught up with Villareal at the cocktail party, where I admired his shoes. He told me that, growing up in New Mexico, he developed an early passion for Mexican muralism. Viewers can see that in the mark-making in his works, which he considers historical references.
A monumental light sculpture I saw in the exhibit, 10-feet-by-28-feet wide, is an immersive light installation that uses sophisticated technology to create random sequences in infinite variations. Villareal got his undergraduate degree from Yale, then studied at the Tisch School of the Arts, where he specialized in, need you guess, new media.
The other art exhibit opened in June. The imposing Renée Cox showed people around her "A Proof of Being." Guests could see the evolution of her life and artistic journey. Cox's self-portraits use art-historic themes to explore womanhood, manhood and beauty.
The photographs on view are from her Yo Mama series and "The Signing."  It's a "wow" of a show.
While guests were in Guild Hall, they were invited to take a peek at John Drew Theater. It is still undergoing renovation by the architect Peter Pennoyer, another guest at the gala.
The artist Julian Schnabel, his son Shooter Schnabel, and his third wife, Louise Kugelberg (photo Patrick McMullan/Getty)
After an hour in the galleries (the event started at 5pm), we thirsty guests were informed that it was time to go to Mulford Farm for cocktails.
The Cocktails
Aperol Spritz was the featured libation. (Now that it is popular, you might want to know that three of the secret ingredients in Aperol are rhubarb, gentian, and cinchona — a native plant of the Andes that contains quinine, thus that little kick.)
While the guests sipped cocktails, photographers took the opportunity to usher some of them into a bower of hydrangeas that had been set up for photographs. It was here that Andrea Grover officially welcomed guests, starting with the two official art stars of the evening.
Meanwhile, others got to enjoy plentiful hors d'oeuvres included jumbo lump crab cakes, steamed lobster dumplings, little "bagel & lox" cones — well the list goes on with trendy caprese salad kebabs  (a conspiracy launched by the dry-cleaning industry), spring pea and feta fritters and retro pigs in blankets.
Grover posed with her charming daughters with her husband, Carlos Lama. That was just the beginning of the parade. Photographers took shots of prominent singles, couples and groups.
But it was Grover's job to welcome as many of the artists as possible: Ross Bleckner, Philippe Cheng, Jeremy Dennis, Ralph Gibson, Alice Hope, Bryan Hunt, Arcmanoro Niles, Toni Ross, Bastienne Schmidt, Julian Schnabel and his family, Yvonne Force Villareal (and the Villareal's son, Quatro), Andrina Wekontash Smith, Robert Wilson, Lucy Winton, and Lisa Yuskavage.
Guild Hall has nurtured the artistic ambitions of a member of the Shinnecock tribe, Jeremy Dennis. He is now a highly regarded contemporary fine art photographer and was present at the gala, an old friend of institution.
Grover gave a warm welcome to major art collectors, among them Richard and Barbara Lane. Barbara Lane is a noted interior designer.  Richard Lane's name is often mentioned in connection with high-priced art sales. Together they are a power couple.
When all of the photos were done, guests were summoned by the tinkling of bells to dinner in an open-air tent with gigantic blue, silver and white orbs overhead.
The Dinner
Among the many impressive dinner guests were Marty and Michele Cohen, Myrna Daniels, Florence Fabricant, Gina Gibney, Kim Heirston, Bill Boggs, Jean Shafiroff, Ed Hollander, Peter Pennoyer, Lisa Perry, Daryl Roth, Jordan Roth and Richie Jackson, Cynthia Rowley, Jeffrey Seller, Patsy and Jeff Tarr, Barbara Tober, Alex Vinash (who designed Andrea Grover's evening dress and that of Jean Safiroff), and honoree Ken Wyse.
There was a short video about Guild Hall's summer programs. Then Jordan Roth, the slender empresario of Jujamcyn Theaters and the night's energetic emcee, took the stage. He set a warm and humorous tone for the rest of the evening.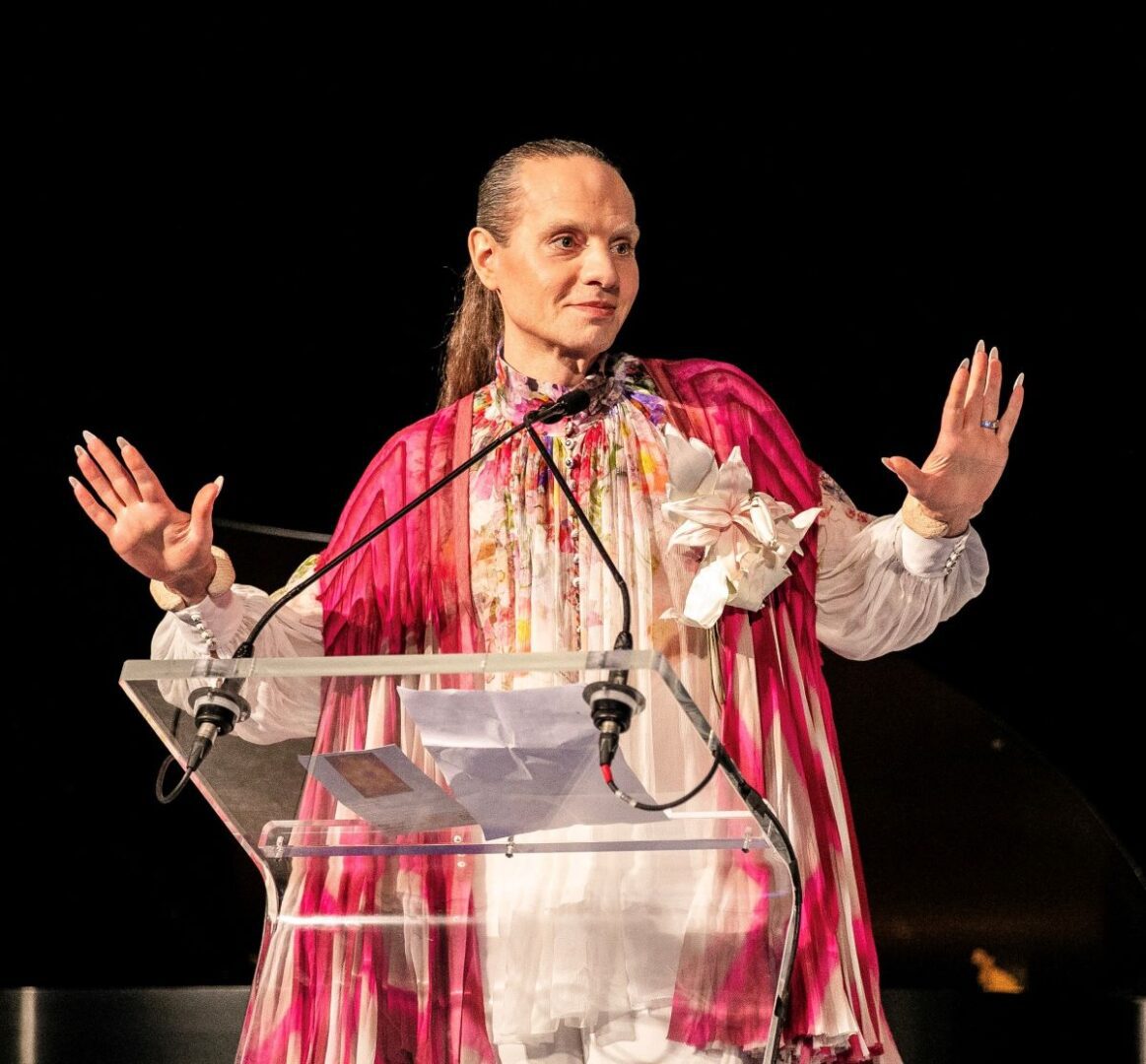 Marty Cohen and Andrea Grover made remarks. Grover said, "Guild Hall is artist- and community-driven, and this evening, celebrating art champion Ken Wyse and experiencing the artworks of Leo Villareal and Renée Cox, reinforced this core tenet. Artists lead us."
Ken Wyse was presented with his award by Richard and Barbara Lane.
Then the stage was turned over to the Bel Canto Boot Camp choir. And there was a special performance by a resident artist from South Africa, a young lyric coloratura soprano, Siskelelwe Mngenela.
After that there were others who had been nurtured by Guild Hall's summer programs.
Next up, an auctioneer rose to her feet. Time to offer $5,000 to "buy" a seat in the as-yet-unfinished John Drew Theater. A show of hands netted 40 more seats. (You see why that little look-see of the theater earlier was a nice ploy on the part of Guild Hall.) Each $5,000 donation was matched by a Guild Hall philanthropist.
Dessert. More drinks.
The Dancing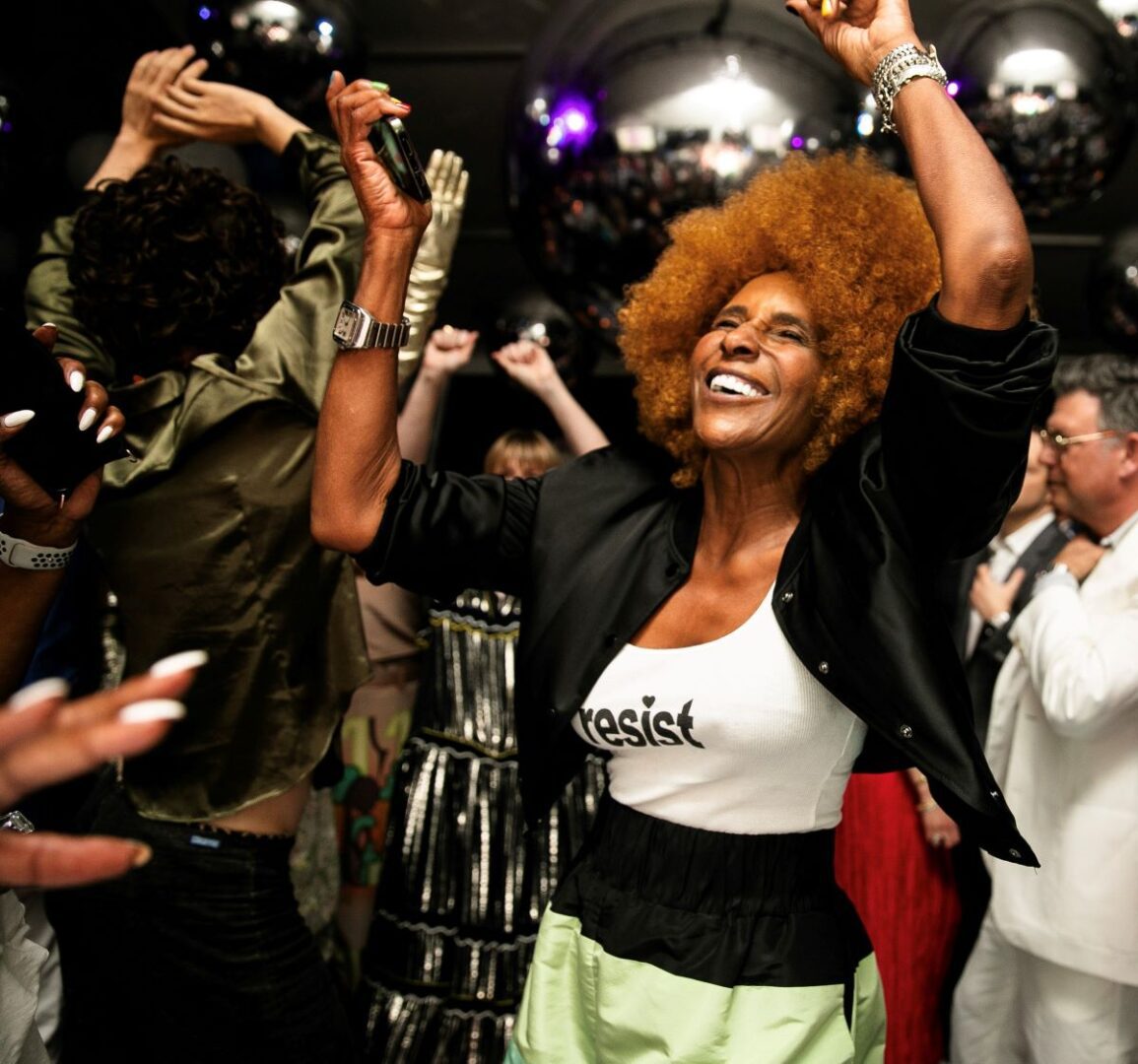 That was when people let down their hair. The hard part of the night was over. The party went on, relatively late into the night.
It pays, you see, to start a party at 5pm.